Palm Springs, CA  – Dolphin Promotions' 23rd annual Palm Springs Modernism Show had a robust attendance at its annual event, held in Palm Springs during Modernism Week 2023. Nearly 15,000 people attended the popular sale at the Palm Springs Convention Center, on par with the previous year which was the most well-attended show in the company's history. Additionally, more than 1,200 attendees participated in the opening night event that benefitted Modernism Week. The show will return to Palm Springs later this year for Modernism Week – October and again in February 2024.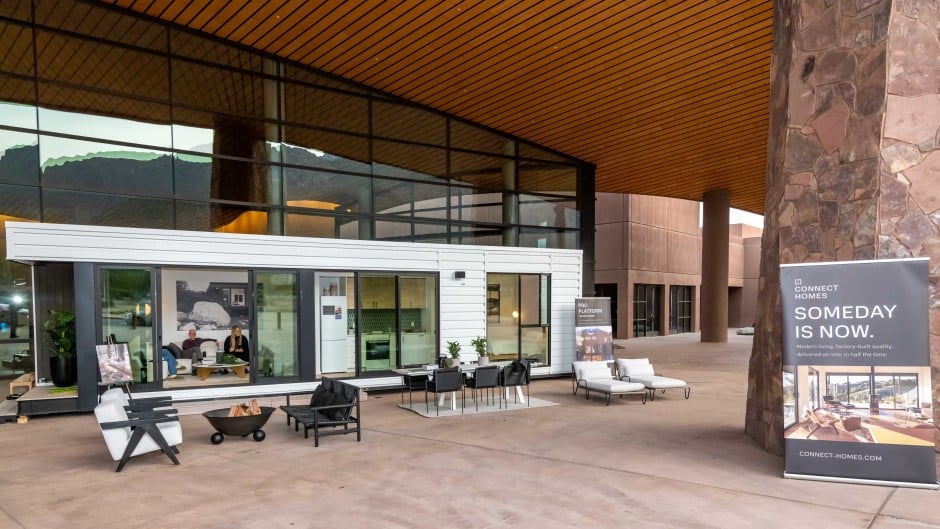 The event is the largest vintage modernism show in the U.S. and regularly draws attendees from around the world. 120 top-tiered national and international exhibitors presented the very best of vintage 20th century designs, focusing heavily on mid-century modern, along with compelling 21st century decorative and fine arts and all under one roof at the Palm Springs Convention Center.
This year several celebrities toured the show, including model, television host, and producer Heidi Klum, actress Judi Dench, and former First Lady Laura Bush. Notable designers shopping at the show included Steven Gambrel, Madeleine Stewart, and Marla Baker, who brought several very high-end clients down from Canada on a private jet.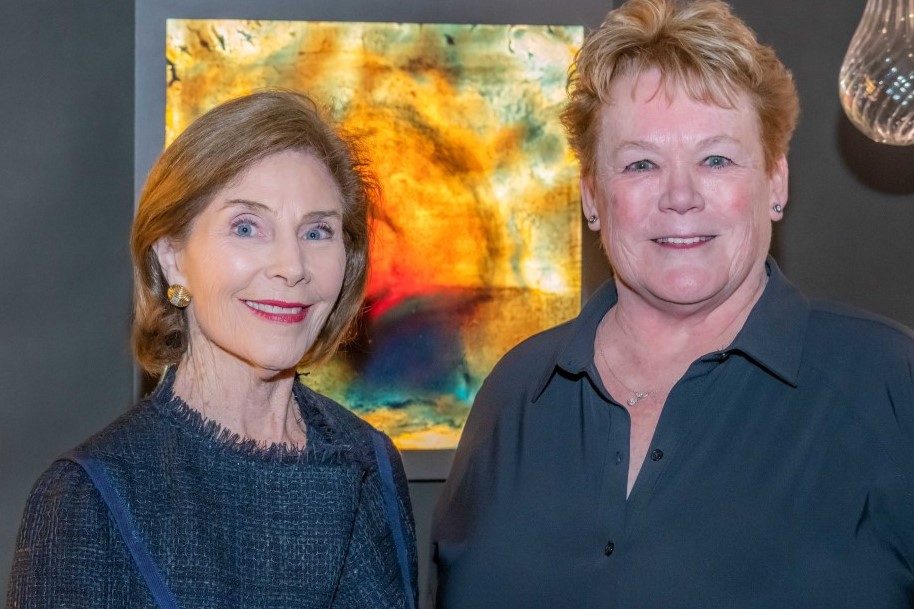 This year, show attendees were able to take free tours of Connect One, a stylish prefabricated home from Connect Homes in Los Angeles, that was displayed outside at the entrance to the show. An estimated 3,500 people toured the stunning 460 square foot glass and steel Additional Dwelling Unit, part of a prefab line that Connect Homes has produced over the past ten years. This 'tiny home' was furnished by some of the dealers that participated in the Modernism Show.
"The Palm Springs Modernism Show continues to be one of the highlights of Modernism Week," said Rosemary Krieger, President of Dolphin Promotions, the show's producer for 23 years. "Our dealers reported strong sales all weekend including robust sales on the opening night. We are grateful to our Presenting Sponsor Atomic Ranch Magazine, as well as our Silver Sponsor, The Frank Lloyd Wright Foundation. Supporting sponsors included Abell Auctioneer, Bidsquare, Freightforwarding.com, John Moran Auctioneers and OM powered by Formus. Media sponsors California Home and Design, California Homes, Magazine Antiques and Palm Springs Life Magazine helped make this year's show a major success."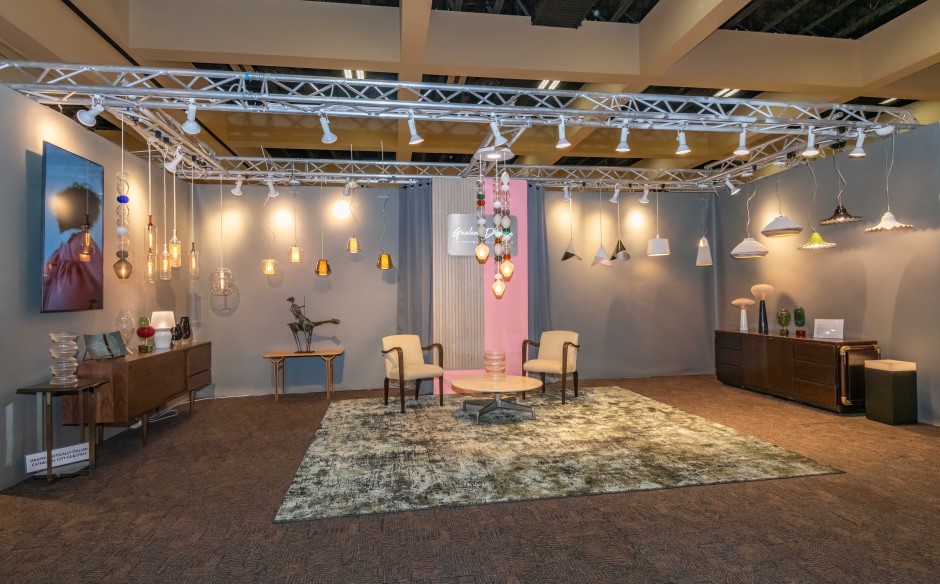 "We are delighted to continue our long-standing partnership with Dolphin Promotions and their Modernism Show," said Lisa Vossler Smith, Modernism Week CEO. "Many Modernism Week attendees come to Palm Springs specifically to attend this amazing show and interact with dealers from around the country. We are delighted to feature this incredible showcase of unique items during our festival."
The show opened on Friday, February 17 with a festive Preview Party that benefited Modernism Week. Attendees enjoyed cocktails, hors d'oeuvres, live music, and an exclusive opportunity to be among the first to see and shop the world-class collections before the show opened to the public. Ticket proceeds benefited Modernism Week's scholarship, educational, and community grant programs.
Notable returning 20th century dealers this year were Converso from Chicago, Dragonette Ltd., from Palm Desert, The Whatever Gallery from San Diego, Habitat Gallery from Los Angeles, Gallery Girasole from North Hollywood and Charles Hollis Jones from Burbank.
The show welcomed new 20th century dealer Hobbs Modern from Los Angeles who featured a very high-end collection of curated mid-century modern furniture and decorative arts along with West Coast Modern LA who featured vintage 20th century furniture and fine arts.
Notable returning 21st century dealers included Moya Living from Fountain Valley CA, Unapologetically Italian from Italy, Roshults from Sweden, Genus Furniture Company from Harrisonburg VA, Modfire from Phoeniz AZ and Resource Furniture from New York.
The show welcomed new 21st century dealers Tidelli Outdoor Living from Newport Coast CA who featured high-end outdoor furniture made in Brazil along with Sean Woolsey Studio from Costa Mesa who featured contemporary pool and ping pong tables as well as his line of hand-crafted furniture using natural materials.
"The Palm Springs Modernism Show 2023 was a rousing success," said Jickie Torres, Director of Content at Atomic Ranch. "The show was beautifully curated with every vendor displaying stunning collections. We at Atomic Ranch were proud to be a part of bringing the best and brightest in modernist wares from vintage to new to a crowd who was undoubtedly energized and as inspired as we were."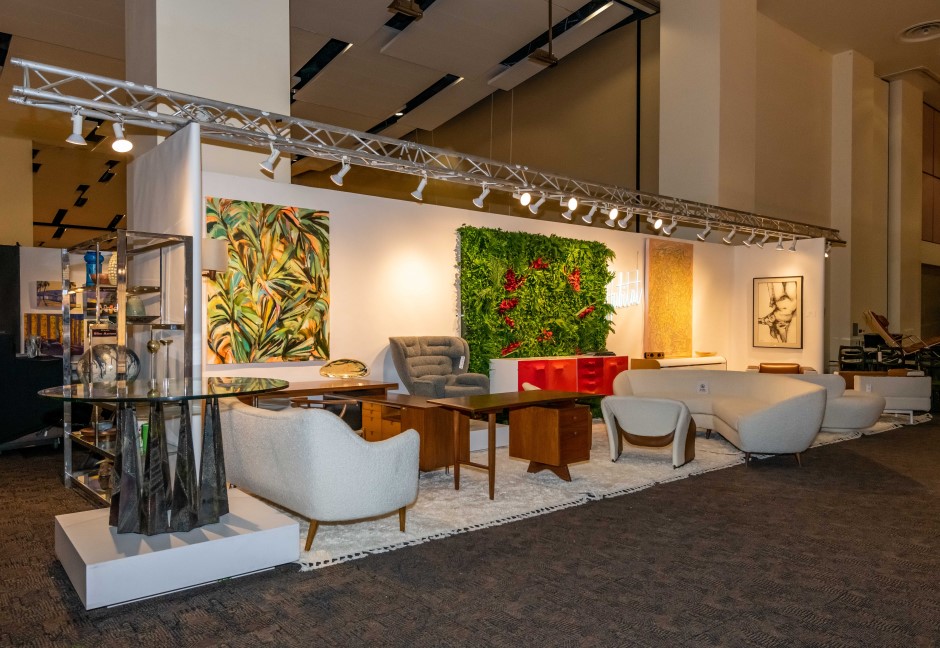 "This year's Palm Springs Modernism Show was spectacular," said Malena Brush of Habitat Gallery. "The incredible quality of the dealers in the show was reflected in the attendance. Celebrities, dignitaries, interior designers and all the usual movers and shakers were in attendance, making it the hottest ticket in Palm Springs in 2023. We sold several items, one of which was a rare George Nakashima for Widdicomb desk. While widely known for his studio pieces, Nakashima designed a line of furniture for Widdicomb in the 1950s that were handmade pieces to Nakashima's specifications in the Widdicomb-Mueller Studios, with the same techniques as Nakashima himself. Most of these desks have not survived as this desk was one of the rarer, more uncommon pieces of the Widdicomb Origin's Collection, with only two examples of this piece surfacing at auction within the past decade."
Stuart Graff, President and CEO of the Frank Lloyd Wright Foundation said, "The Palm Springs Modernism Show was a great opportunity for the Frank Lloyd Wright Foundation to interact with our audience of design enthusiasts and talk with them not only about what we've been doing with our licensed products, but also about where we're heading and what they are interested in for future product releases. We learned so much by being a part of the show and we look forward to furthering engagements in 2024 and beyond."
"We had a great time at the Palm Springs Modernism Show," said Chris DiVincente of Vangard 21 Art & Design. "It was a well-organized and was a very successful event for us. We sold some large vintage sculptures as well as contemporary paintings. In fact, one patron purchased eight paintings from us. The crowd was full of very well-qualified buyers. I loved that the show had an eclectic mix of vintage and current art and design items, from beautiful big decorative rugs to retro firepits, lighting, lots of studio pottery and included all the classic midcentury modern furniture and decorative arts. I look forward to returning in 2024 and am already planning my booth."
"It was such a pleasure to work with Rosemary and her team," said Michele Kafer from Tidelli Outdoor Living. "They were consistent from beginning to end in assisting us in the process. The answers were given in a prompt manner and with a great positive attitude. The Modernism Show was well organized, with a quality audience and proved to be an effective showcase for Tidelli Outdoor Living. We look forward to working together again next year."
For more information visit www.PalmSpringsModernism.com or email info@DolphinFairs.com
About Dolphin Promotions
Dolphin Promotions antiques and modernism shows are among the leading venues for antiques and vintage decorative and fine arts in North America. Established more than 40 years ago, Dolphin Promotions is owned and operated by its President, Rosemary Krieger. With more than 30 years of industry experience, Rosemary and her team bring together the best of the best of dealers, designers, collectors, and buyers. The shows they produce present high-quality items represented by all design movements of the 17th, 18th,19th, and vintage 20th century. Recently, Dolphin introduced cutting edge 21st century designs during their most well-attended show in Palm Springs. The combined expertise of the Dolphin team in instrumental in the success of the company and the shows they produce.
Dolphin Promotions produces 8 shows annually in the United States. All these events are distinguished by the solid reputation of the participating dealers and the diversity of the high-quality merchandise presented. Major antiques, art and design shows in Chicago, Houston, and Palm Springs rank among the finest quality events in their region and attract many local national and international exhibitors, collectors, and designers. All of Dolphin's shows offer a wide range of antiques, art and design and are very well advertised and attended.
https://www.DolphinFairs.com