The History of Palm Springs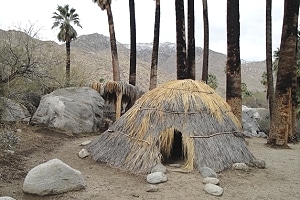 The historic journey that transformed Palm Springs from a Native American oasis to Hollywood's Playground of the Stars began over two thousand years ago with the arrival of the Cahuilla people. They lived here in virtual isolation and spoke Ivilyuat, a dialect of the Uto-Aztecan language family. In a 1990 census there were only 35 people who could still speak the language and tribal enrollment as of 2010 was 410 people. While Palm Canyon was occupied during winter months (the current site of the Spa Resort Casino was often used due to its natural hot springs), the Cahuilla trekked to much higher elevation in cooler Chino Canyon during the summer months, today easily accessible by the Palm Springs Aerial TRAM.
The Cahuilla name for Palm Springs was Se-Khi (boiling water). Streets and areas in Palm Springs using common Cahuilla surnames include Andreas, Arenas, Amado, Belardo, Lugu, Patencio, Saturnino and Chino. Native American petroglyphs, irrigation ditches, dams and house pits can be seen in Tahquitz, Chino and Indian Canyons. Petroglyphs, pictographs and mortar holes can also be seen in Andreas Canyon. The mortar holes were used to grind acorns into flour.
It is generally accepted that the first white men to visit Palm Springs were José María Estudillo and Brevet Captain José Romero who were sent by the newly formed Mexican government in December 1823 to find an overland route from Sonora to Alta California. On their expedition they first recorded the existence of Agua Caliente (hot water).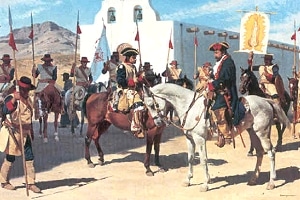 However, Spanish explorers were in the vicinity much earlier and called the Palm Springs area, La Palma de la Mano de Dios (The Palm of God's Hand). It is highly probable that the Cahuilla made contact with them or, at the very least, were aware of their presence. In the early 1770's, the Wandering Franciscan, Fray Francisco Garces, explored the foot of the San Jacinto Mountains. Shortly thereafter, Don Juan Bautista de Anza made a solo journey across the desert from present-day Tubac, Arizona to an area just south of Palm Springs. Garces accompanied Anza on both his 1774 expedition from Tubac to Mission San Gabriel (near present-day Los Angeles) and 1775-76 expedition from Tubac to San Francisco Bay. Anza assumed there was an overland route because the Native Americans in Tubac, Arizona were continuously well informed about the huge ships sailing along the California coast from word-of-mouth passed from tribe-to-tribe.
In 1876, the United States government established the Agua Caliente Reservation over 31,128 acres in a checkerboard format of alternating sections of 640 acres. The alternating non-reservation sections were granted to the Southern Pacific Railroad as an incentive to bring rail lines through the Sonoran desert. This checkerboard format includes downtown Palm Springs, making the Agua Caliente one of the wealthiest tribes in the United States. Those interested in buying Palm Springs real estate may be shocked to discover that the land underneath some of the homes or condos they wish to purchase is leased. The Agua Caliente secured the right for its members to lease land for 99 years at a time in 1959.
John Guthrie McCallum is considered by many to be the first non-Indian settler in Palm Springs in 1884. While a prominent family (the McCallum Theater is named after them), the first non-Indian settler was Jack Summers, who ran the stagecoach station out on the Bradshaw Trail in 1862 (the year of the great small pox epidemic that felled many Cahuilla). In 1876, the Southern Pacific railroad was laid six miles to the north, isolating the stagecoach station out of business. Today, the McCallum's original home, the McCallum Adobe, is a museum on downtown Palm Canyon Drive.
It was in the early 1900s that Palm Springs began to establish itself as the world-class destination it is today. Many of its first residents came here because the dry, hot climate was beneficial to their health, particularly if the person was infected with tuberculosis (John McCallum relocated his family here for that reason). In the 1930s, Palm Springs became the #1 desert getaway for Hollywood stars (Las Vegas didn't become a Hollywood destination until the late 1940s). Palm Springs is known today as the Golf Capital of the World, but the initial sport associated with the area was tennis, exemplified by the Palm Springs Racquet Club and the Palm Springs Tennis Club.
There was another reason why Hollywood stars flocked to Palm Springs and it may have been the most important of all. A star's life in the 1930s could easily be destroyed by gossip or scandal. America was much more puritanical in those days and every star lived under a constant veil of surveillance and paranoia. An extramarital affair or revelation that a star was Gay could take you from riches to rags – literally overnight. Gossip columnists like Louella Parsons and Hedda Hopper wielded immense power with an insatiable readership of millions who devoured every one of their salacious stories. But word soon spread that there was a beautiful desert sanctuary where one could be relatively safe from their prying eyes.
The 1930s was in the economic throes of the Great Depression while Parsons, Hopper and numerous publications had their spies feverishly trailing every Hollywood star for the next juicy scandal. These gossip reporters worked for pennies, but survived because they would be reimbursed for their travel expenses, but only up to a range of 100 miles.
Palm Springs is 107 miles from Los Angeles.
It wasn't foolproof, but it quickly gained Palm Springs an enduring reputation as a safe haven beyond the reach of the gossip columnists. Many stars visited or bought homes here including Douglas Fairbanks, Mary Pickford, Lillian Gish, John and Lionel Barrymore, Leslie Howard, Bing Crosby, Jimmy Durante, Spencer Tracy, John Wayne, Errol Flynn, Robert Wagner, Frank Sinatra and Bob Hope. In 1934, Ralph Bellamy and Charlie Farrell bought a large parcel of land and created the Palm Springs Racquet Club, inviting their fellow Hollywood stars to join them. They did. Today, their names and hundreds of other celebrities are enshrined forever on the Palm Springs Walk of Stars.

PalmSprings.com: The Official Guide to Palm Springs, California!