Palm Springs Aerial TRAM
One Tramway Road
Palm Springs, CA. 92262
Buy TRAM Tickets!
TICKETS! Palm Springs Tramway
No trip to Palm Springs is complete without a ride up the TRAM! Ascend 8,000 in the world's largest rotating tramcars. It is forty degrees colder at the top and a completely different universe as you soar through four different temperate zones that is analogous to traveling from Africa to Alaska! At the summit you will find great hiking, horse back riding, (in winter, cross country skiing) and, of course, some of the most incredible views on earth. On a clear day, it is possible to see Las Vegas.
Opened: September 1963
Capacity: Two 80-passenger enclosed rotating cars
Elevation: Valley Station – 2,643′ / Mountain Station – 8,516′
TRAM Distanced Traveled: Approximately 12,800′ with vertical ascent of 5,873′ – 15 minutes travel time one way.
TRAM Basic Technical Facts: Five towers support four 1-7/8″ steel cables as well as four hauling cables, two auxiliary cables and a communications cable. The first tower is the tallest at 214′ high; Tower Number Four is the shortest at 56 1/2′ high. The weight of steel in the five towers totals 263 tons; the weight of the 11 cables totals 330 tons. The maximum span between towers is 3,455′ between Towers 3 and 4.
Departures: Cars depart at least every half hour from 10 a.m., Monday-Friday; 8 a.m. weekends and holiday periods. Last car up is 8 p.m. with the last car down at 9:45 p.m.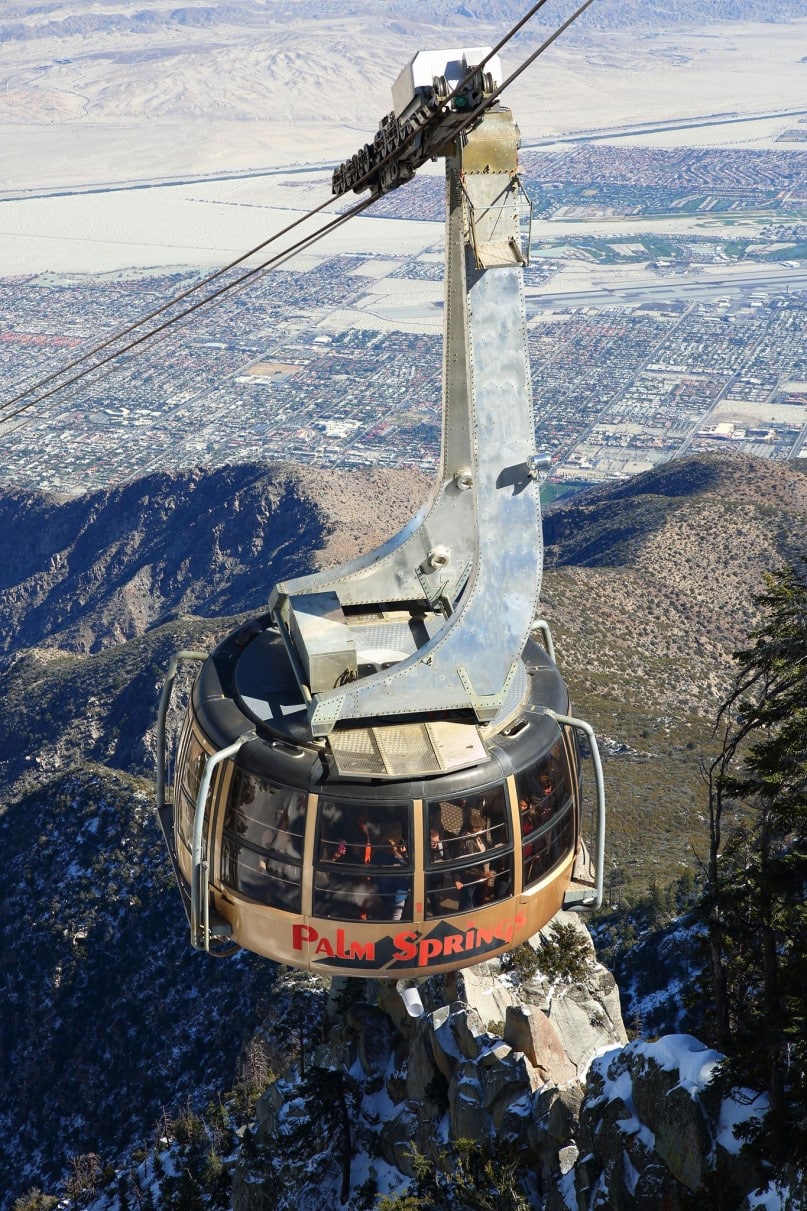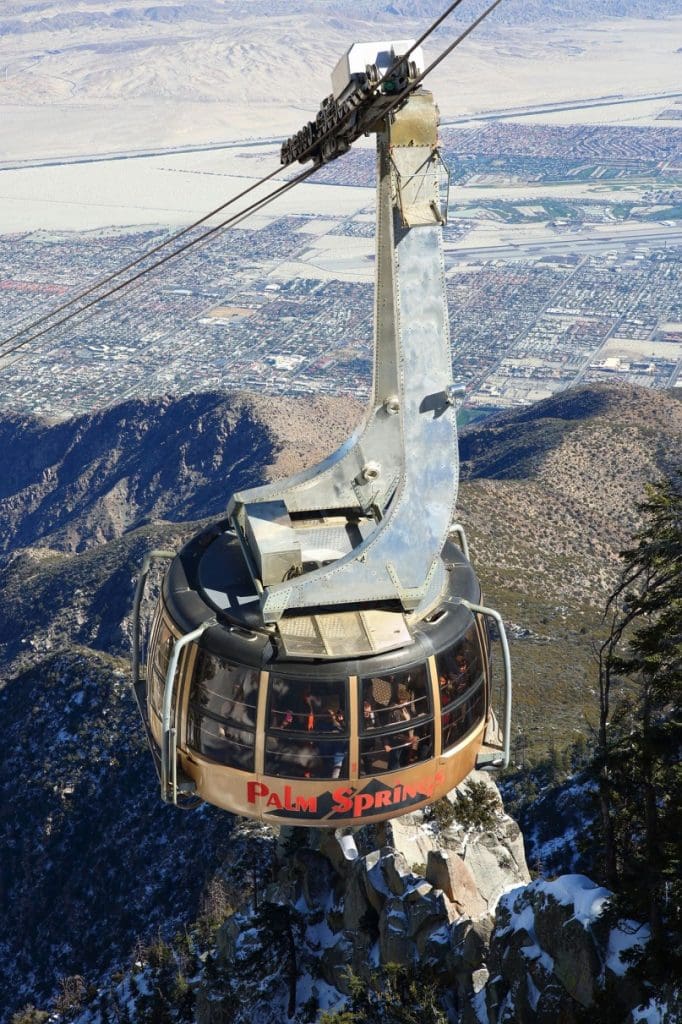 Palm Springs Aerial Tramway Fact Sheet
Elevation of lower terminal (Valley Station): 2,643ft 806m
Elevation of upper terminal (Mountain Station): 8,516ft 2597m
Difference of elevation: 5,873ft 1,791m
Actual length traveled along cables:12,780ft 3,895m
Average gradient: 26 degrees
Maximum gradient: 42 degrees
Number of intermediate towers: 5
The first tower is the tallest at approximately 227ft
Car dimensions: 8ft high inside18ft in diameter
Weight (carriage, hanger and cabin) empty:22,000lb 10,000kg
Weight (carriage, hanger and cabin) loaded:13,600lb 6,200kg
Total weight: 35,600lb 16,200kg
Capacity of each car: Approx. 80 passengers plus 1 car operator
Maximum existing traveling speed:  1,970 linear feet per minute 21 mph 10 m/se
FACT:  Each pair of track cables is tensioned by counterweights at the Valley Station, weighing in excess of 120 tons each.
FACT:  The haul and counter ropes are tensioned by a counterweight at the Mountain Station weighing 67 tons.
FACT:  Other rotating trams in the world:
Mt. Titlis, Engelberg, Switzerland: Operates winter and summer
Table Mountain, Cape Town, South Africa: Operates year round
TICKETS! Palm Springs Tramway
Where can I buy advance tickets to ride the tram?
Buy advance TRAM Tickets Here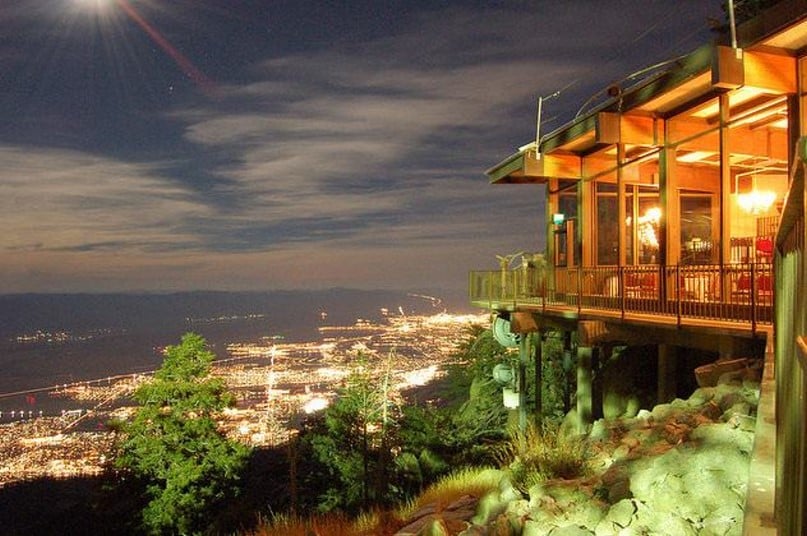 What if I miss my reserved time?
Take your boarding pass to the ticket counter and they will issue you a new one for the next available tram car.
Is the tram car air conditioned?
No, but the windows are open to allow for ventilation.
What's at the top?
There are two restaurants, a cocktail lounge, observation decks, a small natural history museum, two theaters showing State Park and tram construction videos, a gift shop, Magic Memories for photo viewing, and over 50 miles of hiking trails along with other nature activities.
How long does the tram ride take?
Approximately ten minutes in each direction.
Do you sell out?
The tram does not sell-out, but when parking lots are at capacity and/or wait times become excessive, we will temporarily delay additional ticket sales. For that reason, you may want to buy Advance Tickets
Are pets allowed?
Only service animals are allowed on the tram. The State Park also restricts pets to service animals.
How often do the trams run?
Tram cars run at least every 30 minutes and always on the hour. More frequent tram cars are scheduled as demand warrants.
Do you take credit cards?
We accept Visa, Master Card, American Express and Discover.
Does bad weather cause the tram to shut down?
Safety always dictates weather-related shut downs. Generally, however, the tram only stops operating when there are sustained high winds and/or during electrical storms.
Do I need to make reservations for the restaurants?
Pine Café, a cafeteria-style restaurant, does not accept reservations. Peaks Restaurant, a waiter-service dining experience, does and reservations may be made by calling 760.-325.4537.
What is the weather like at the top?
The weather at the Mountain Station is typically 30-40 degrees cooler than on the desert floor.
When is it going to snow?
During the past few years of drought, snow patterns have changed dramatically. In the 2014-2015 season, the first light snowfall occurred in November and the final, in mid-May.
When are you open?
The tram operates year round, seven-days-a-week except September when a maintenance closure is scheduled. Check Hours of Operation for exact dates.
Can pregnant women and/or infants ride the Tram?
They do, but we always suggest consulting with your physician first. The altitude change is approximately 6,000 feet during the 10-minute ride.
Do I need a hiking permit?
No permits are needed for Long Valley trails, but a wilderness permit is needed if hiking beyond the ranger station. There is no charge and it may be obtained upon arrival at the ranger station.
Do I need a camping permit?
Yes. The State Park charges $5 per person for camping permits.
Do I need to come all the way up the road?
Yes. The Tram's Valley Station is located approximately 3.5 miles after turning onto Tram Way.
Is the Tram wheelchair accessible?
The Valley Station, the tramcar and the Mountain Station are all fully wheelchair accessible and A.D.A. compliant.
Can I bring an oxygen tank, stroller, walker, picnic chest, backpack etc. onto the tram?
Yes, but you may be asked to make some accommodation if the car is crowded (i.e. folding the stroller, setting backpack on floor, etc.)
Are there any shuttles or busses to the Tramway from Palm Springs?
There are not, but all local cab companies will take and pick up patrons at the Tram's Valley Station.
Are drones allowed?
Drones are not permitted at the Tramway , on Tram property, or in the State Park Wilderness Area. State Park regulations prohibit the use of motorized equipment (including UASs) within wilderness areas, cultural preserves, and natural preserves (Cal. Code Regs. tit.14, § 4351).
PalmSprings.com: The Official Guide to Palm Springs, California!