Guaranteed Lowest Rates for Palm Springs Hotels & Resorts!
PalmSprings.com.com, in partnership with Booking.com, brings you the absolutely lowest prices for the most popular Palm Springs hotels and resorts!

100 W. Tahquitz Canyon Way
Palm Springs, CA 92262
PalmSprings.com Best Rate!
Voted 'One of the Best New Hotels in the World' by Conde Nast, an ethereal desert beauty permeates every experience at Kimpton Rowan Palm Springs Hotel where urban enchantments meet epic scenery. At the rooftop pool and bar, pair brilliant sunsets with masterful cocktails. Dine at one of our two chef-driven restaurants featuring seasonal, shareable small plates made from fresh, local ingredients. From vista points like our refreshing rooftop deck or the two-story cinematic window in the lobby, the views are stunning and unsurpassed. Embrace our desert dreamland! …more info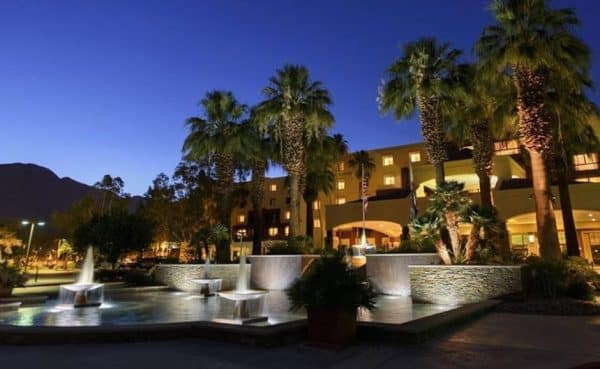 888 Tahquitz Canyon Drive
Palm Springs, CA 92262
PalmSprings.com Best Rate!
At the Renaissance Palm Springs, located at the foot of the dramatic San Jacinto Mountains, you will find the sunshine, clear blue skies and soft breezes draw you into one of the most popular Palm Springs hotels. Inside, vast open spaces are brought down to scale with striking focal points that blend nature with the modernism of the new Palm Springs creating an indoor oasis! The Renaissance's design draws from the surrounding landscape and, fused with the glamorous history of the area, combines to form a serene and welcoming environment that is a "destination" for convention and vacation travelers alike! …more info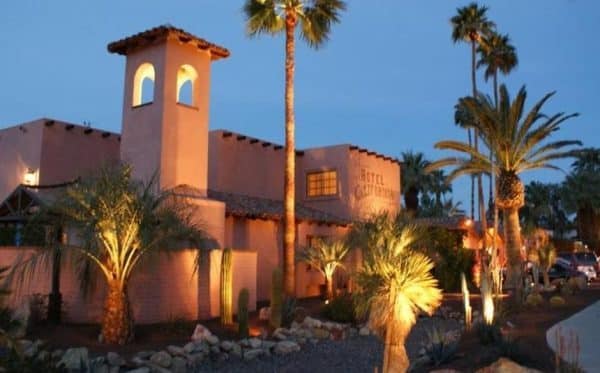 424 E Palm Canyon Drive
Palm Springs, CA 92262
PalmSprings.com Best Rate!
Our classic California Spanish Mission hotel provides just the right amount of rustic charm and romance. Fourteen comfortable rooms surround a sparkling pool and spa amid a lush courtyard where banana palm trees and birds of paradise sway in the breeze complimenting spectacular mountains views! Hotel California is recognized as #1 in service on TripAdvisor for Palm Springs hotels. Come see why guests rate us so well time and time again, and year after year. We look forward to having you stay with us… by the pool… at Hotel California in Palm Springs! …more info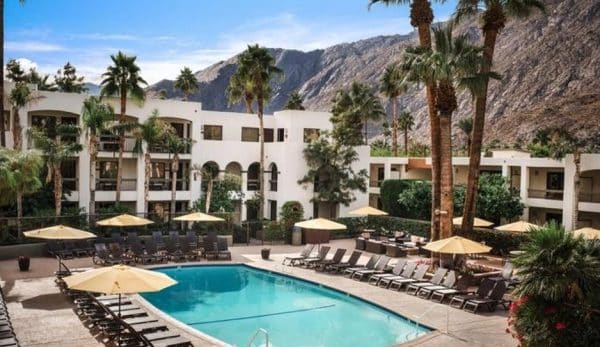 155 South Belardo Road
Palm Springs, CA 92262
PalmSprings.com Best Rate!
Palm Mountain Resort & Spa is located in the heart of Palm Springs just one block from the famed Palm Canyon Drive. Our downtown Palm Springs hotel offers scenic grounds featuring a newly renovated, perfectly chilled pool with sunning terrace, misters to keep you cool, a courtyard space ideal for gathering, and fire pits and a new hot tub for cool evenings. Both the Agua Caliente Cultural Museum and the Palm Springs Art Museum are just steps away. Your tranquil oasis in the heart of Palm Springs awaits! …more info
227 N. Indian Canyon Drive
Palm Springs, CA 92262
PalmSprings.com Best Rate!
Originally built in 1935, the Andreas Hotel & Spa is a landmark in the heart of a world famous city. Keep cool on the shaded pool deck in our courtyard. Come nightfall, grab yourself a cocktail or glass of wine and bask in the glow of an outdoor fireplace. Our 25 deluxe guest rooms and suites are exquisitely furnished in the Spanish Revival and Craftsman styles of the 1930s. Marble and stone bathrooms with oversized Jacuzzi tubs and separate walk-in showers distinguish some of the suites, and all of the rooms feature luxurious pillow-topped beds and plush furnishings! …more info

2800 South Palm Canyon Drive
Palm Springs, CA 92264
PalmSprings.com Best Rate!
With a utopian tropical landscape, 1.5-acre pool and sun deck and a lush grotto, Palm Canyon Resort is a cool and comfortable place to spend a Southern California getaway. Retreat to the in-cave hot tub or relax by the cascading waterfalls around the swimming pool. Only footsteps away, you'll find plenty of room for leisure or entertaining within the spacious villas and suites, most featuring full kitchens, balconies and separate areas for dining and living. Whether you're playing a round at the many local golf courses or hiking through the regions sprawling natural spaces, Palm Canyon Resort has the lavish amenities and home-like conveniences that cater to your comfort….more info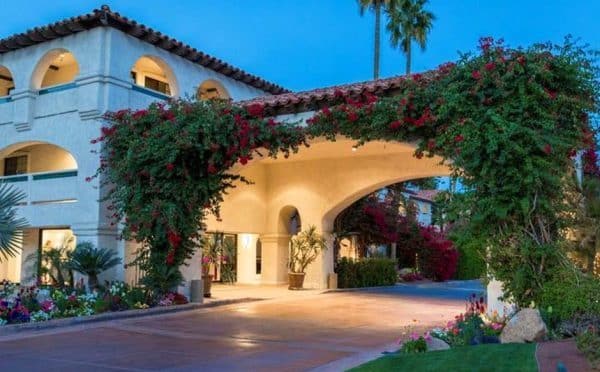 222 S. Indian Canyon Drive
Palm Springs, CA 92262
PalmSprings.com Best Rate!
Only one Palm Springs hotel gives guests a generous peppering of luxury complete with a very affordable price tag. Palm Springs is all about relaxation, sun bathing, and indulging in your A-lister side. Tripadvisor® lists the Best Western Plus Las Brisas Hotel as one of the top resorts in the Palm Springs area. What makes our digs so fabulous? The unique landscaping, glamorous bars and top of the line food service are a good start. Whether you're in town for leisure or corporate business, we've got you covered. Free breakfast includes eggs, sausage, waffles, fruits and pastries, cereal, yogurt and 100% Arabica coffee! …more info
150 S. Indian Canyon Drive
Palm Springs, CA 92262
PalmSprings.com Best Rate!
Check in and unwind in one of our spacious rooms or gracious, modern suites. Some rooms offer balconies or terraces, others open up onto the pool or offer views of the panoramic San Jacinto Mountains. We're even pet friendly and have something for everyone. Hungry? Order room service, pop into the restaurant or we'll deliver it to you by the pool. Thirsty? Stroll down to the lobby bar and sip a cocktail while you mingle with locals and visitors. When the sun rises, stake out your spot and post up by our pool. Private cabana rentals are available. Kick back at Hotel Zoso and relax in true Palm Springs style! …more info
285 N. Palm Canyon Drive
Palm Springs, CA 92262
PalmSprings.com Best Rate!
Hyatt Palm Springs is the quintessential resort hotel of the Coachella Valley with superb amenities in every suite and excellent proximity to outdoor attractions like Indian Canyons and VillageFest. See why Palm Springs is the Golf Capital of the World and ride a hot air balloon over the Santa Rosa Mountains when you aren't admiring towering San Jacinto from your balcony. Hyatt Palm Springs will compete for your attention, from the heated outdoor pool and elegant cabanas to VIP bathrobes and daily newspapers in every room. Exclusive services like Pure Body Spa and YogaAway™ make each suite a little extra special! …more info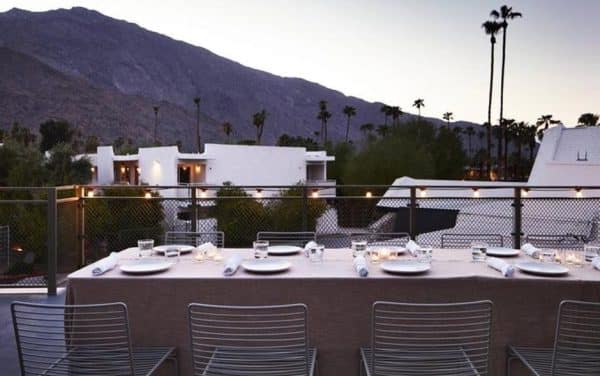 701 E. Palm Canyon Drive
Palm Springs, CA 92264
PalmSprings.com Best Rate!
We found a neglected treasure — a mid-century desert modern former Westward Ho with a Denny's — dusted it off, gave it some love and made it into Ace Hotel & Swim Club. Our 179-room hotel, spa and resort in Palm Springs is within biking distance of downtown and close to cool stuff like Joshua Tree, the Salton Sea, Salvation Mountain, all kinds of historic desert modern architecture and tons of great vintage shopping. It's also the best place in Palm Springs to get a laid-back massage or natural treatment at the Feel Good Spa, by the pool or in your room! …more info
PalmSprings.com
The Visitors Guide to Palm Springs, California!