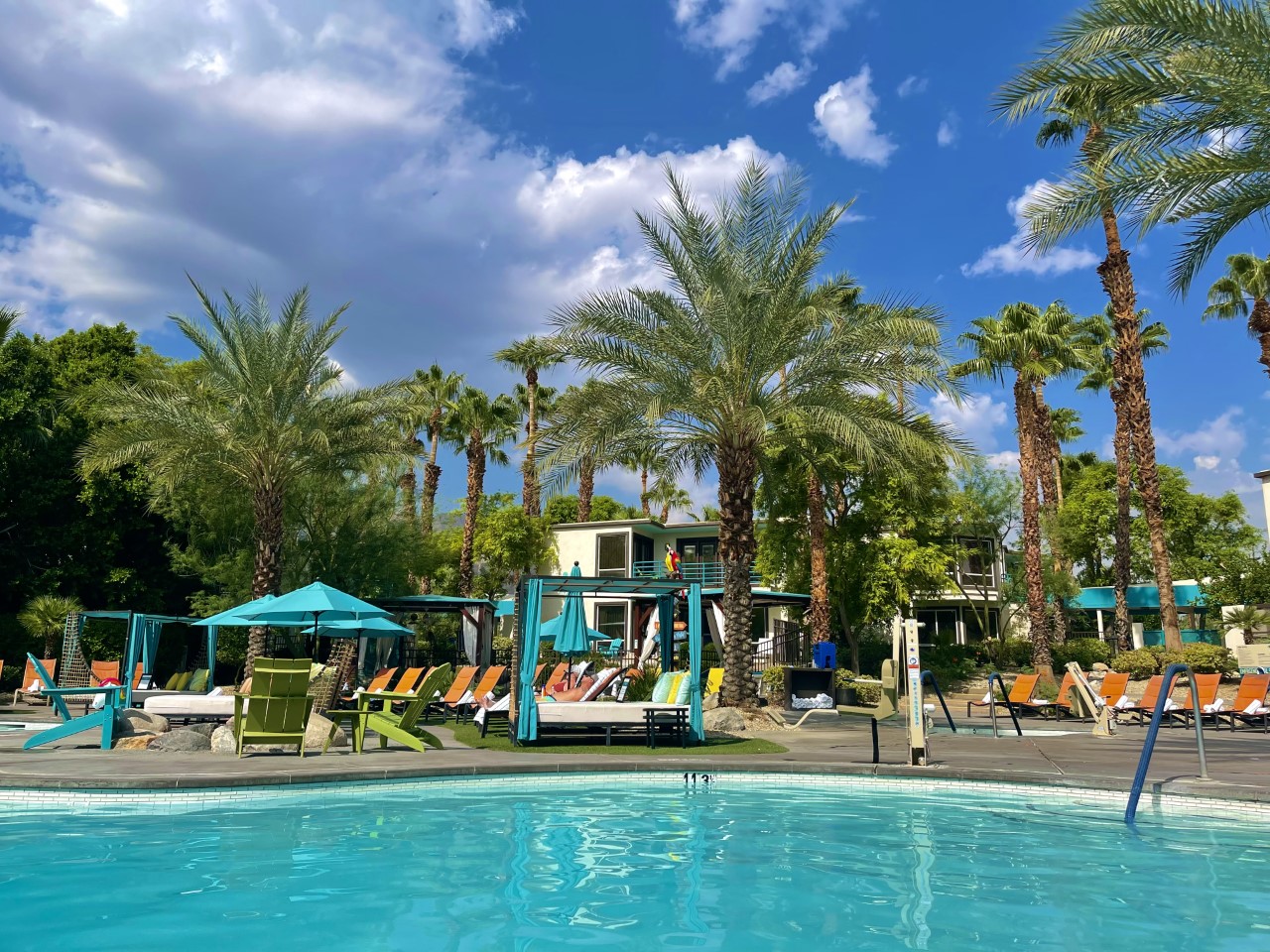 Margaritaville Palm Springs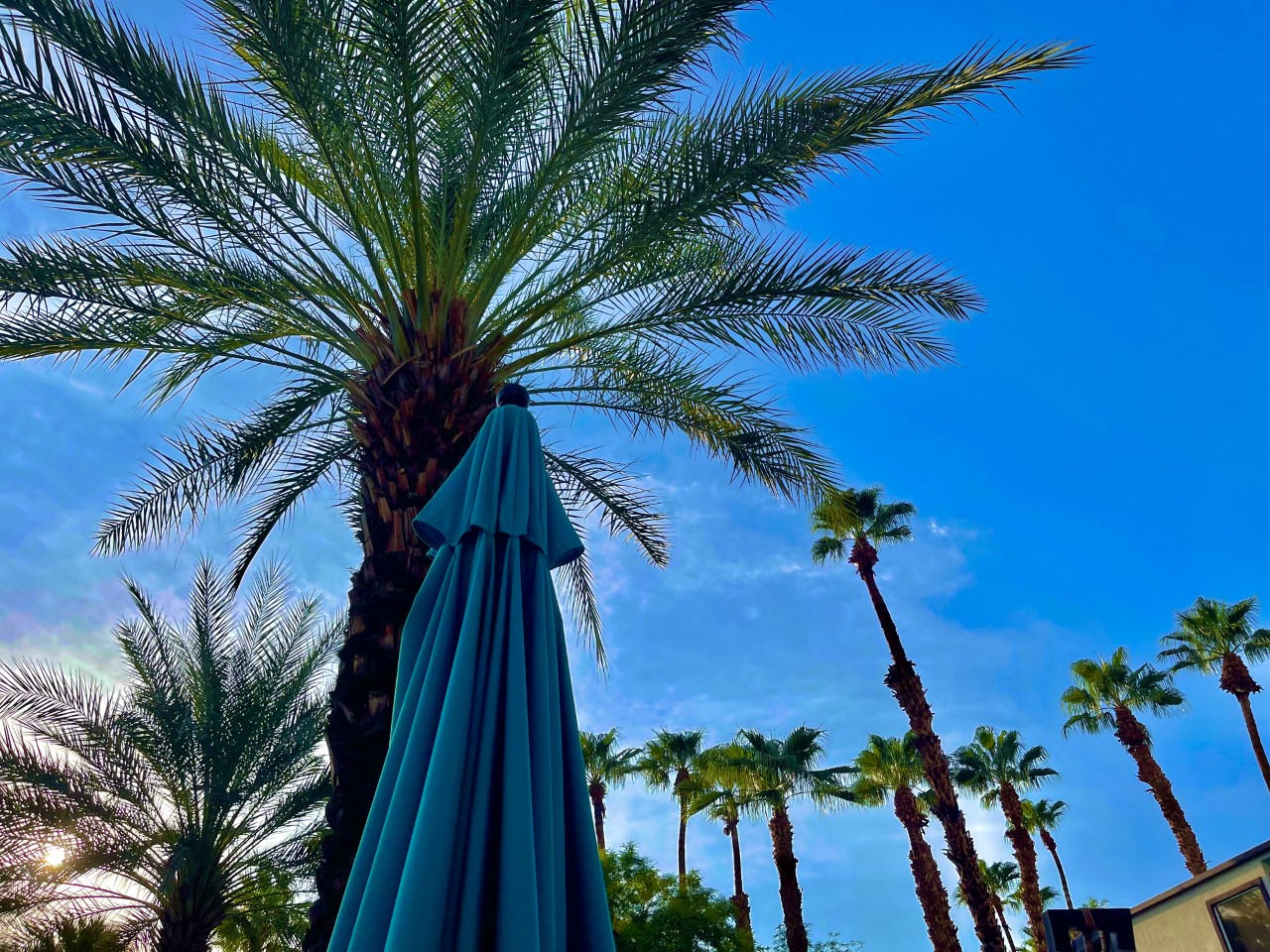 You're tired from traveling all day, a little smelly, and incredibly thirsty. But not for water, for something different. Something with a twist of a lime. Something that really lets you know you've finally arrived.
A Margarita.
Oh yes. Your eyes focus on the word in front of you. Margarita..ville?
Margaritaville.
A village of Margaritas? A movie. A dream. No- a reality.
Margaritaville is the Palm Springs Resort of a lifetime.
I love the fact that they truly incorporated the "village" aspect into their resort. It definitely feels like a community and there is so much to do.
Unlike many other hotels that have only one restaurant with limited open hours, Margaritaville has 3 bars, two restaurants, a coffee shop/gift shop, and two pools. No matter what time of day it is, you have somewhere to go.
Outside of Margaritaville, you are perfectly located around many shops, restaurants, and the infamous Palm Canyon Drive. Take one of their bikes and make your way to town!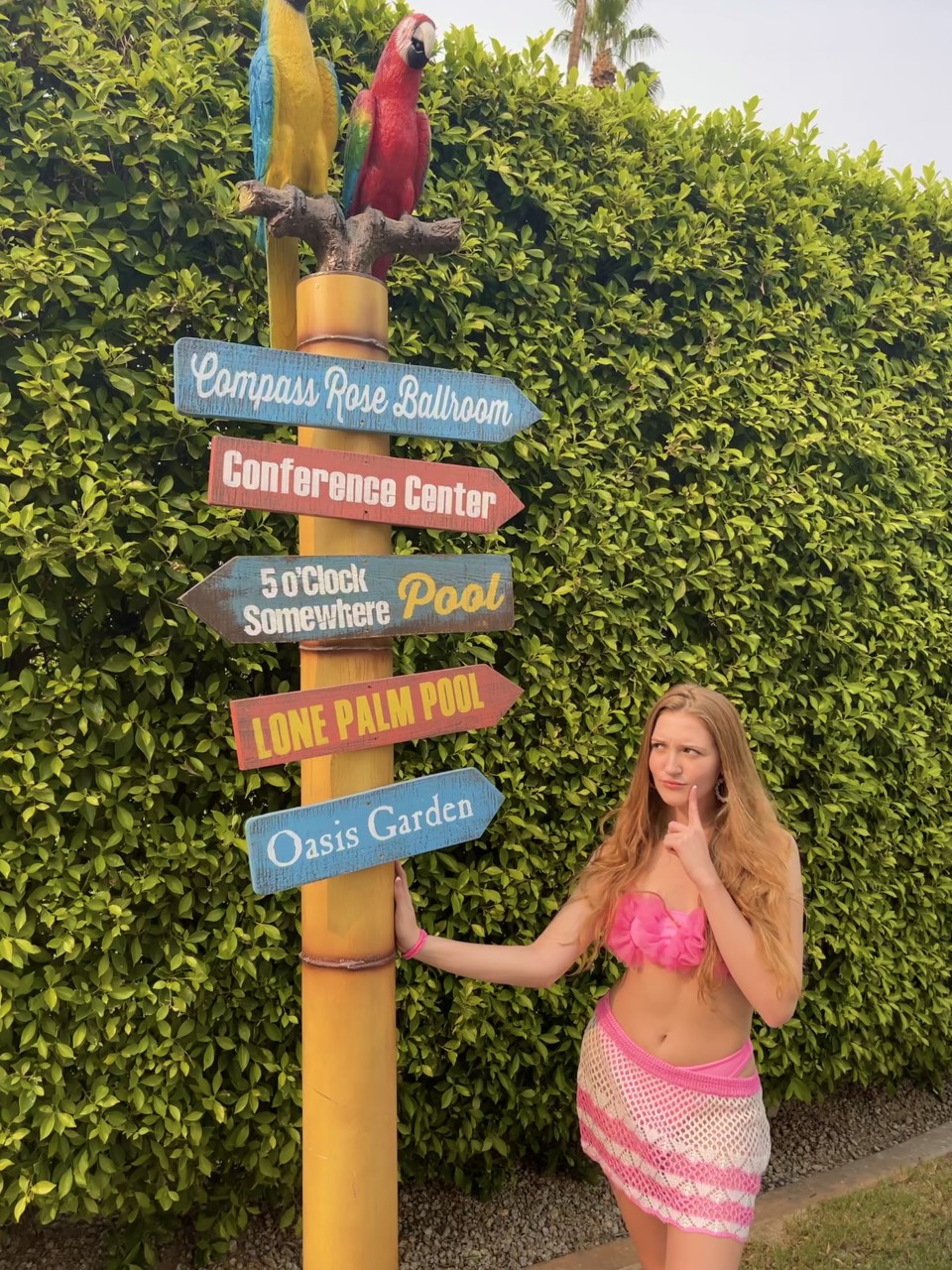 Let me dive into Margaritaville a little deeper!
Welcome to Margaritaville!
When stepping foot into Margaritaville for the first time, you will be overwhelmed by its stunning design. Every detail is beautiful and perfectly decorated to make you feel right at vacation!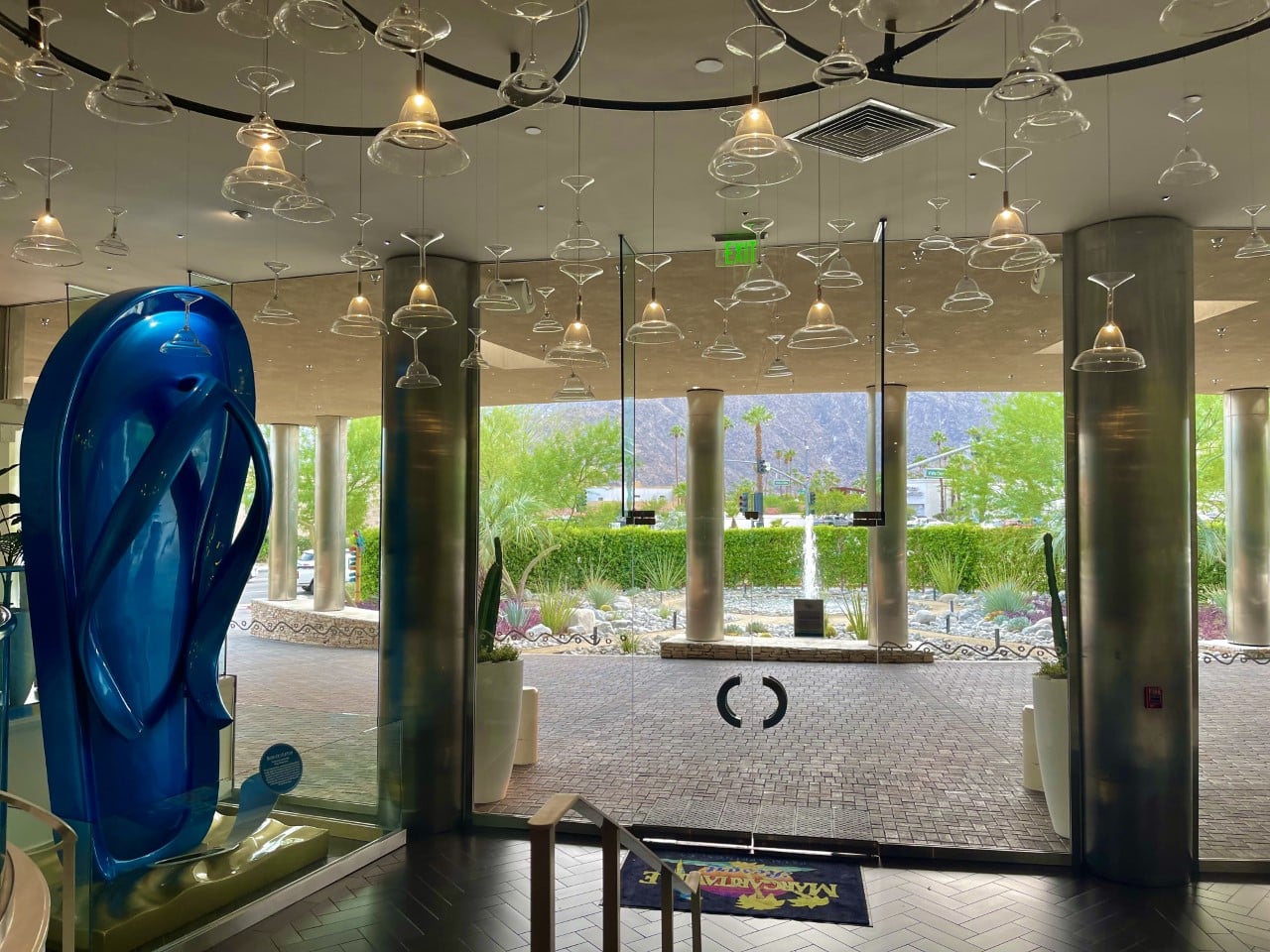 Welcome to MargaritavilleThe staircase is so pretty with the large martini chandelier overhead!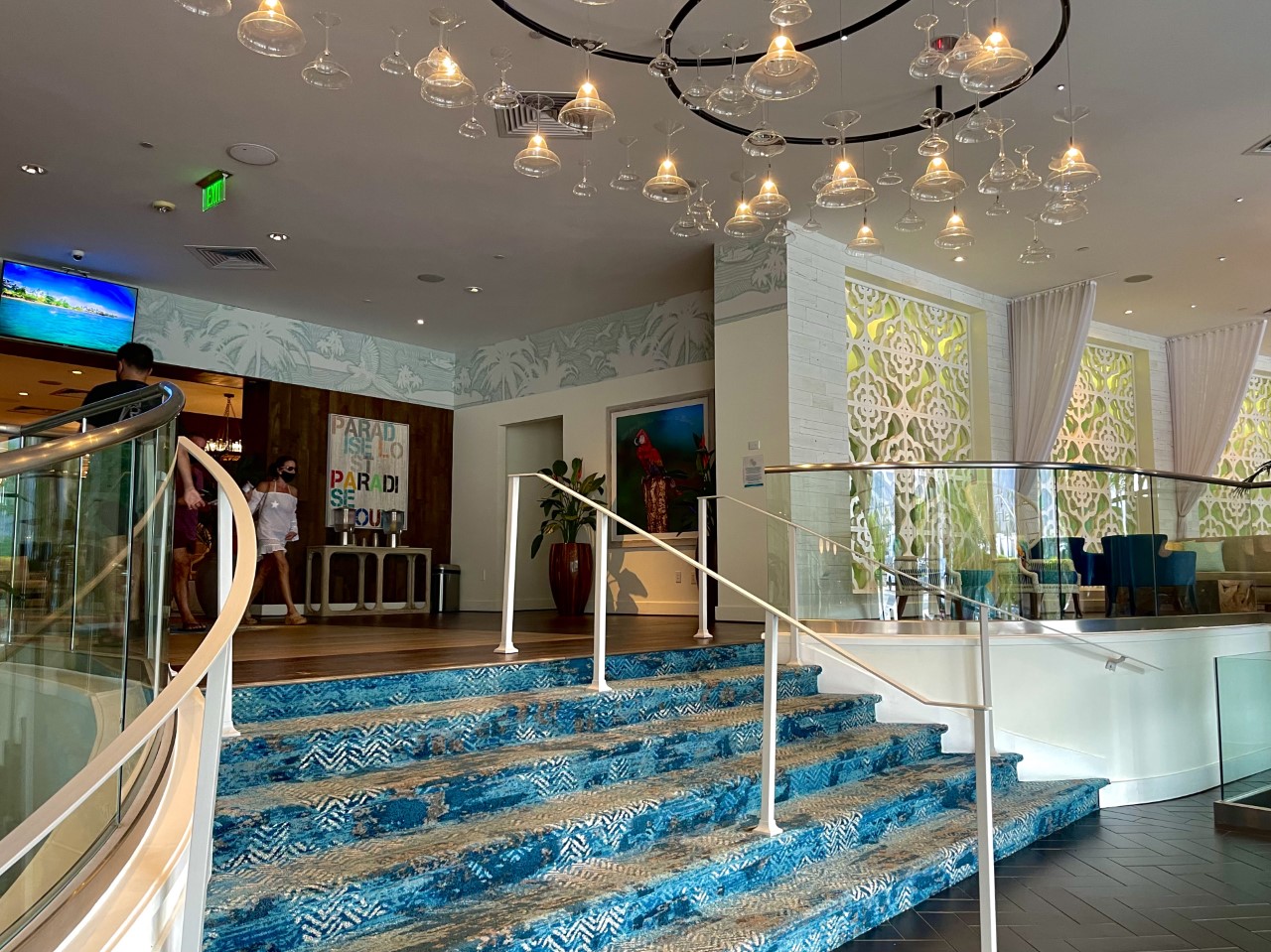 Staircase into Margaritaville. Long line to check in? Take a seat!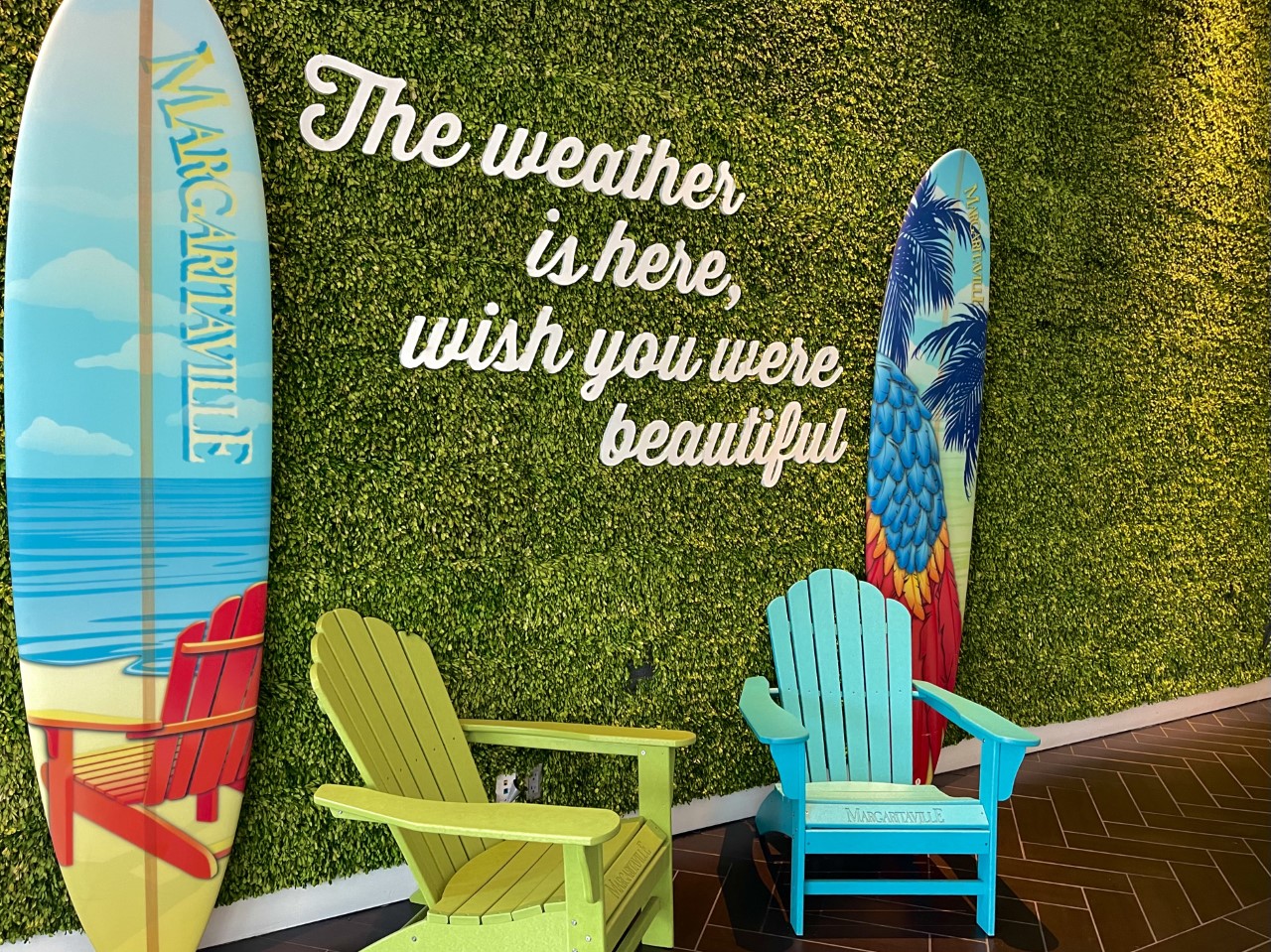 Fun grassy wall or sit here in style located right next to the check in desk.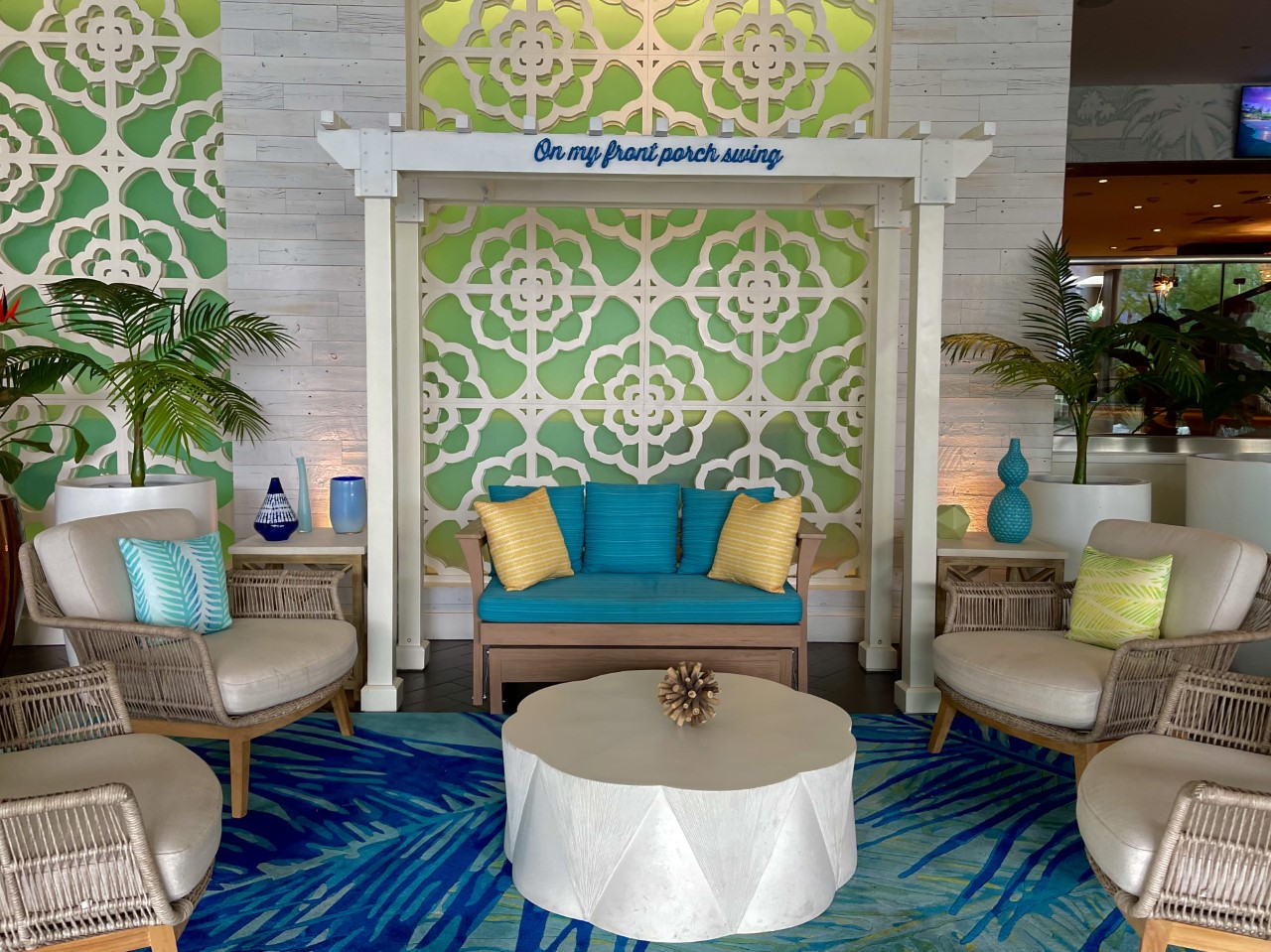 Margaritaville's Pool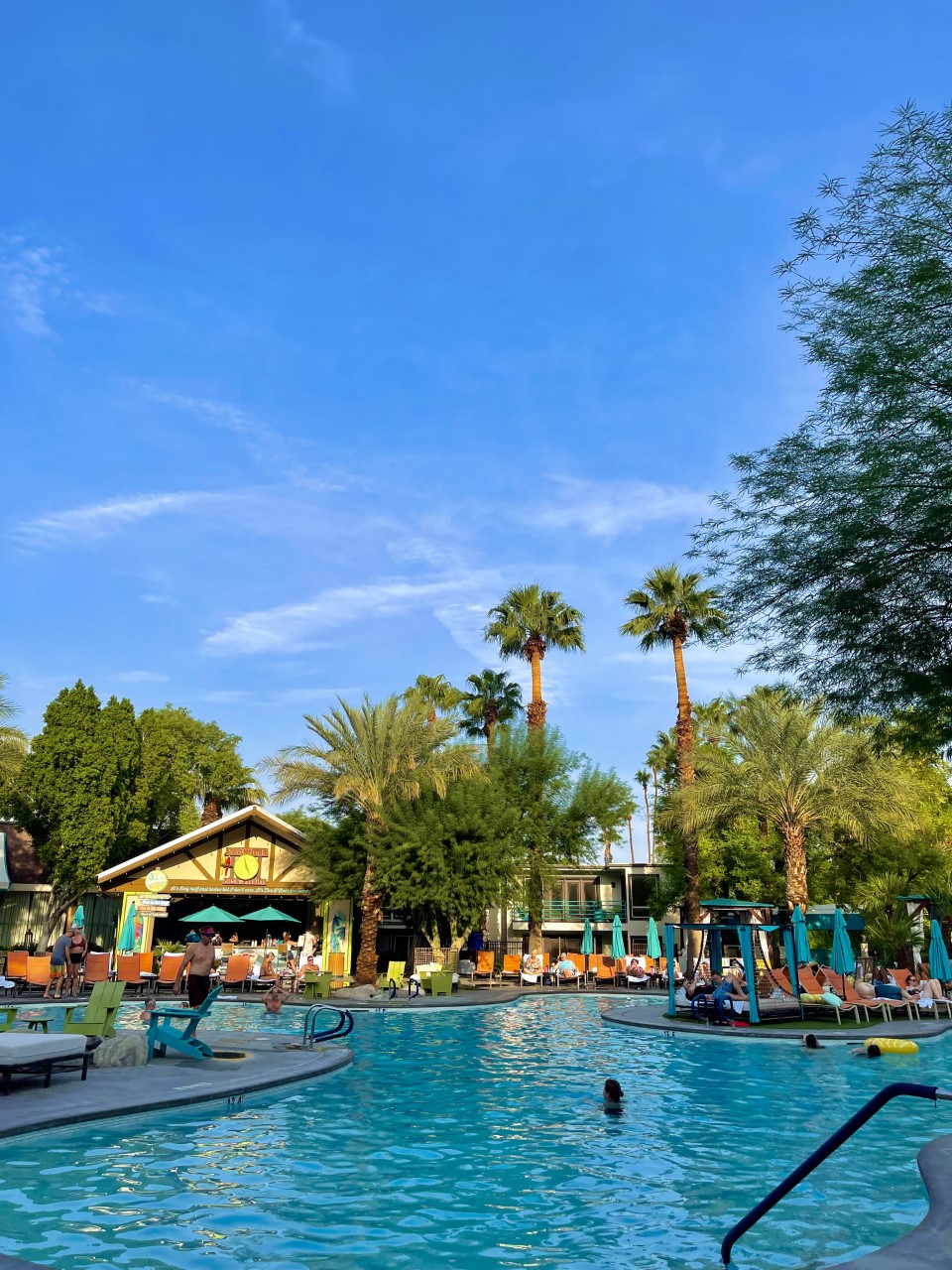 It is the center of everything and the place to simultaneously relax and party. You can easily get to every restaurant, bar, and café from here.
The pool area is gorgeously designed and one of my favorites that I've seen in Palm Springs. At night it turns into a beautiful bonfire oasis with comfy chairs to sit back in and enjoy the fire, or, what I loved most, an enchanting night swim.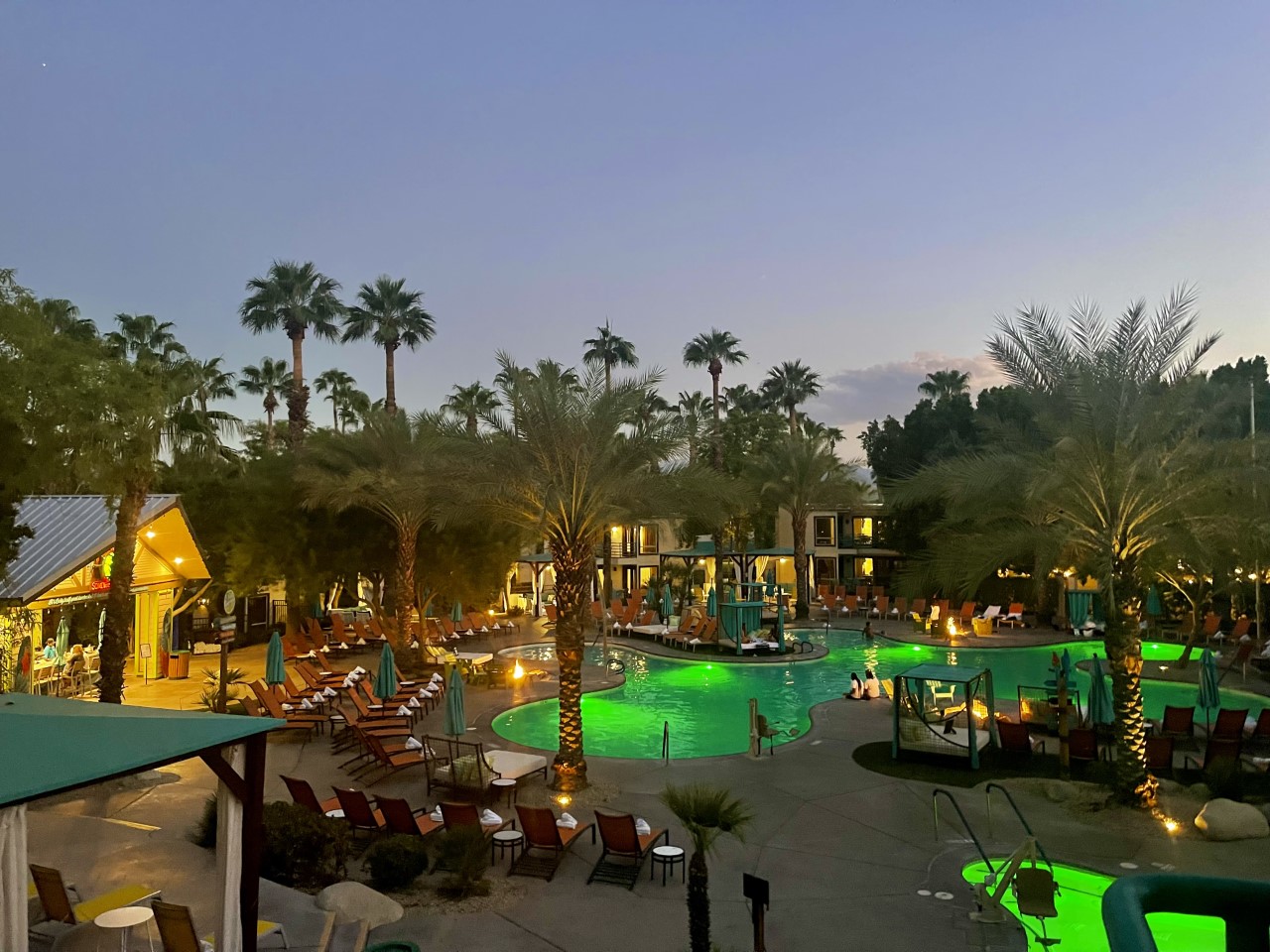 Nighttime at pool with bonfiresIt is STUNNING. And the jacuzzi and poolside grill & bar are only a few steps away.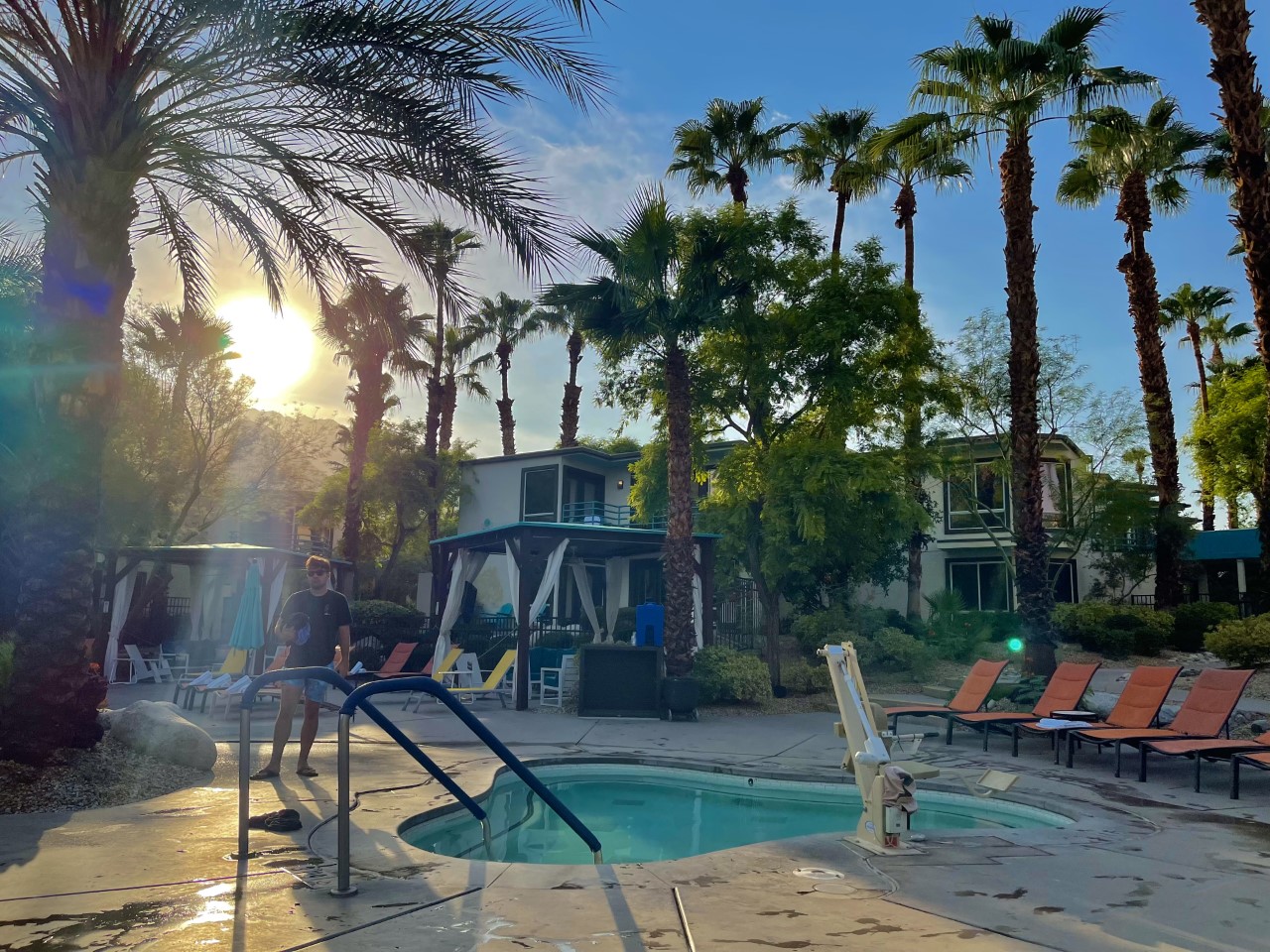 Cabanas and beds are available to rent as well as beautiful relaxing outdoor "rooms", and there are so many chairs with plenty of opportunities to snag a great spot around this large pool.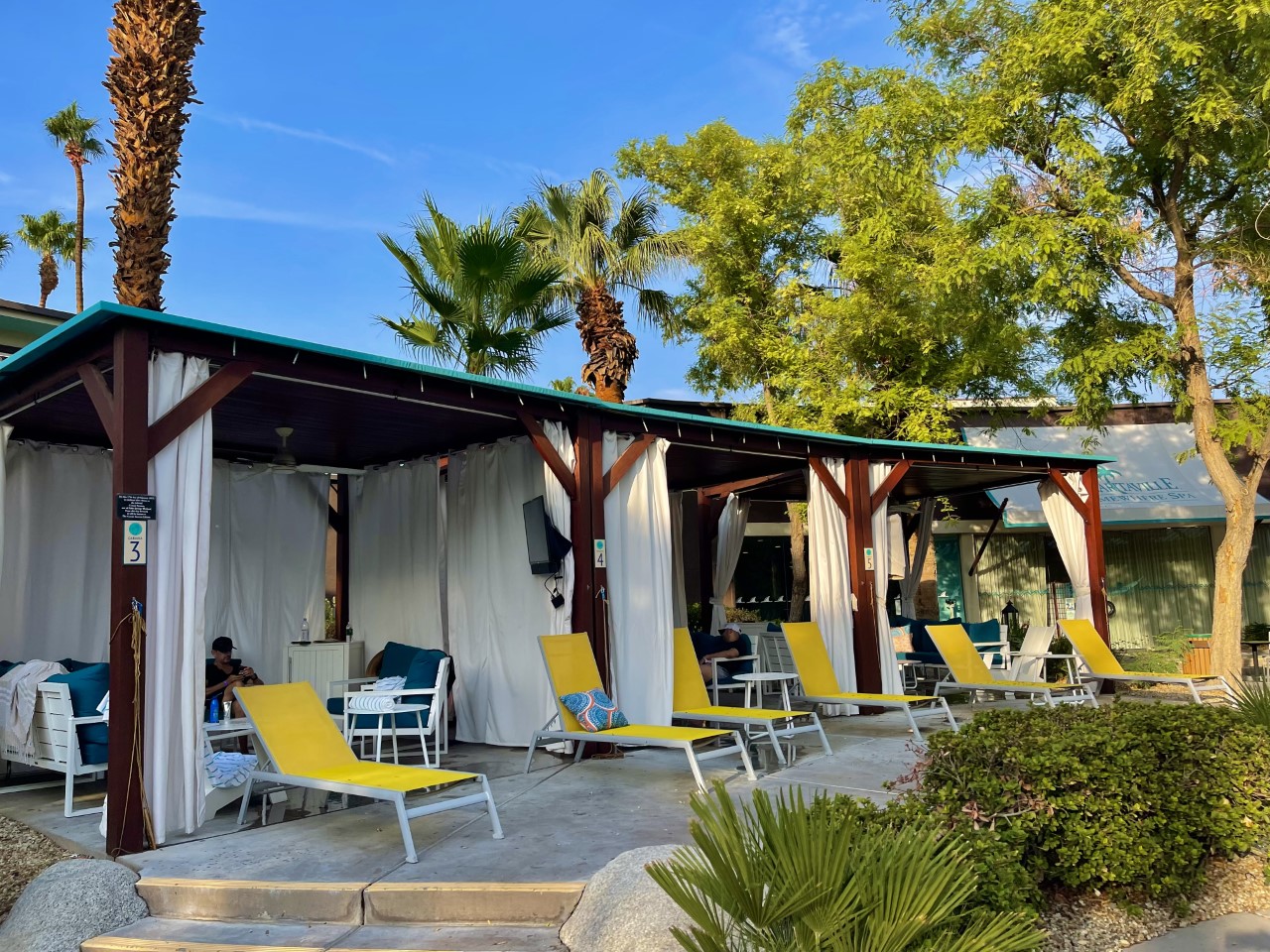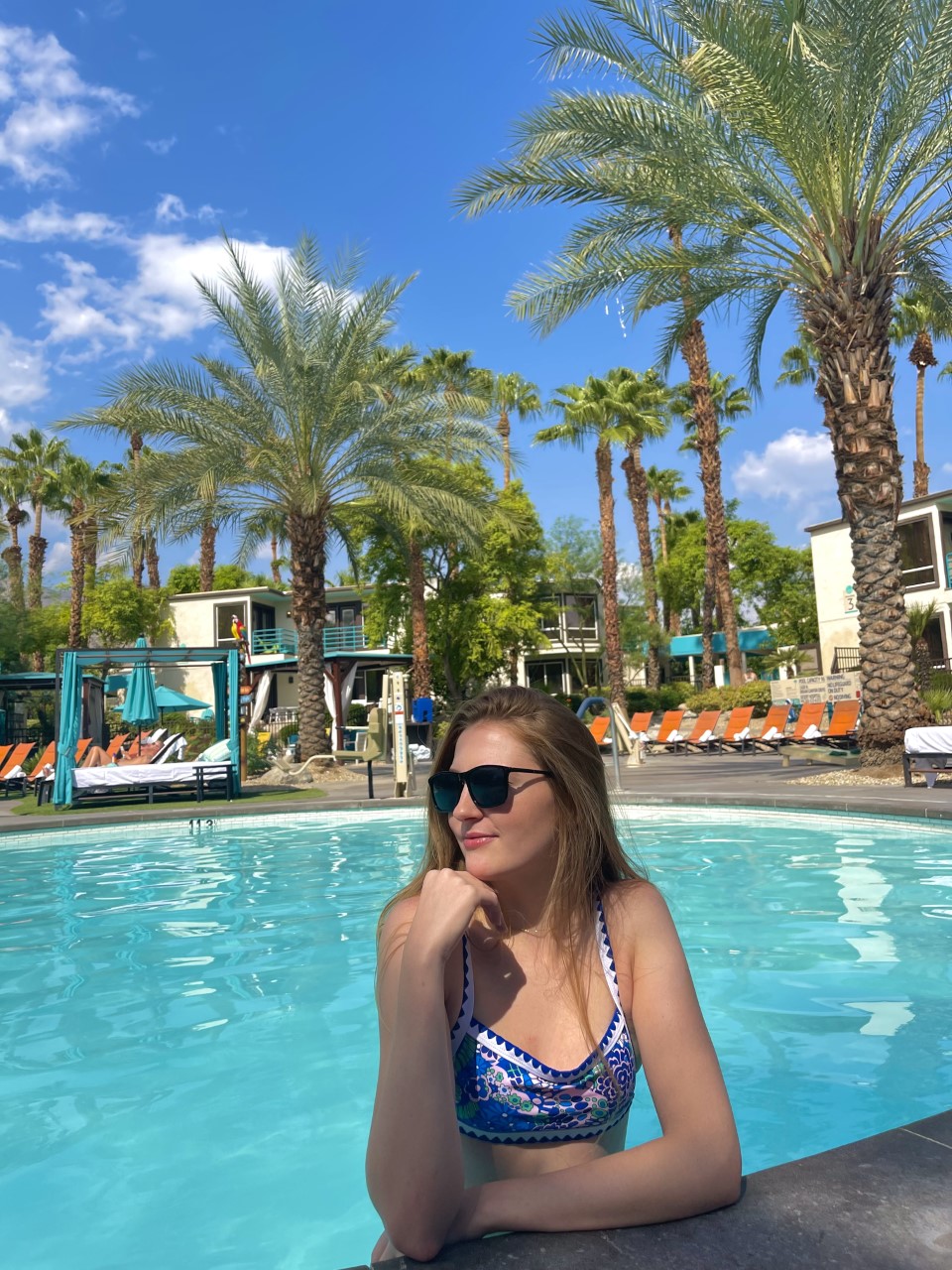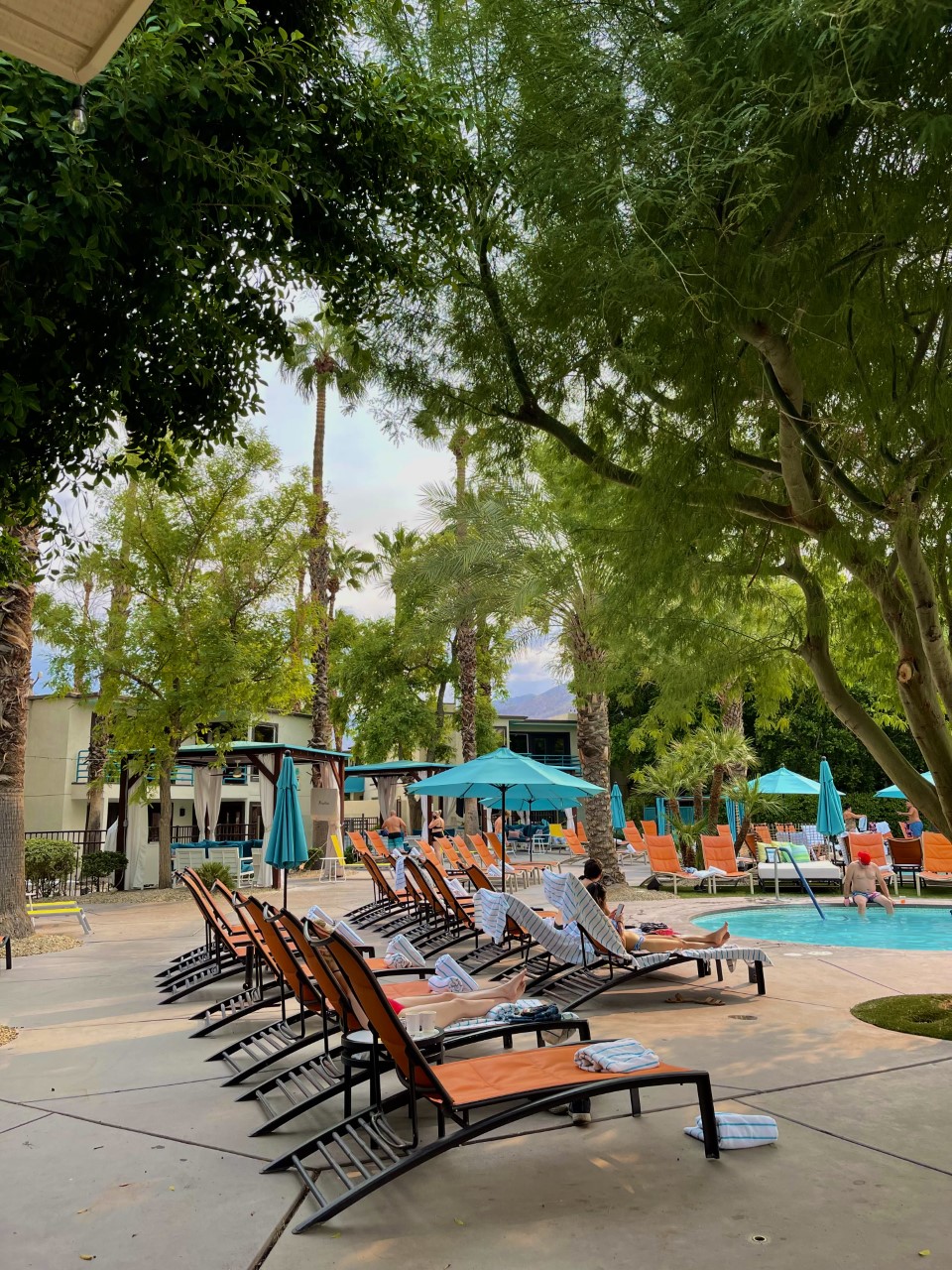 Margaritaville's Second Pool
Yes. Two pools! The second pool is called the Lone Palm Pool. This pool also has a bar, but it wasn't opened when I went and the pool was also pretty much empty. I would assume during the season it gets packed as well, but the first pool is definitely where the real party is.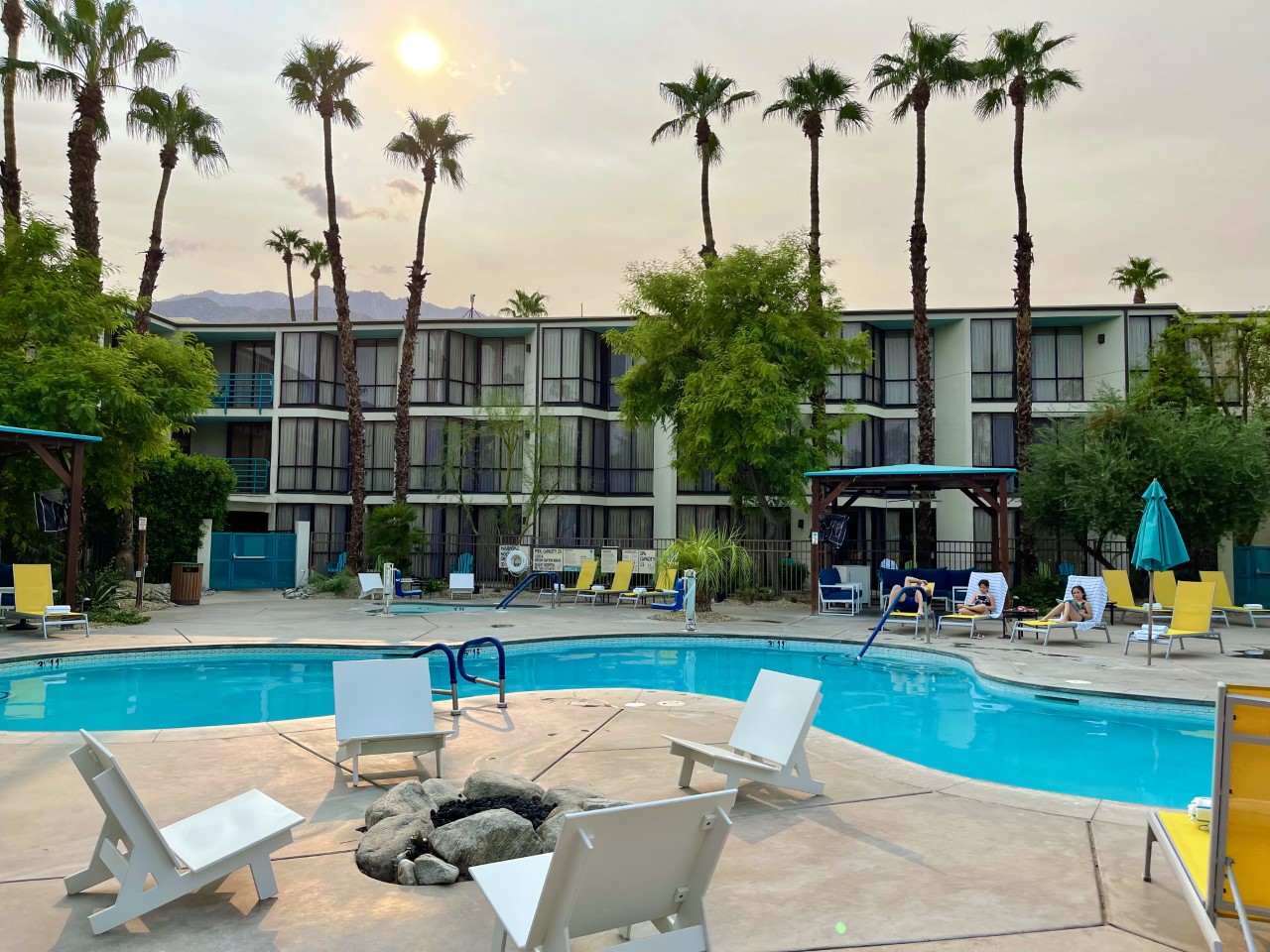 Lone Palm Pool
What I like about the Lone Palm Pool is that it has a box of giant Jenga. I'm not sure if the main pool has this, but this was fun to sneak off here and play!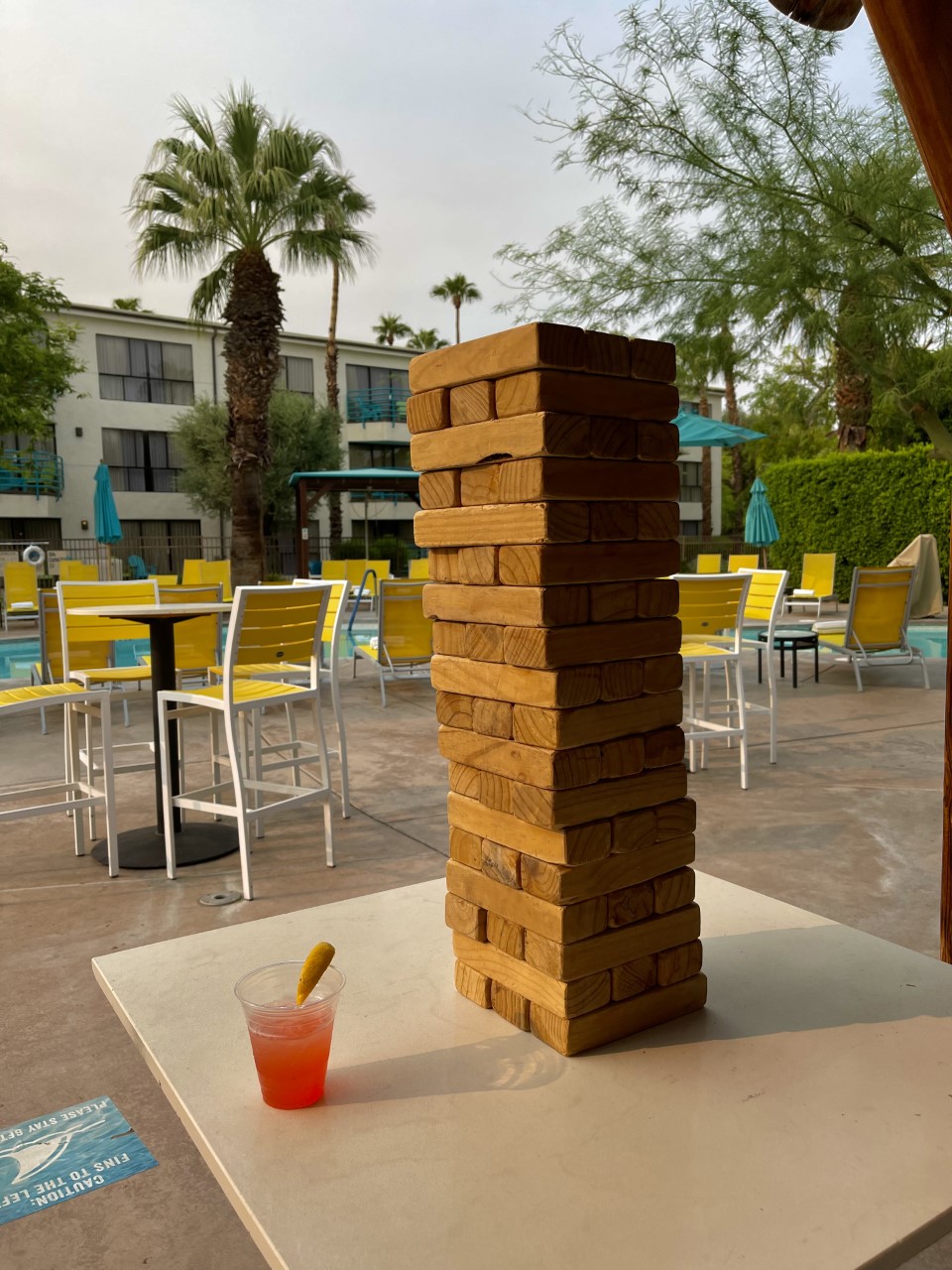 Jenga at The Lone Pool
The Lone Palm pool is a little bit away from the main pool but add a drink in your hand and it's a nice stroll.
It has some pretty sights along the way, such as the…
Garden Oasis
I gasped when I turned the corner and saw this area. The most vibrant green grass and a fountain right in front surrounded by the most bridal white flowers. Of course this area is used for a magical desert wedding.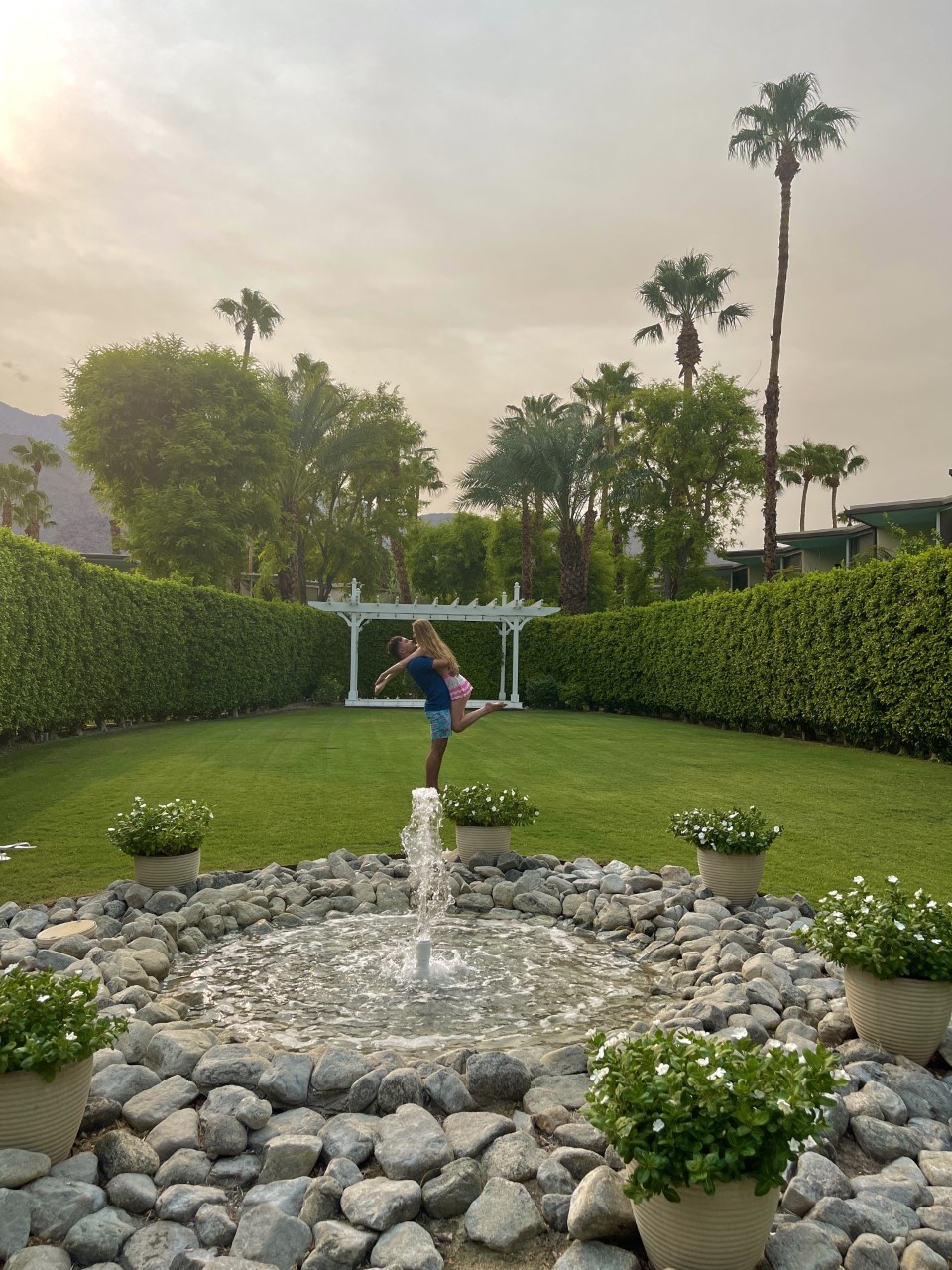 The Food and Drinks
5 o'clock Somewhere Bar & Grill
This is their poolside bar. The name is SO cute and their little slogan printed below it is adorable. There weren't any gluten free options here for me, which was OK considering I only came here for drinks, but when I did need a snack I opted for the chips and salsa.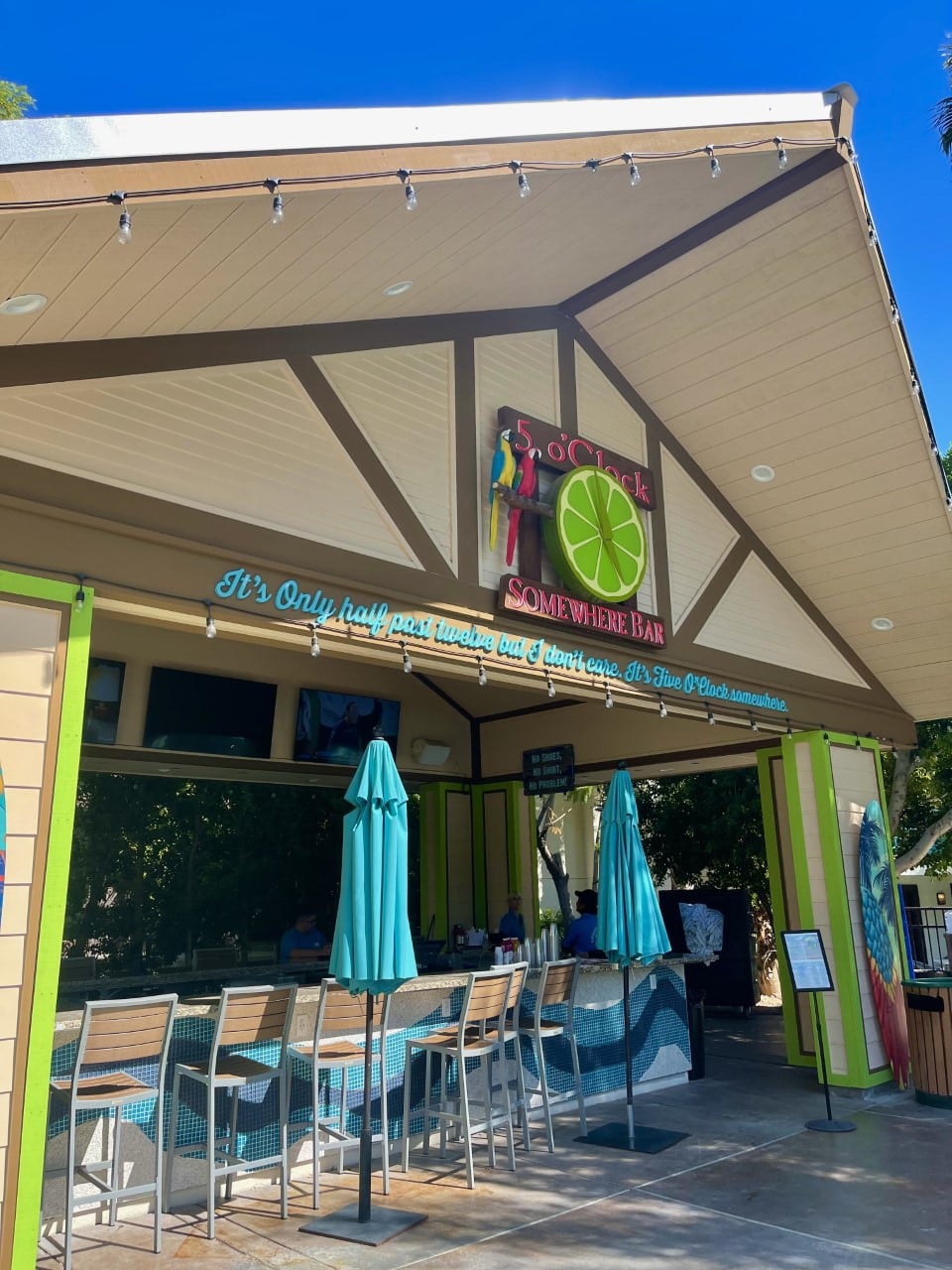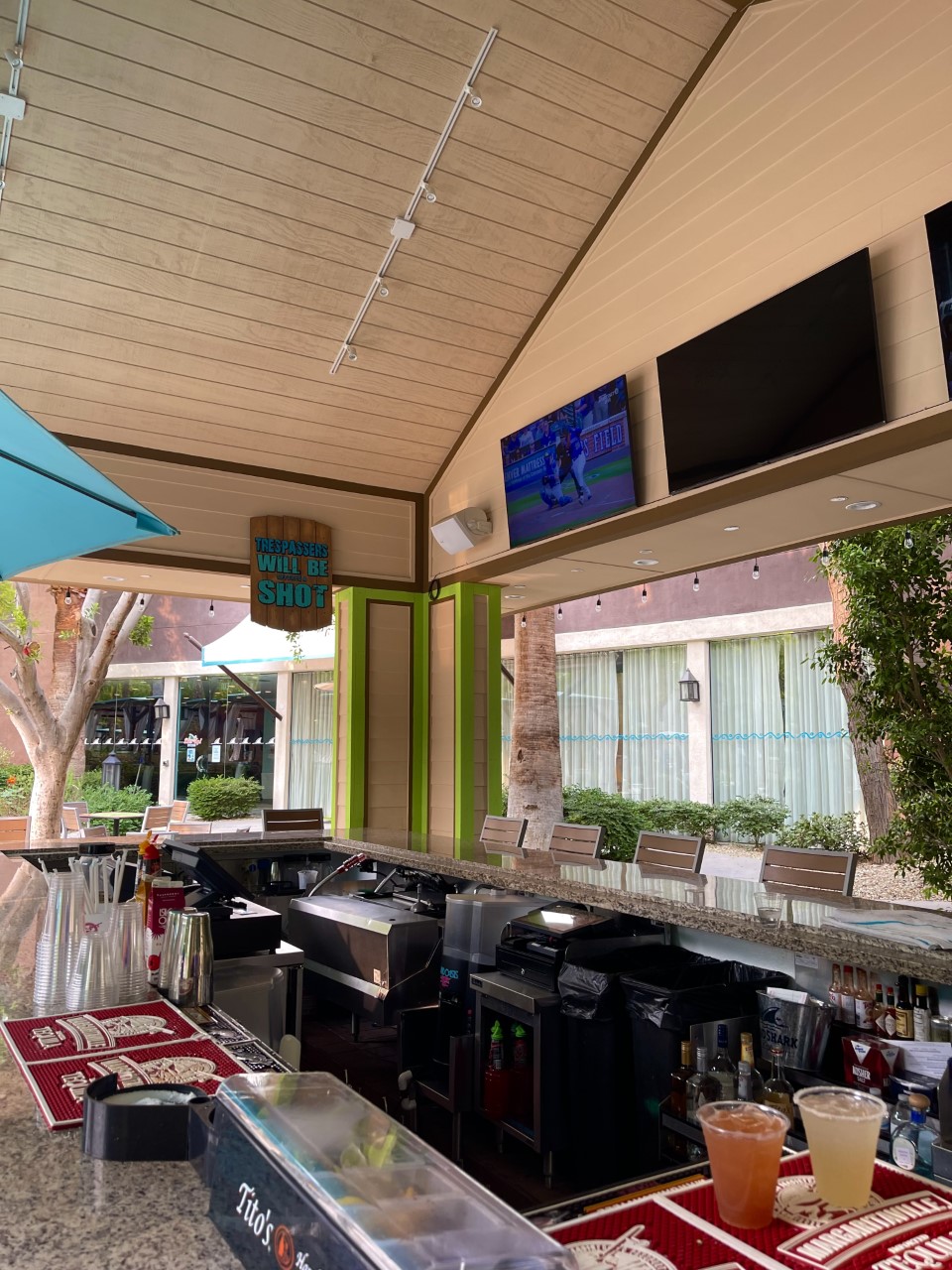 Lone Palm Pool Bar
This bar is located at the second pool, the Lone Palm Pool. It wasn't open when I went, but during popular seasons it is an incredibly cute place to be!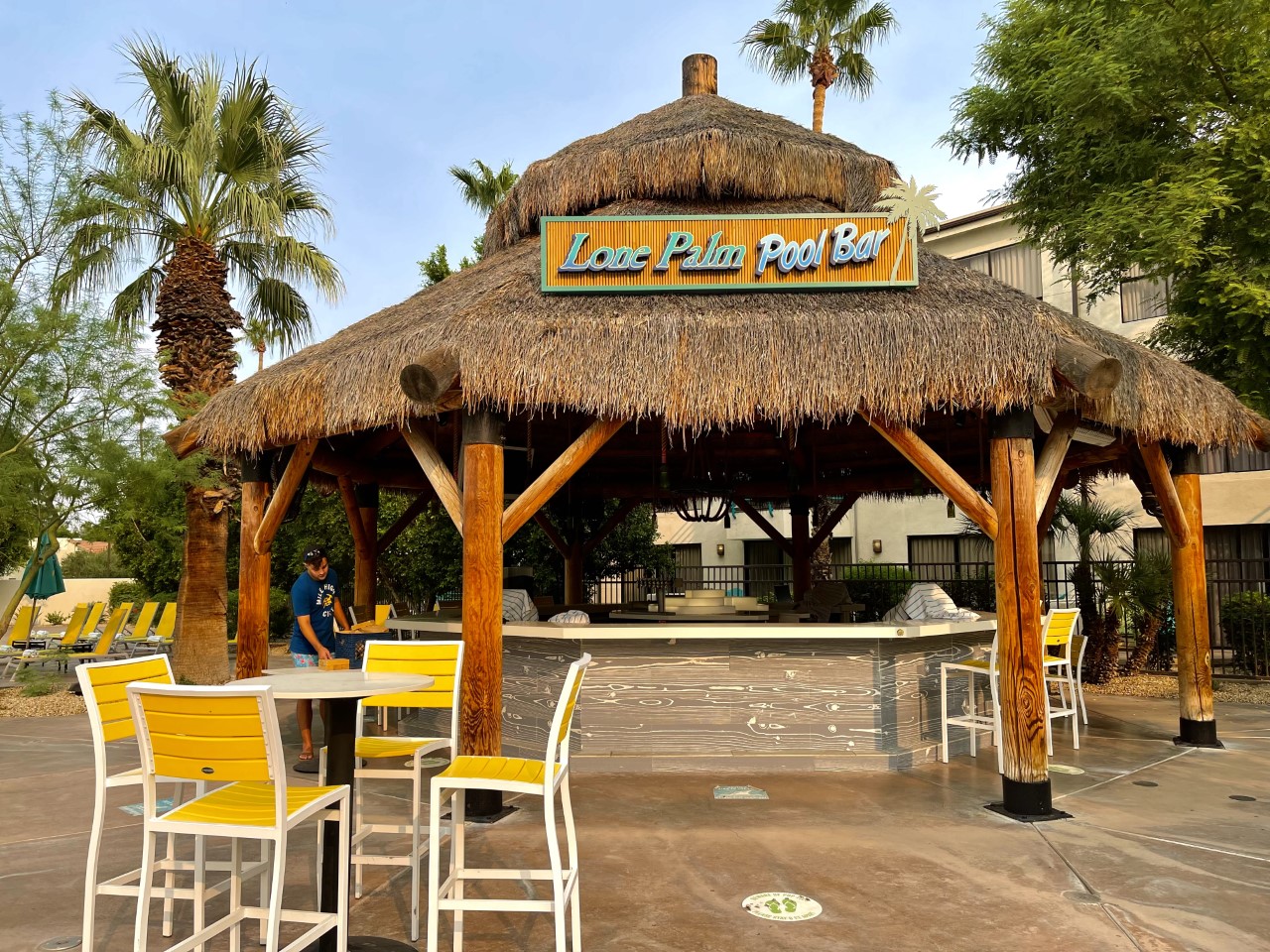 Cutest poolside bar at Lone Palm Pool
Joe's Merchant's
Gift shop, coffee shop, and snack shop, all in one! They have different foods you can order for a quick bite too! Such as pizza and breakfast sandwiches.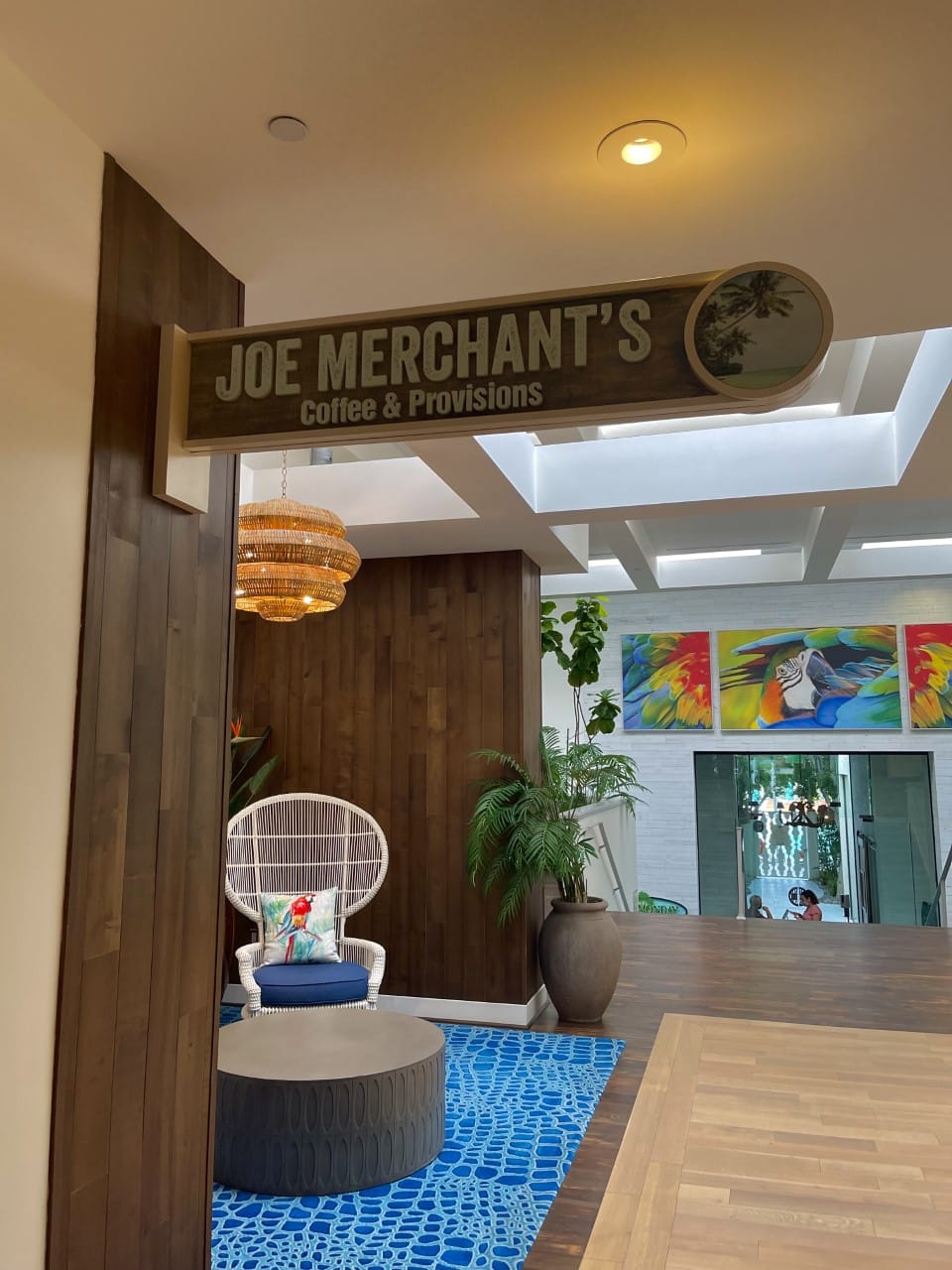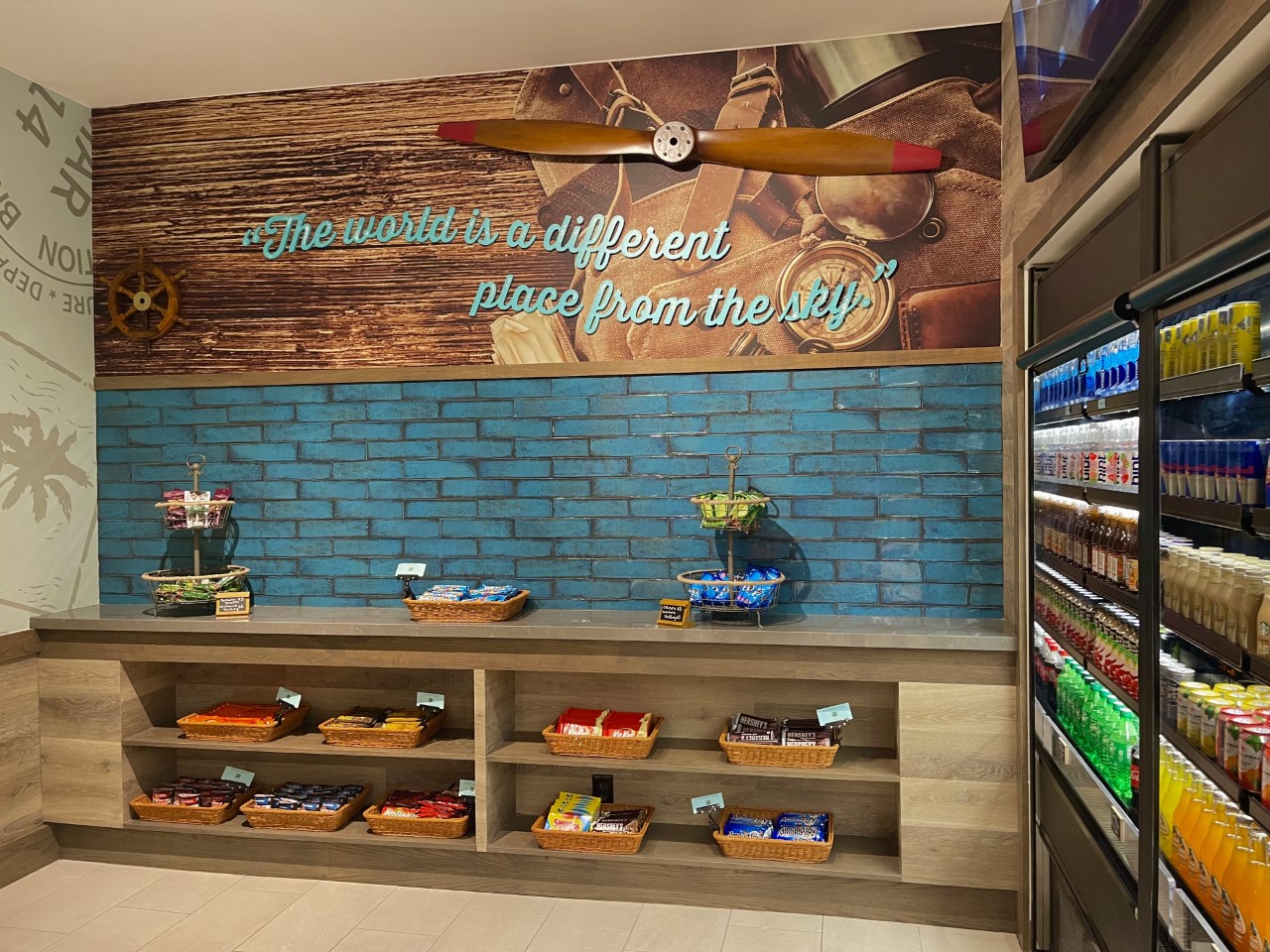 Margaritaville has some adorable shirts for sale, so be sure to do a little shopping to take home a souvenir!
Right outside Joe's is the cutest little sections of seating areas. Each section is designed differently so choose your favorite!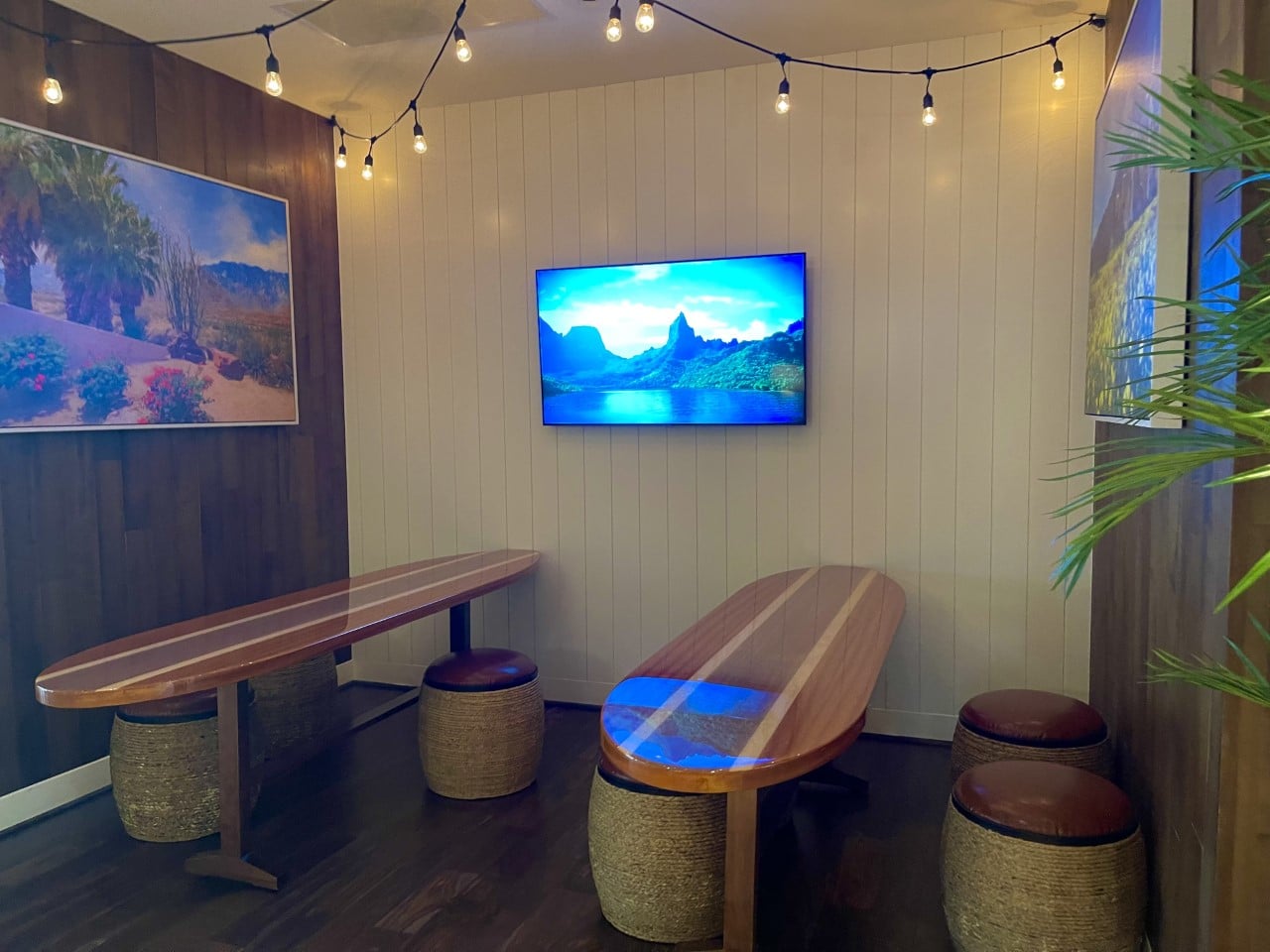 Seating outside Joe's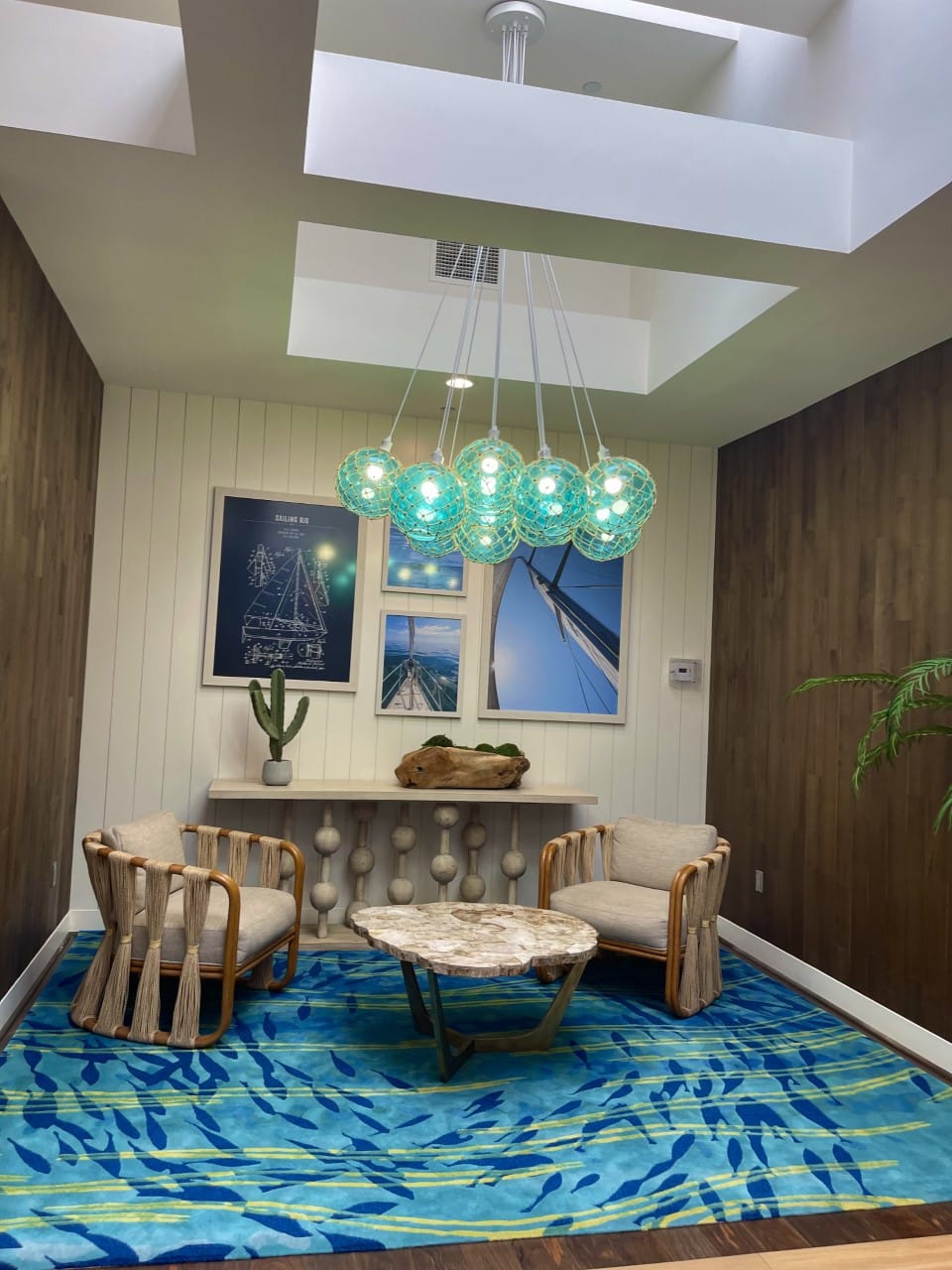 License To Chill
Margaritaville's indoor bar. A bunch of TV's hang on the walls of this popular hangout spot. It's perfect for a light bite or light dinner, and to order up a few drinks with friends. AKA, a great pregaming spot!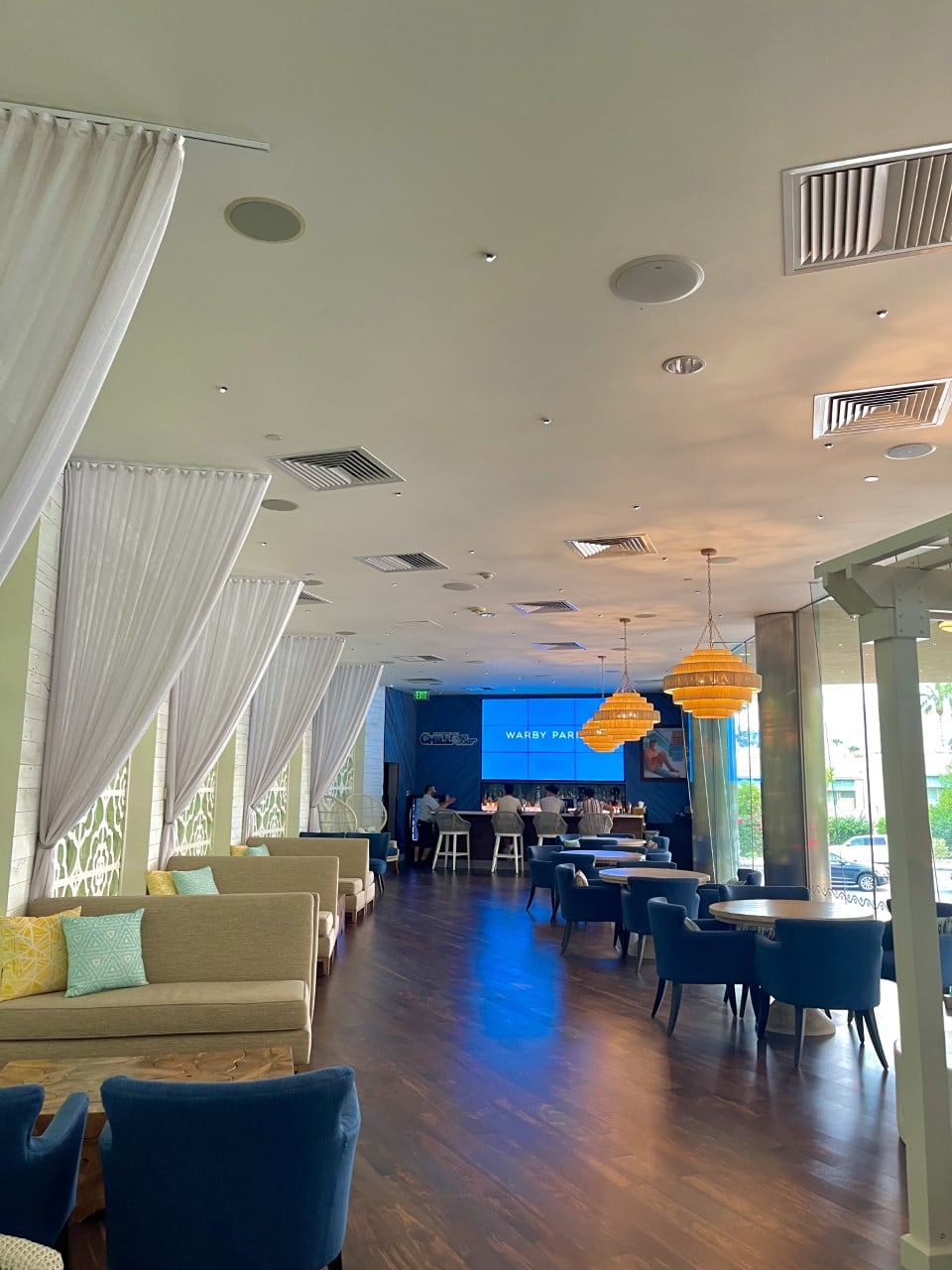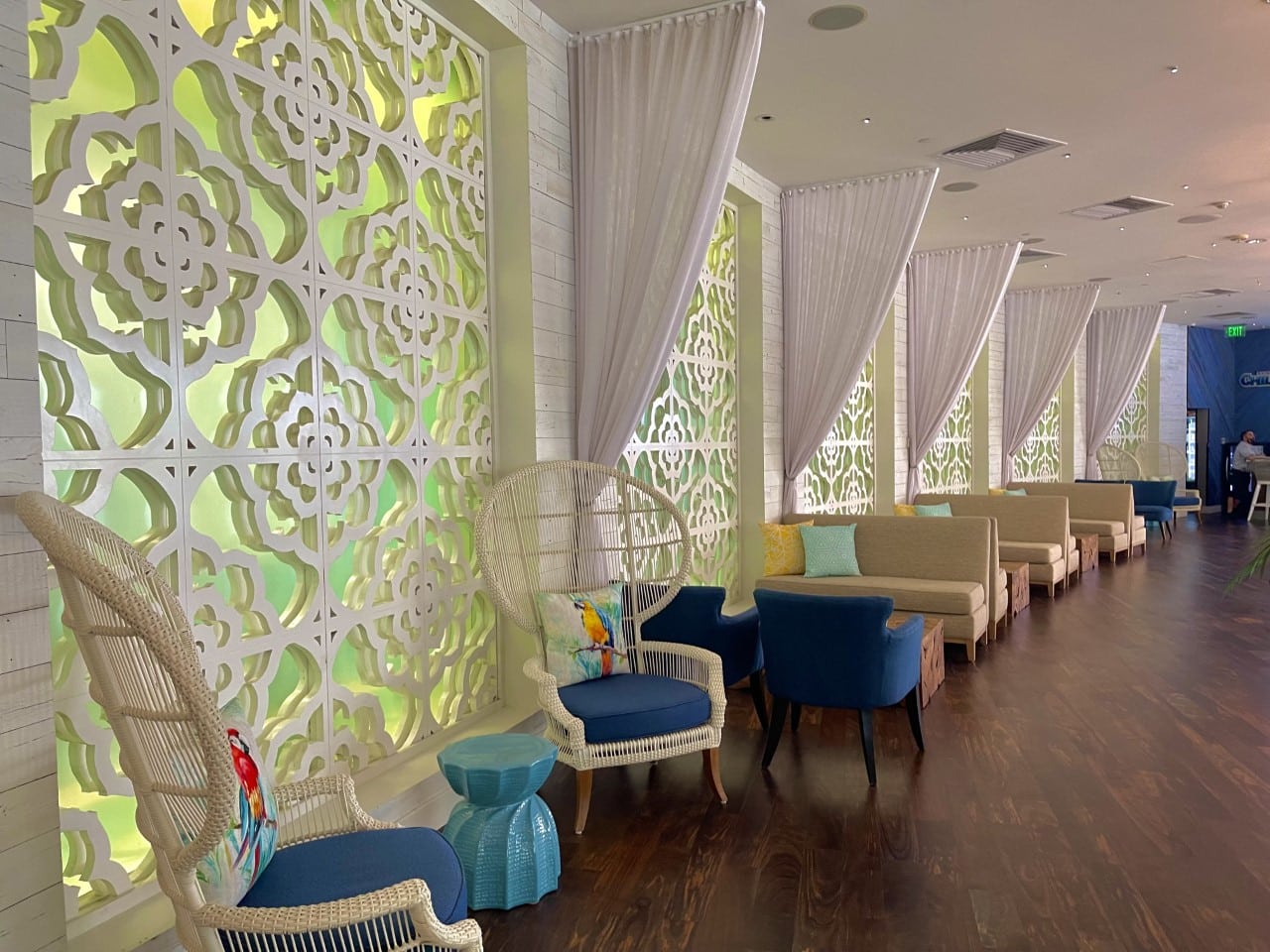 Cute seating areas at License To Chill
Come Monday Cafe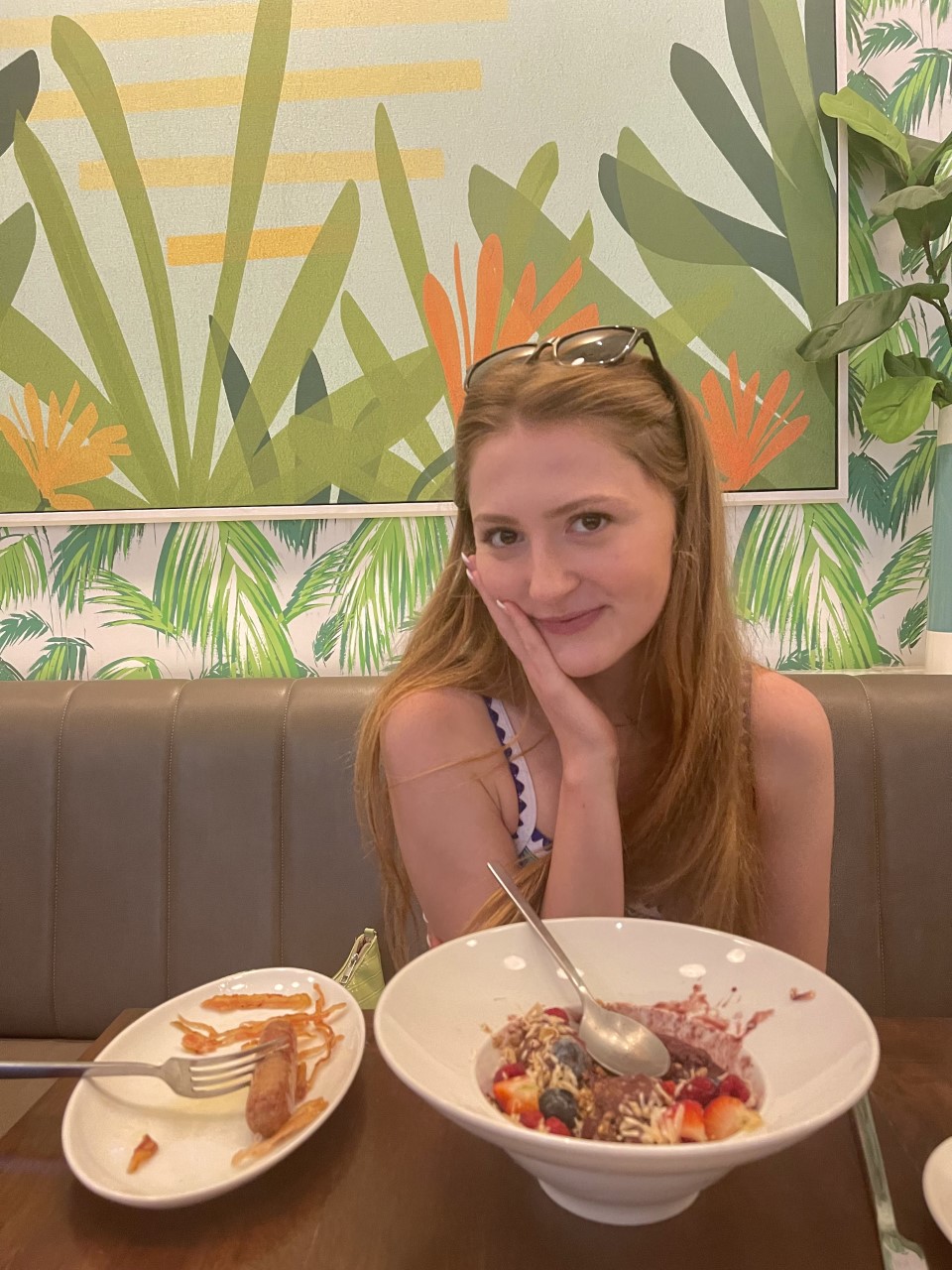 This cute little cafe is open 7am-11am and offers a variety of yummy breakfast options. Not to mention they had some Gluten Free options as well! Smoothies, French Toast, Waffles, Avocado Toast, are some of the many delicious bites they have.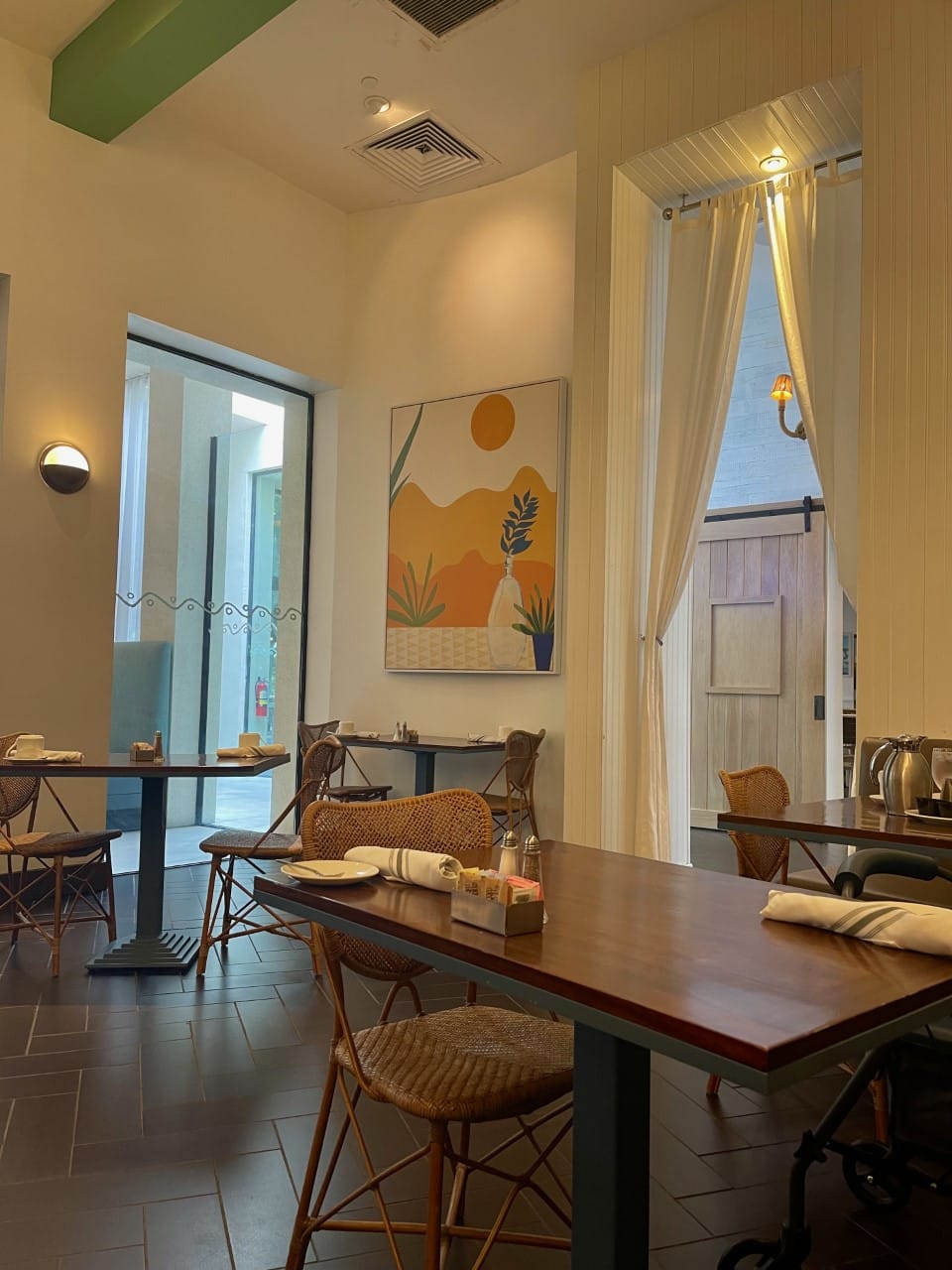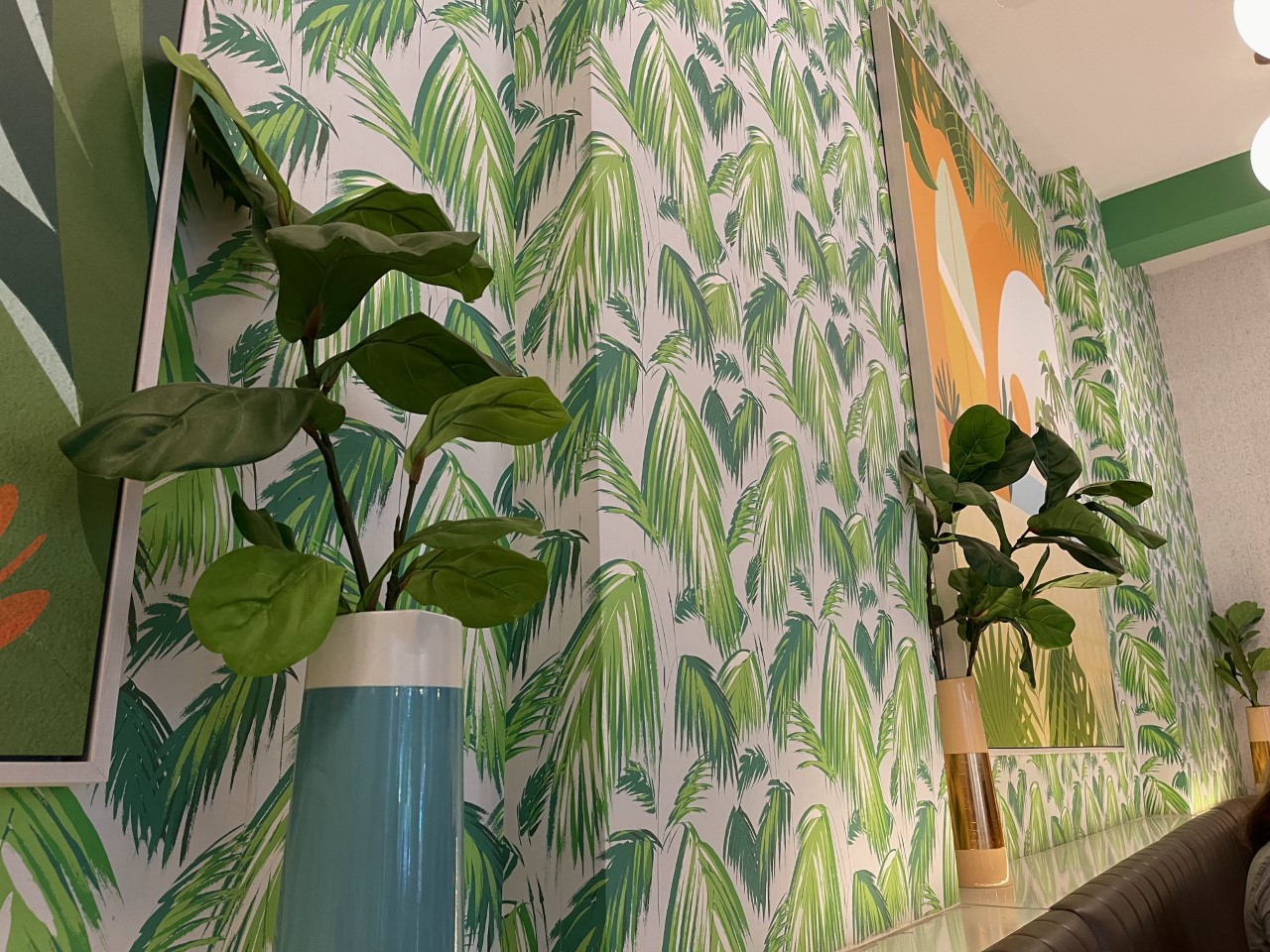 All Gluten Free available options are marked on the menu. I was surprised to see that they had Acai Bowls and not only that, a gluten free modification is available.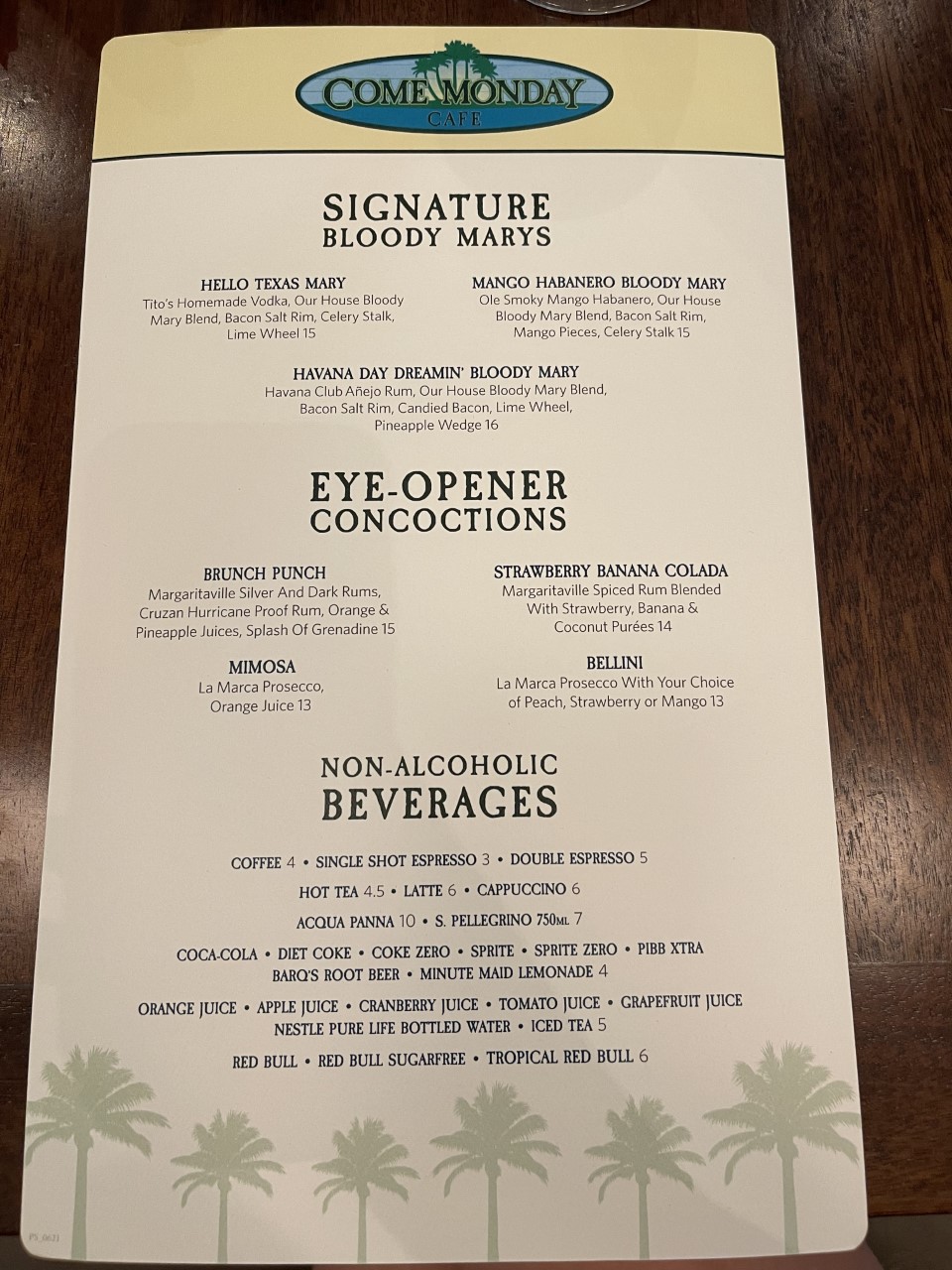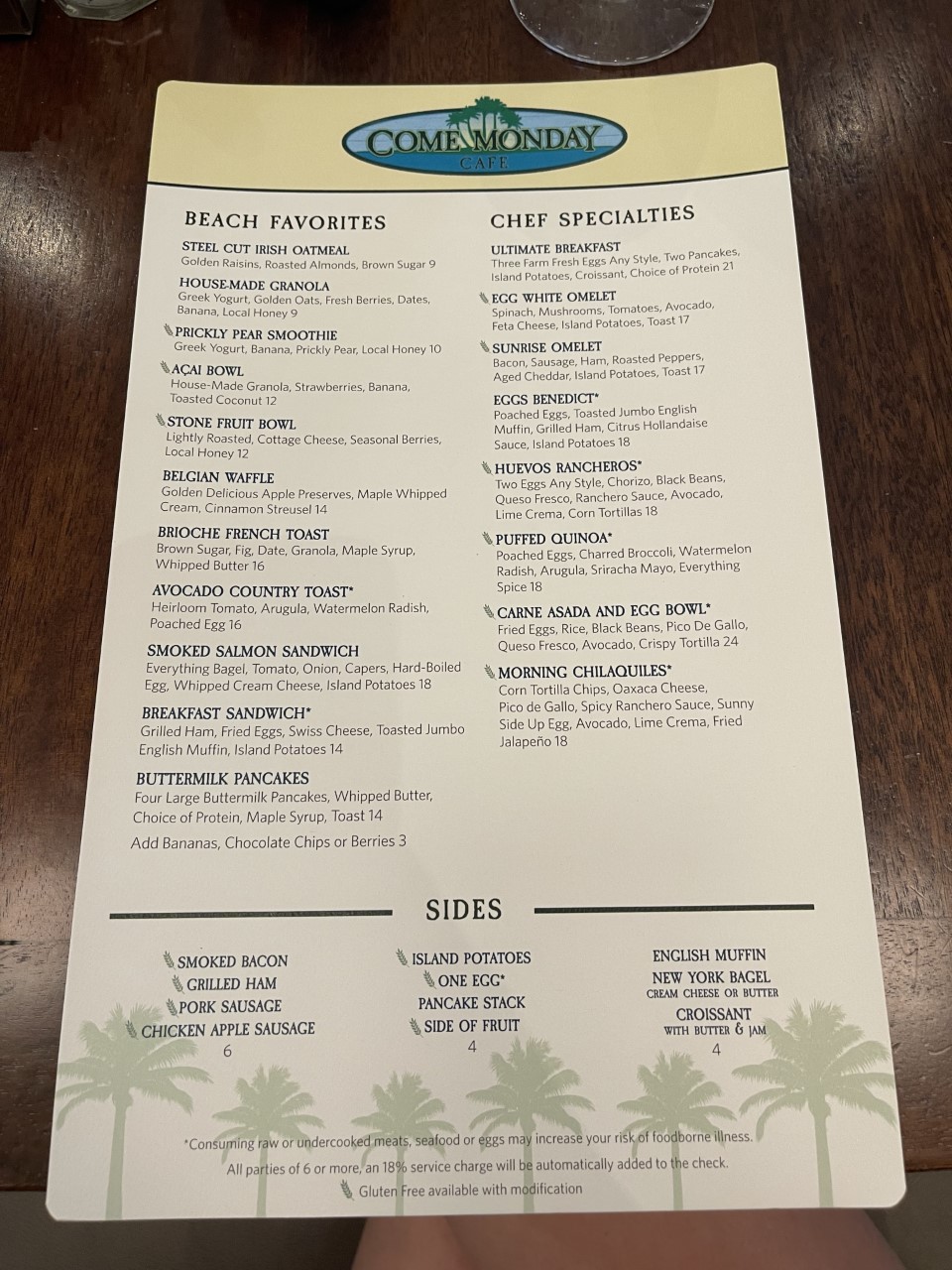 Fun fact: Not all granola is gluten free!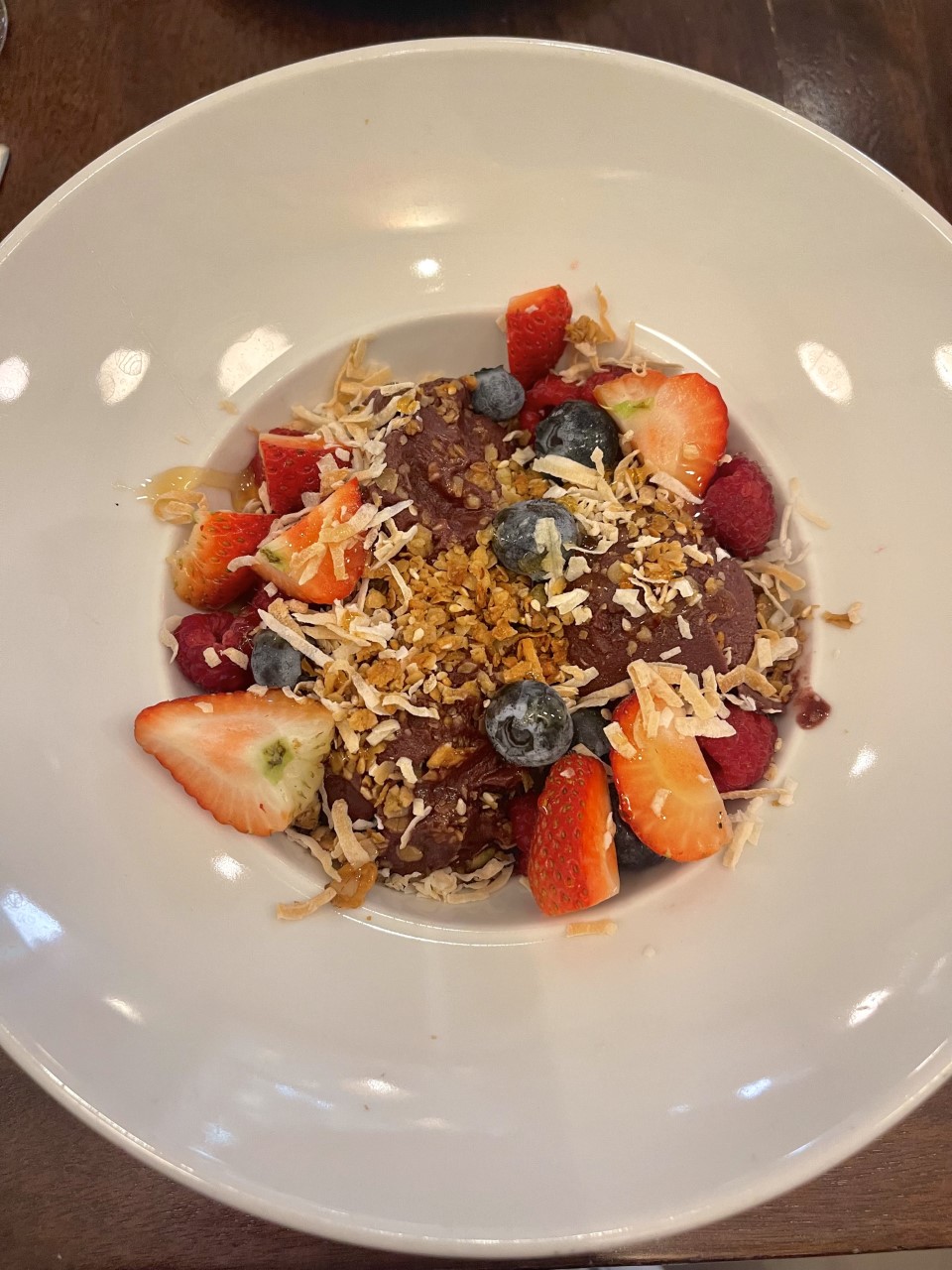 I also got a side of bacon and sausage, because, how could I not?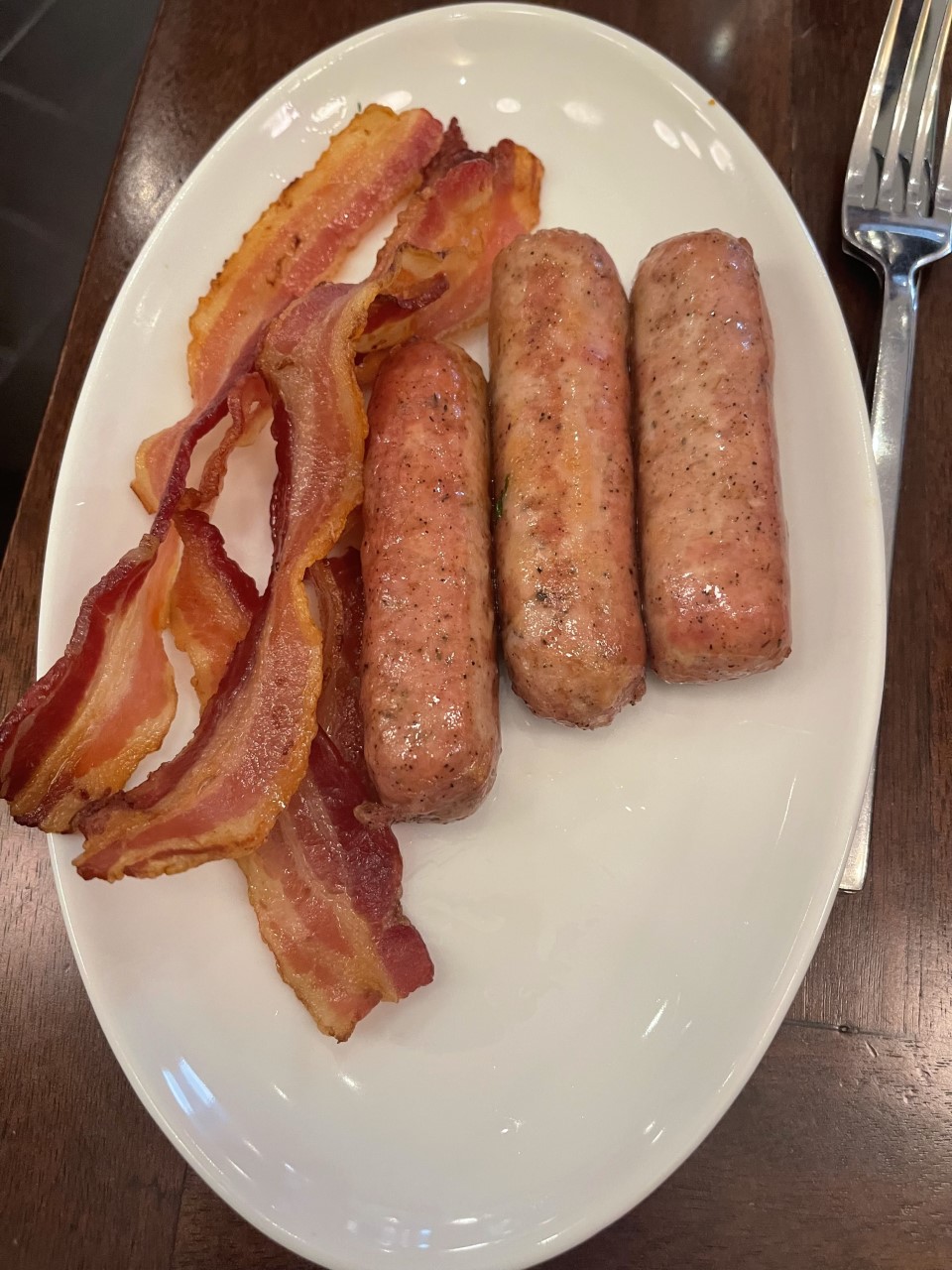 The cafe is brightly decorated and only steps away to the pool outdoors. While there are many nice breakfast spots in Palm Springs, I see this one holding up on it's own without being deemed "hotel food." It was great! The pictures speak for itself.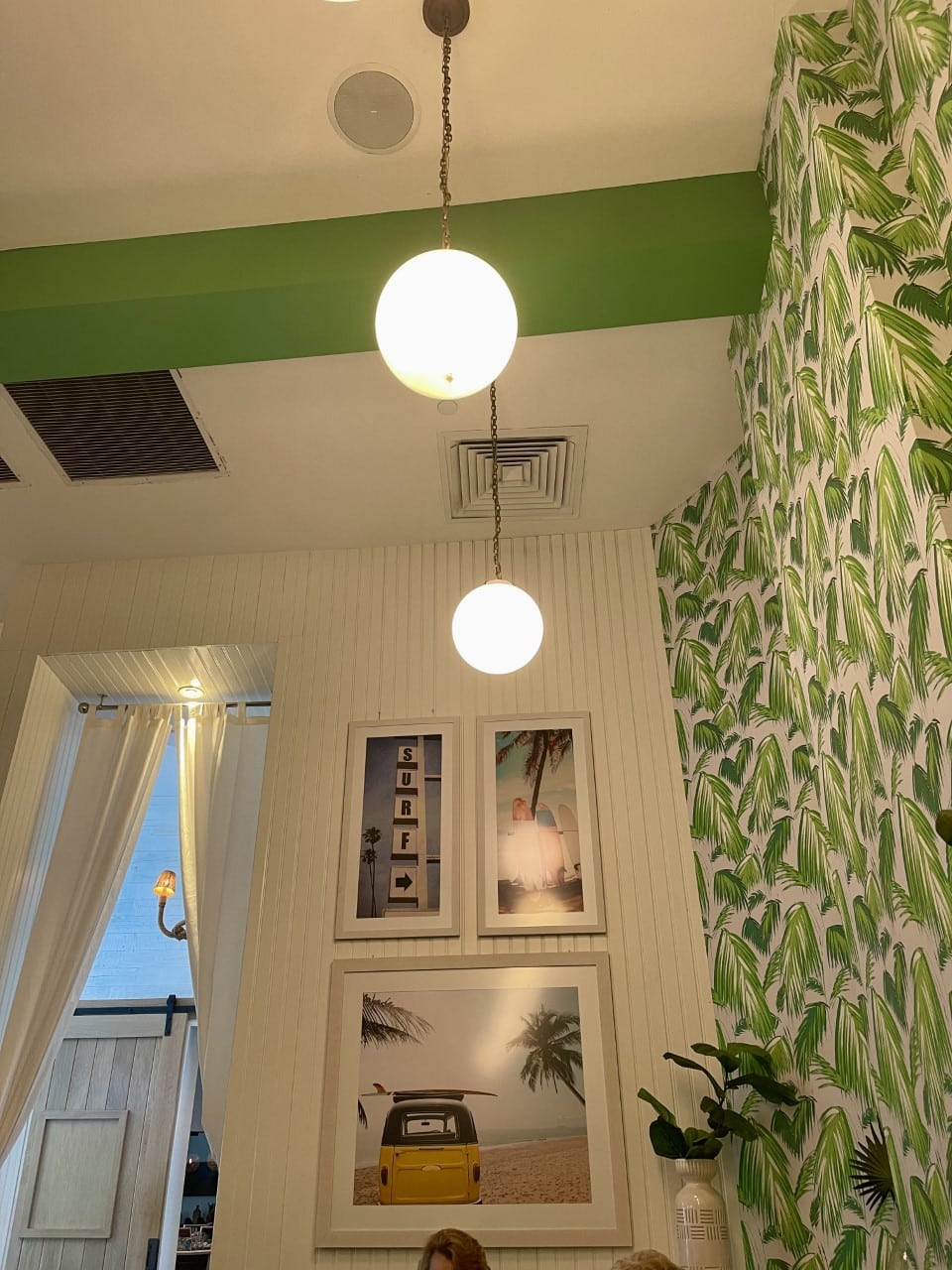 JWB Grill
A very cute restaurant both indoors and out. A great place to grab dinner in the middle of paradise. Have a romantic dinner and end it with a nighttime dip in the pool. You won't regret it!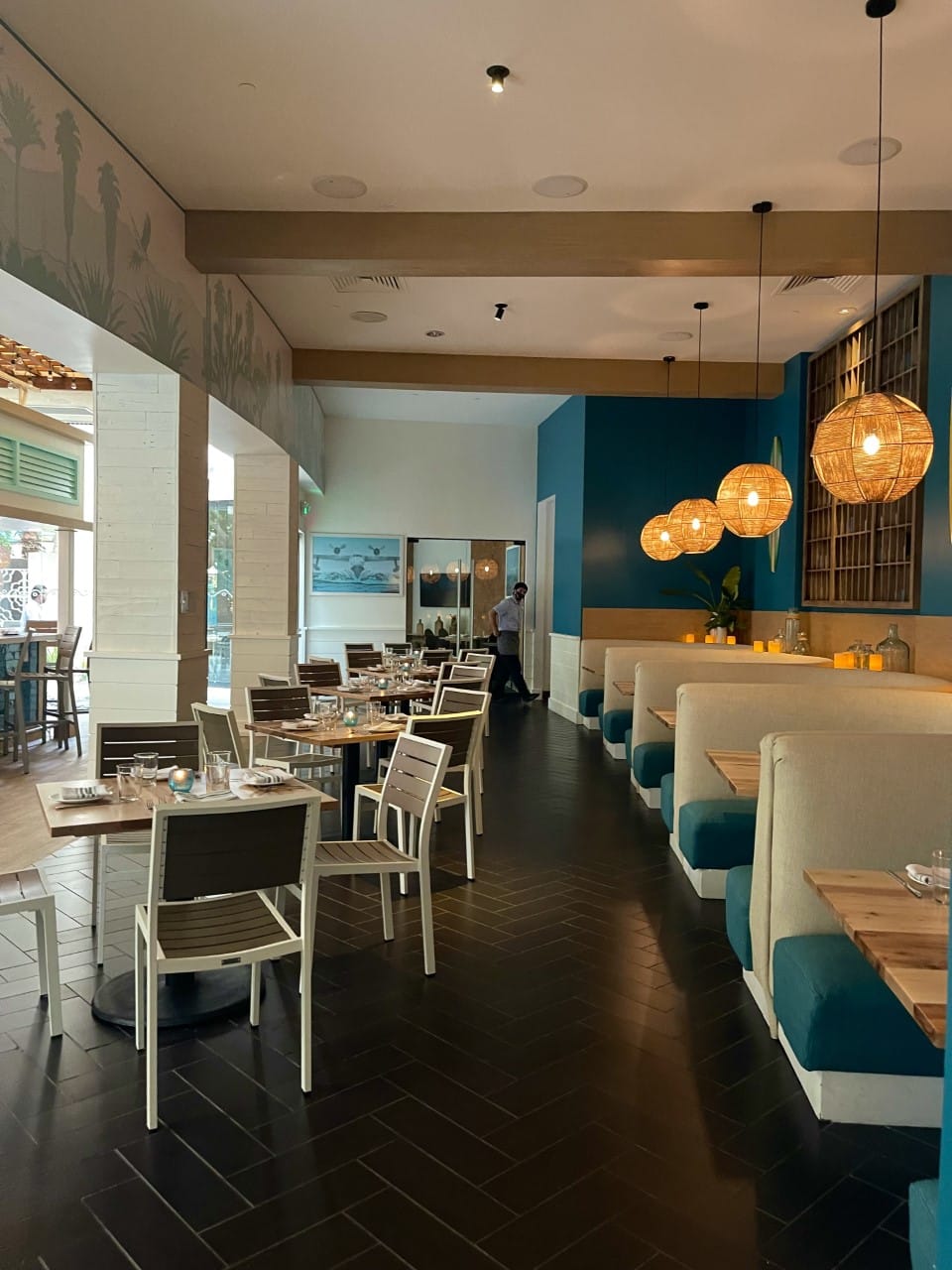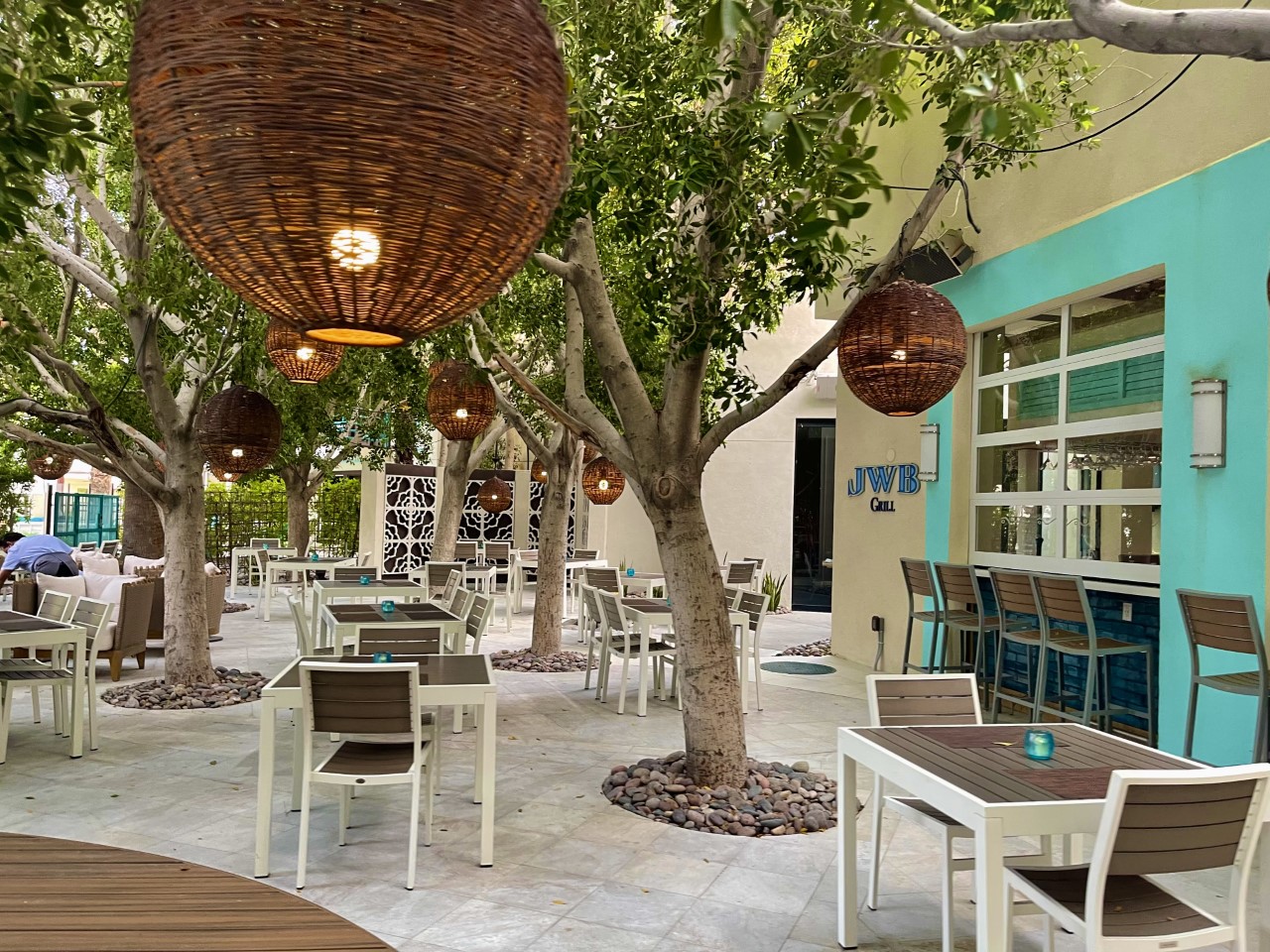 The Rooms
I was in the amazing room 3200 in the perfectly chosen area of building 3. I, for real, walked in and squealed!  An amazing room just makes for a much better vacation, you know?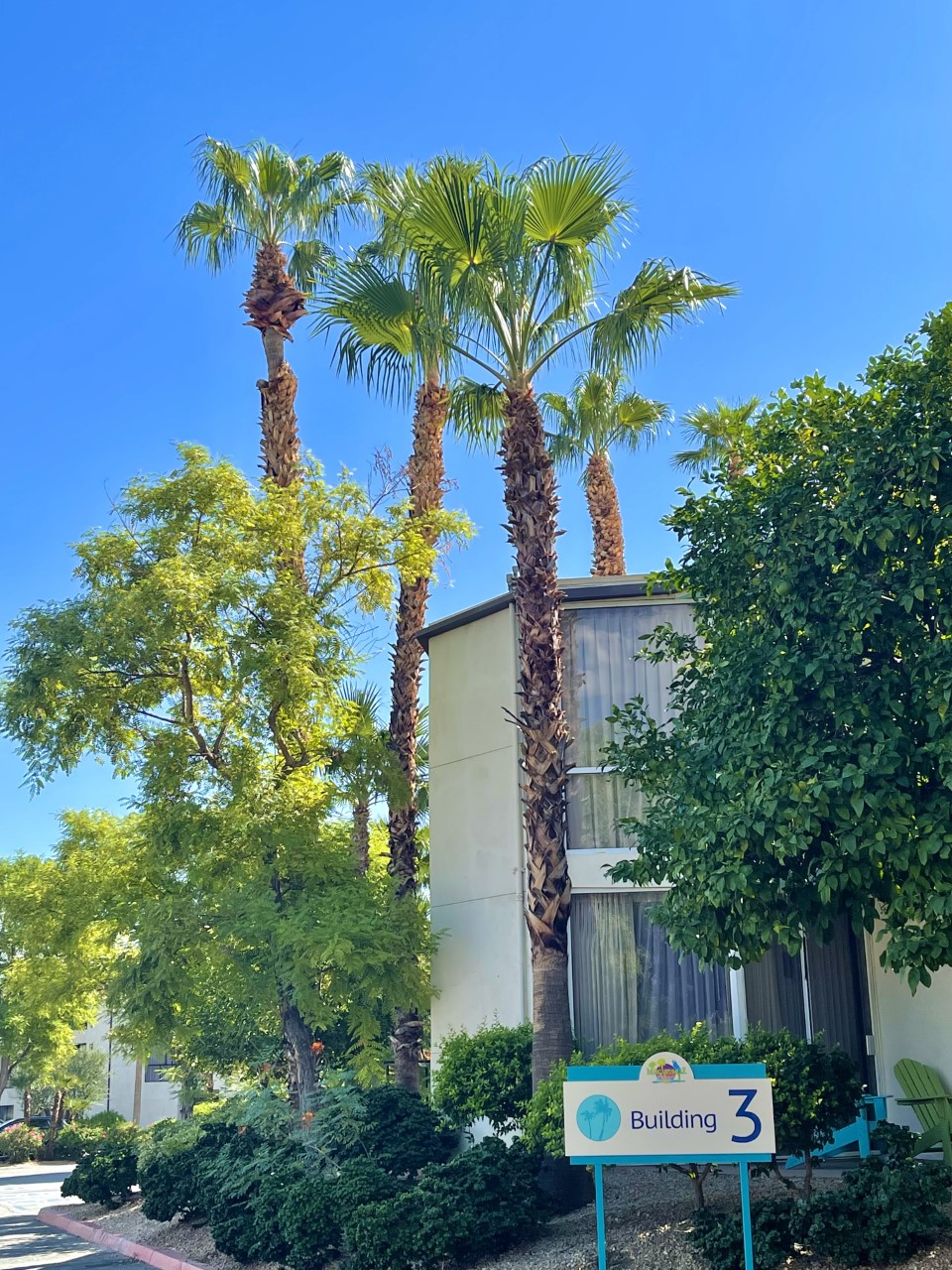 What I love about their rooms is first of all, how shiny and clean everything is, but also the style and color. It's not a standard plain room. The decoration is fruity and bright and screams "I'm on vacation!!" I don't know about you, but when I'm on vacation I want to feel as far from home and my normal life as possible. I want to keep getting reminded that I'm on vacation and feel that spark of happiness every time. And trust me, that's exactly what I got waking up in this room every morning.
Please see my entire walkthrough of my room, Room #3200 below!
The Final Thought
I left my stay at Margaritaville Palm Springs floating. I had such a refreshing time and everything was absolutely beautiful. Of course, this is all a reflection of the amazing team at Margaritaville. I had the pleasure of corresponding with the delightful Director of Sales, Jeff Ouradnik, and PR Account Manager Shelby Sabat who ensured my time there be the best. As well as Marketing and Communications Manager Madison Dietz. It is amazing how kind and welcoming they all were.
There is no doubt that I will be coming back to Margaritaville once again, as it made my Palm Springs experience immaculate.
Let me know in the comments what you thought of Margaritaville!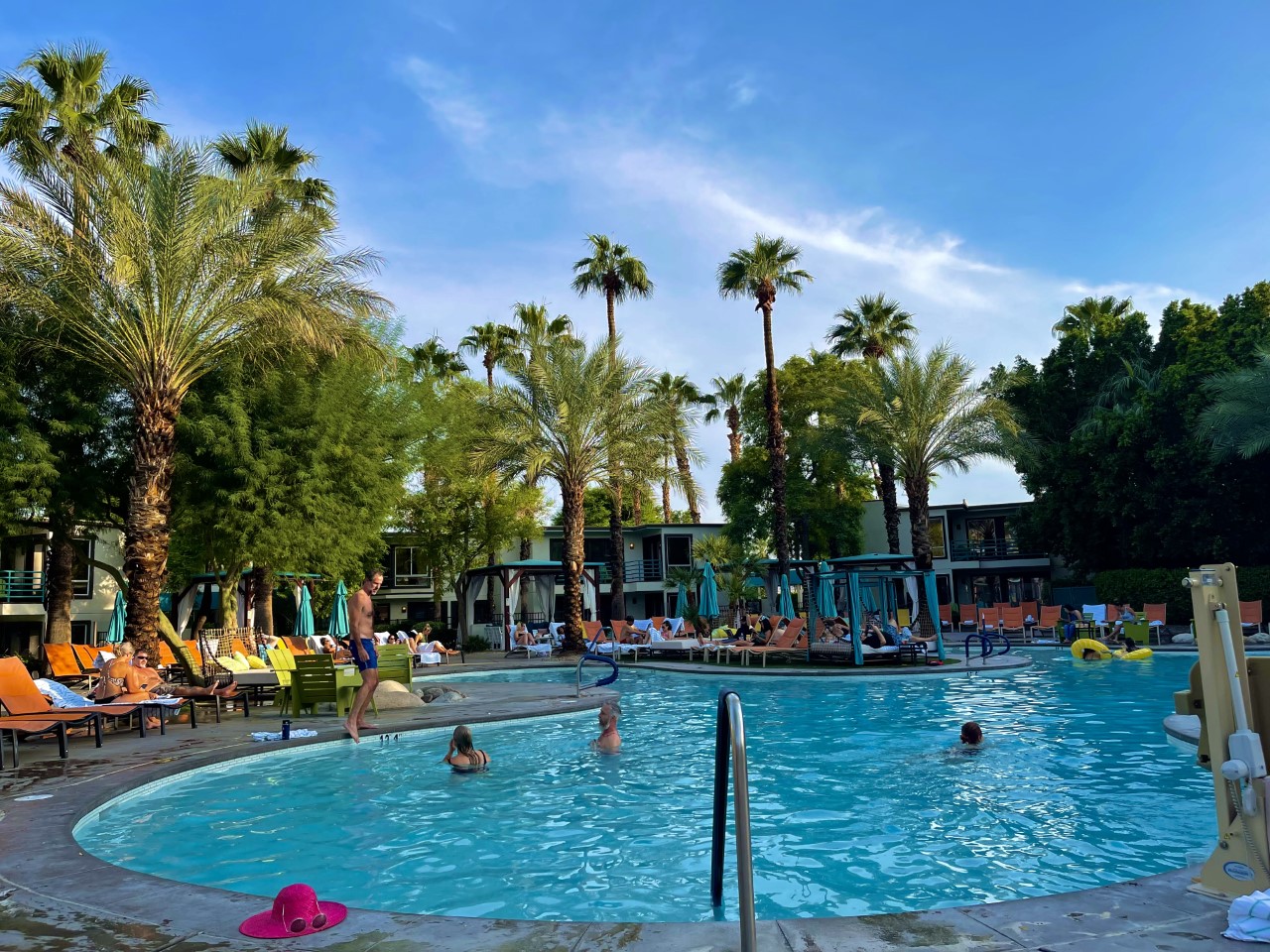 xoxo, Jess!
LET'S CONNECT!
My IG: @jessicacastello
Twitter: @jessicacastello