Rosemary Krieger is the President & CEO of Dolphin Promotions, Inc., a company that produces high-end vintage 20th-century art & design fairs, as well as antiques, art, and design fairs. Their upcoming Palm Springs Modernism Fall Show this October will bring serious collectors and members of the design community together in all its grandeur and fanfare. PalmSprings.com decided to reach out to Rosemary for a more information.
PS) Tell us about yourself – how long you have been involved in the Palm Springs area and what most interests you in its past, present, and future?
I started the show in 2001 and this upcoming FEB Show will be our 24th annual. The Fall show is entering its 9th year. I love Palm Springs since it presents such a great back drop for a mid-century modern show. When I first came to Palm Springs, I fell in love with the architecture and the beauty of the city. And, I have had an up-front seat in all the growth and expansion of downtown.
PS) Tell us about Dolphin Promotions and how it relates to the Palm Springs Modernism Show and Modernism Week?
Dolphin Promotions is my company. We are the producers and founders of the Palm Springs Modernism Show. The show benefits Modernism Week which began in our 5th year. For the first four years of the show we benefited the Palm Springs Preservation Foundation only. Based on the success of the show and the growth in PS Modernism Week was formed and has been the Opening Night beneficiary since then. We work side by side with Modernism Week to ensure the success of our events and theirs.
PS) How was the Palm Springs Modernism Show created and how long has it been a part of Palm Springs Modernism Week?
The modernism show was first – We produced our first show in 2001 and in 2006 Modernism Week was formed and was a combination of the Palm Springs Preservation Foundation, Palm Springs Modern Committee, Palm Springs Art Museum and the Palm Springs Historical Society all banded together under the banner of "Modernism Week".
PS) How did your involvement with Palm Springs Modernism Show become a reality and evolve?
I was working many years ago for the original founder of Dolphin Promotions (Bob Smith) and we eventually became partners and I bought the company from him in 2003. The show has evolved and grown nicely each year and continues to grow each and every year. The show is the centerpiece of Modernism Week.
PS) Who were some of the more notable personalities and celebrities that have attended your shows?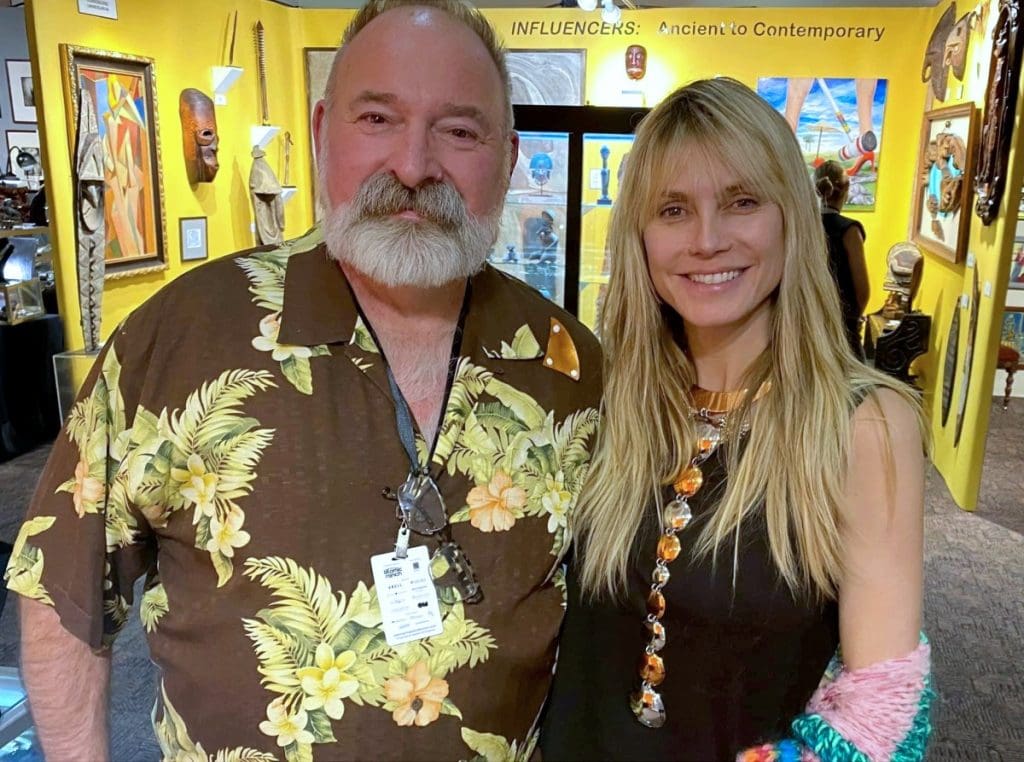 Heidi Klum, Judi Dench, Laura Bush, Max Weinberg ( from the E Street Band ) and many more.
PS) What venues in the area or social/media platforms do you use to highlight exhibitors?
We rely heavily on META and Instagram and direct emails.
PS) How can dealers and exhibitors get involved and become part of this event?
They just reach out to me via email ( info@dolphinfairs.com ) or they can call (331) 307-7101
PS) We noticed in a previous article that First Lady Laura Bush attended. How did that come about and were there any exhibits or trends that she was particularly interested in or fond of?
Yes, she was here at the show in FEB of 2023.
PS) Is there anything else you would like to include?
Recently the marriage of vintage 20th C along with compelling 21st C designs for the home broadened the viewership and attendance at the show. It is a marriage that works. We began to introduce 21st C designs three years ago.