Power Trip 2024 Tickets, 3 Day Pass, Packages! Indio
Check for TICKETS
Power Trip Festival 2024 Dates, Lineup TBA. Empire Polo Field, Coachella Valley. The 2023 lineup: AC/DC, Metallica, Iron Maiden, Judas Priest, Guns N' Roses, Tool. The festival will took place October 6-8, 2023 at Empire Polo Field in Indio. 2024 info TBA.
Check for Power Trip 2024 Tickets, 3 Day Passes! Buy TRUSTED Tickets on PalmSprings.com backed by a 100% Money-Back Guarantee > Your tickets will arrive before the event. Your tickets will be valid for entry. Safe and Secure Checkout.
Ticket upgrades and packages may be available (Pit, Reserved Floor, and Bronze, Silver, and Gold VIP Packages). Check ticket links for premium seating options and availability.
Power Trip Festival 2023 Lineup. The 2024 Lineup TBA.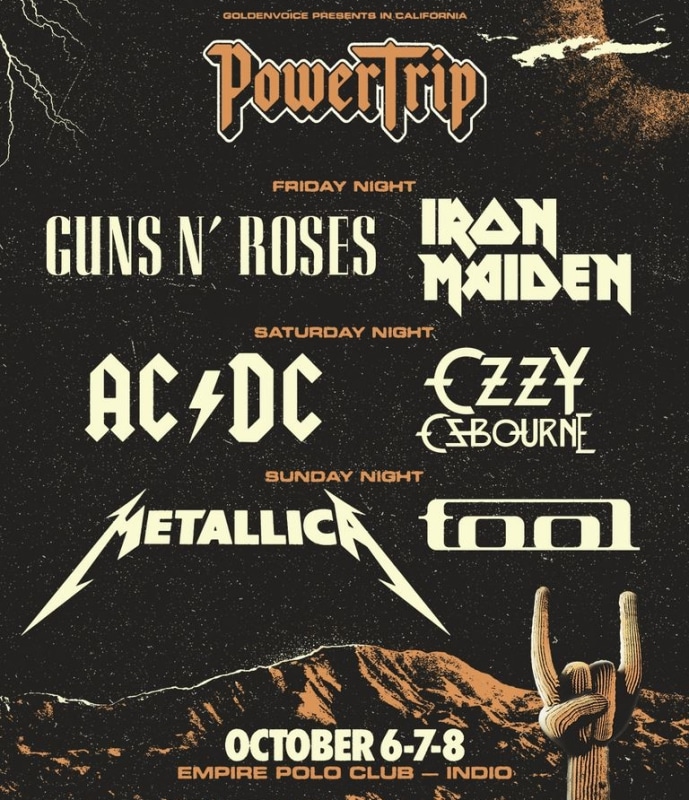 Power Trip Music Festival 2023 Lineup, Indio, Southern California
Need ticket assistance? Contact customer support: 833-500-3756
Palm Springs Concert & Show Tickets
Need a Hotel while in Palm Springs?
GUARANTEED Lowest Rates for Palm Springs Hotels!
PalmSprings.com: The Official Guide to Palm Springs, California!
Related Events