The award-winning chef Johannes Bacher is back at it! A world-class chef who lends his name and talents as the chef/owner of Johannes Restaurant, Johannes has returned to the kitchen where he will again create his culinary masterpieces to the delight of his customers. After a time away, he decided it was time to return to doing what he loves best…cooking! Johannes is eager to refresh the menu with dishes highlighting his award-winning Modern European Cuisine, offering patrons an array of dishes with a variety of subtle flavors from around the world. 
Johannes was raised in the small mountain village of Koessen, in Tirol, Austria. When he was seven years old, his mother inspired him to start baking cookies and cakes for friends and neighbors. That inspiration turned into a lifelong passion for food. After finishing his apprenticeship at various Austrian restaurants where he was formally trained in traditional culinary techniques, Johannes joined the Austrian military for his mandatory period of service. After leaving the military, he joined the world-famous London Hilton. After working in several upscale restaurants in Vienna, and operating a fitness club, Johannes moved to California and opened a restaurant with a partner in Santa Monica, CA.   
In 1990, Johannes was recruited by Seabourn Cruise Line as a Sous Chef and within two weeks was promoted to Chef, and then promoted again to Corporate Chef. Johannes brought famous guest chefs to the ships, working side-by-side with them creating memorable meals for their guests. During his time with Seabourn, the cruise line was voted the number #1 cruise line in the world several years in a row.
His current eponymous restaurant is conveniently located in downtown Palm Springs. When Johannes opened the restaurant in 1999, he incorporated flavors from Thailand, Japan, and Austria into his globally-inspired menu. He gives himself a little bit of credit for changing the culinary climate of the desert over the years, saying, "I listen to my customers and my friends—especially to my customers. We have a broad variety of customers that come to my restaurant—all the way from Europe to Canada, East Coast, West Coast; famous people, infamous people, very famous people."
Everything in the upscale yet casual restaurant is made fresh daily with local ingredients whenever possible, and cooked to order. A comprehensive wine list is also on offer. "The feedback we receive from our customers is that we are different," says Johannes. "We have guests that visit from Europe who come to dine just to eat my famous Wiener Schnitzel."
Johannes prides himself on his Weiner Schnitzel and has created a Schnitzel Lover's Menu that includes not only the signature traditional Schnitzel of pounded, breaded and pan-fried veal cutlet piled with roasted parsley-flecked fingerling potatoes, served with cranberry jelly, cucumber and dill sour cream dressing, but globally-inspired versions as well like the Italian-inflected Mama's Schnitzel which is topped with Roma tomatoes, Gruyere and Fontina cheeses, and basil. Johannes also prepares versions with green Madagascar peppercorn sauce, as well as an organic chicken substitute. Other current dishes draw on Johannes' travels, along with his five years as Seabourn Cruise Line's corporate chef. During his tenure with Seabourn, Johannes was able to travel the world and experience the best hotels and restaurants—and work with a lot of talented people. These experiences allowed him to grow and expand his culinary skills as he stayed at and worked as a guest chef in many of the top hotels in the world including the Oriental Hotel in Bangkok, Thailand.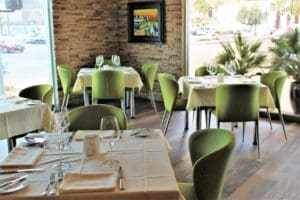 Johannes has received hundreds of awards from local, national and international media including Bon Appètit, Restaurant Writer's Association, Wine Spectator, Alaskan Airlines, Elle Magazine, Out and About, Desert Entertainer, The New York Times, Zagat, OpenTable, Travel and Leisure, The Desert Sun, Yelp, Palm Springs Life and more. Johannes has been honored as one of the country's top culinary talents by Best Chefs America and featured in Mimi Sheraton's book "1,000 Foods to Eat Before you Die" for his Weiner Schnitzel.
Johannes Restaurant will be celebrating 20 years in Palm Springs at the end of October 2019.  A special celebration is in the works with a theme of "20 Schnitzels for 20 Years."
If you go: Open Tuesdays through Sundays; Closed Mondays | Reservations can be booked on OpenTable or by calling the restaurant at (760) 778-0017. Private events can be booked for special occasions, groups and corporate events. Located at: 196 S. Indian Canyon Drive, Palm Springs, CA 92262 | johannespalmsprings.com