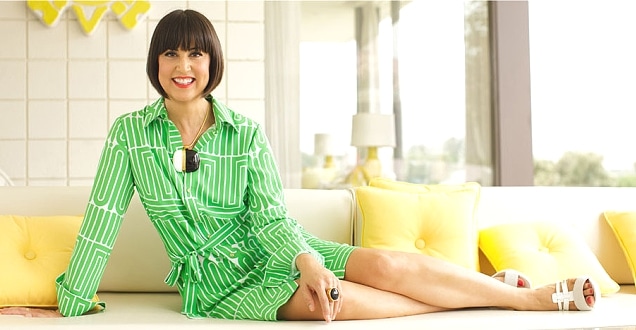 Join Palm Springs Life for the Women Who Lead Luncheon at the Ritz-Carlton in Rancho Mirage. Palm Springs Life presents a celebration of six remarkable women in the Coachella Valley. These leaders and role models — both in business and in life — are bettering our community through their extraordinary accomplishments and dedication. Join us as we honor the commitment, vision, and talents that have made these women the Women Who Lead in 2018.
The event's featured keynote speaker is Trina Turk. Ms. Turk is a California-based and California-inspired fashion and lifestyle designer, businesswoman, and philanthropist, who opened her eponymous flagship boutique in Palm Springs in 2002.
Other honorees this year include: Tracy Conrad, Kelly McLean Lewin, Cynthia H. Breunig, Victory Grund, Michelle Castillo, and Candice Held. Congratulations to all the 2018 Women Who Lead Honorees:
Business Leader
Tracy Conrad – CEO, Smoke Tree Ranch
Kelly McLean Lewin – Vice President, McLean Company
Community Non-Profit
Cynthia H. Breunig – CEO/President, Girl Scouts of San Gorgonio Council
Victory Grund – President & Founder, Old Town Artisan Studios in La Quinta
Rising Star
Michelle Castillo – Founder of Wyld Womxn
Candice Held – Owner, Candice Held
The event will be held on Monday, May 14th, 2018 at The Ritz-Carlton, Rancho Mirage. The reception begins at 11:00am, followed by a panel discussion and lunch at 12:15pm. A portion of the proceeds from the event benefit GirlFriend Factor.
Tickets are $90 or $800 for a table of ten and can be purchased here.
About Trina Turk:
A genuine California local, Trina Turk is inspired by the Golden State's multicultural mix, creativity, craftsmanship, architecture, and landscape–a synergy that permeates her contemporary, colorful aesthetic. Infused with bold signature prints and dynamic hues unique to each collection, Trina's modern and optimistic outlook meld the best of classic American design with a California confidence, incorporating beautiful fabrications and impeccable quality for effortless élan and carefree glamour.
Founded in 1995 by Trina and her husband, photographer Jonathan Skow, as a women's contemporary clothing line, Trina Turk has evolved into an iconic lifestyle brand, celebrating California style with eleven annual collections of chic women's ready-to-wear and accessories, plus swimwear, recreation/activewear, footwear, handbags, jewelry, eyewear, a Mr Turk menswear line, and residential décor and textiles.
The Mr Turk menswear line conveys a California dapper style and carries on the brand's affection for vibrant color and print.  Men who want to make a sartorial statement can now select from among jackets, shirts, pants, shorts, swimwear, ties and bowties designed by Jonathan Skow. A well-known stylist and photographer, Skow does all the photography for the Trina Turk and Mr Turk brands, and also designs the distinctive men's line.
The couple split their time between two historic, mid-century marvels restored in Los Angeles' creative enclave of Silver Lake and in Palm Springs, interspersed with travels up and down the coastline and around the world. A favorite pastime is vintage shopping and their educated collectors' eyes discover inspiration in any new destination, near or far. They also share a keen passion for architectural preservation.
The Trina Turk brand's corporate headquarters, design and production are located in Alhambra, CA, east of downtown Los Angeles. The first retail store opened in Palm Springs in 2002 and has since expanded to twelve boutiques. TRINA TURK signature boutiques are located in Fashion Island in Newport Beach, Burlingame, Dallas' Highland Park Village, Atlanta's Phipps Plaza, and Houston Galleria. TRINA TURK | MR TURK boutiques are located in Palm Springs, Palm Desert, Los Angeles, Manhattan Beach, Miami, New York and Honolulu. A pop-up shop appeared for a few seasons in East Hampton. Trina Turk is an active philanthropist, giving back in each of these local communities, as well as contributing generously to arts, education and preservation causes, among others.