Palm Springs in the summer…the mercury rises as the throngs depart. Call me crazy, but I love the desert heat almost as much as like the thinning of the crowds after the last mad festival rush and crush (don't get me wrong, I love a wide swath of music, but I prefer to listen to it poolside, a cold beverage in hand, no one stepping on me or jostling me and…now you know I'm solidly no longer in my twenties, or—let's be honest—even my thirties). Luckily, my boyfriend is also enjoying his fourth decade and shares my love of Palm Springs and the bone deep-heat of the summer months in this stunning desert oasis.
We recently decamped for the long weekend "staycation" to the somewhat recently renovated Ingleside Inn—one of our faves for its old school Palm Springs ambience meets adult summer camp. Though it's lost some of its gracious charm (the new owners did away with breakfast on the veranda), it retains its inviting grounds, pool, fire pit, bicycles, live music on Sundays on the lawn (Sunday Jam session from 3:30 to 7:30pm) and proximity to all that downtown Palm Springs has to offer. The onsite restaurant does a decent job catering poolside as well—limited menu, but the Caesar salad with crab cakes is a perennial favorite and if, you're feeling naughty, the burger and fries is divine. And don't forget Melvyn's for nightcaps, live music, and some of the best late night people watching this side of L.A.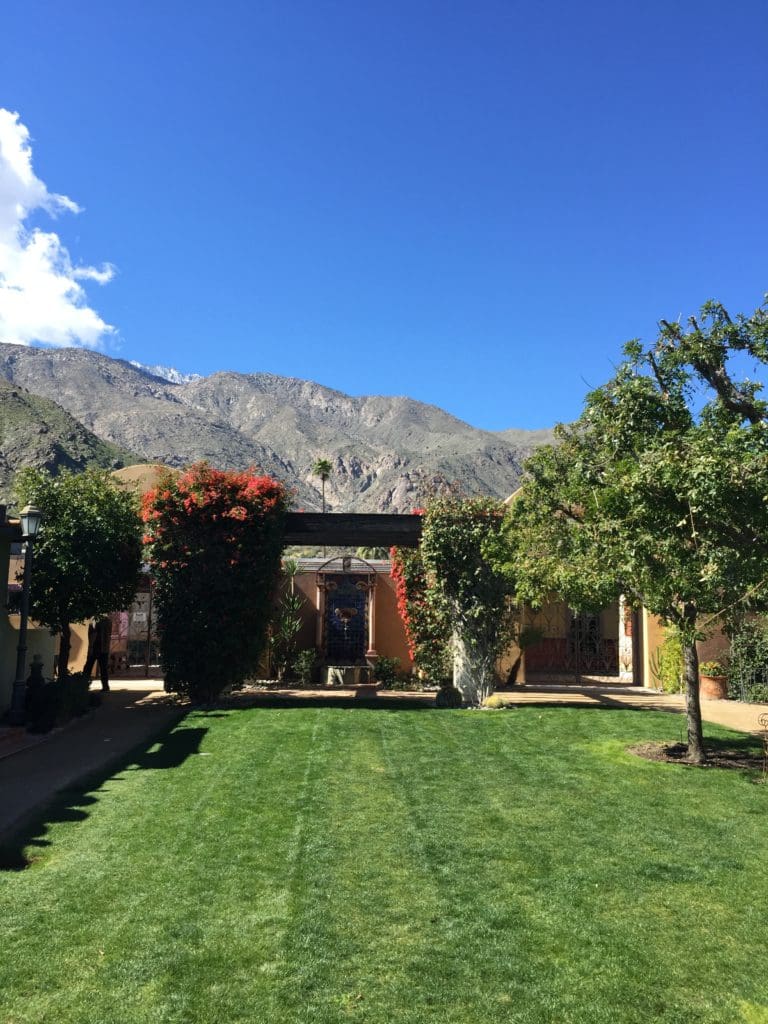 Early mornings are your best bet for exercise. My boyfriend, Todd, and I love taking out the cute, complementary beach cruiser-style bicycles and riding through the Tennis Club, taking the back roads to Las Palmas and the Movie Colony, ending up at Koffi – The Corridor for a well-deserved iced coffee and more people (and dog!) watching, along with fabulous views of Mt. San Jacinto from the beautifully landscaped courtyard of The Corridor Palm Springs).
Early morning hikes are a favorite as well. Easily accessible from downtown Palm Springs is one of our go-to trails: The South Carl Lykken Trail (accessible via the trailhead at the end of Ramon). Great cardio climb with panoramic views of Palm Springs = a winner every time. Nighttime strolls are another lovely way to explore Palm Springs on foot—nothing like an overturned bowl of sky full of stars backlit by San Jacinto to set the scene for another lovely Palm Springs evening.
During the heat of the day, glistening swimming pools beguile, walkways lined with shade and cooling misters beckon to the air-conditioned gorgeous boutiques, shops and restaurants throughout Palm Springs, and don't forget to visit the Palm Springs Art Museum—with its fabulous permanent collection and riveting exhibits: a world-class gem in our midst!
Evenings found us strolling hand-in-hand or hopping in an Uber en-route to carefully selected dinner reservations—if you hadn't heard, Palm Springs has become a serious dining destination. Check out some of our dinner favorites: Del Rey, Mr. Lyons Palm Springs, and Workshop Kitchen + Bar (for lunch we love Farm and the Barn Kitchen at Sparrow's Lodge), For after-dinner nightcaps, check out Counter Reformation (a cleverly cheeky spot tucked in the rear gardens of the Parker Hotel), the Sugar High rooftop lounge at Azucar Restaurant in La Serena Villas or the rooftop bar at 4 Saints at the Kimpton Rowan hotel. And don't forget to pop into Melvyn's for some serious old school Palm Springs vibes before bed! Tomorrow, if you're lucky, you can do it all over again! Enjoy yourselves, darlings. XOKate