Indio's Big Rock Golf and Pub at Indian Springs has teamed up with EG Classic Car Auctions to present "Cars, Stars and Rock 'N' Roll", a four-day outdoor festival beginning November 1st – 4th, 2018. The centerpiece of the event is a premier Collector Car Auction with over 250 vehicles crossing the block, but the full event schedule doesn't stop there. It will be a blockbuster CAR POWER experience for every automotive enthusiast! STAR POWER will be provided by celebrity appearances including Dan and Laura Dotson of "Storage Wars", Catherine Bach (the original Daisy Duke) of "Dukes of Hazzard", Courtney Hansen of "Overhaulin", Danny 'the Count' Koker and Horny Mike of "Counting Cars", Rachel De Barros of "All Girls Garage", Brett "The Schwag" Wagner of "Pass Time" and "Monster Garage", and Mark Towle of "Gotham Garage". 
Of course, a festival would not be complete without music, especially Rock & Roll, so MUSIC POWER will consist of 3 Headliner Bands performing live on-stage under the stars beginning on Friday night with "The Motels" and "The Georgia Satellites", on Saturday night "Count's 77" featuring Danny 'the Count' Koker (of "Counting Cars") Rock Band, and then throughout the weekend a full lineup of live music entertainment both outdoors and inside the Big Rock Pub. 
On Saturday and Sunday, the event will feature the Indio California State BBQ Championship with over 40 BBQ Rigs featuring the countries best BBQ Smokers, competing for an $18,000.00 cash purse. Come sample and taste their product in person, and enjoy a full lineup of other award-winning Food Trucks and Craft Beers assembled for your culinary experience! 
On Sunday, Big Rock Golf & Pub will host the "Rock the Ride" Classic Car Show for the public – bring your Classic Ride, display it on the fairway and enjoy the day! 
Always conscious of their local community, EG Auctions and the Big Rock Golf and Pub will support the Desert Cancer Foundation by selling 100s of pieces of Automotive and Music memorabilia NO RESERVE, with a portion of the proceeds going to this worthy community non-profit organization. 
Cars, Stars and Rock 'N' Roll will be presented in the local beauty of the Coachella Valley and enjoyed by thousands … this inaugural event is not one to miss! The event will be held outdoors on over 15 acres at the Big Rock Golf & Pub at Indian Springs Golf Course, 79940 Westward Ho Drive, Indio, California, 92201 (corner of Jefferson Street and Westward Ho Drive).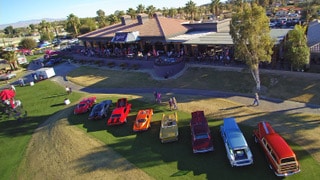 Event Ticket Pricing: 
All Day Event Pass – Friday: $10 – Saturday: $15 – Sunday: $10 – Weekend Pass: $25 Seated Concert Tickets starting at $25 
About EG Auctions:
EG Auctions, established in 1999, is the largest Collector Car Auction Company in Canada having conducted over 50 Collector Car auction events since its inception. It is also one of the largest online Collector Car marketing companies, having sold Classic Cars to over 120 countries worldwide and is widely recognized for showcasing some of the finest classic cars in the industry. Its business motto is simple, providing the highest level of service to its buyers and sellers. Currently based in the Coachella Valley, EG Auctions has had a presence in the Southwestern U.S. car industry for over 20 years. Its founders are passionate car enthusiasts who have restored and built some of the most iconic muscle cars in the marketplace. They are also official licensed builders of the Gone In 60 Seconds movie car – the Eleanor Fastback. This highly respected Classic Car auction powerhouse is coming to Indio, California for its inaugural Cars, Stars and Rock 'N Roll Collector Car Auction event scheduled from November 1-4, 2018. 
About Big Rock Golf and Pub at Indian Springs:
Big Rock Golf and Pub at Indian Springs is a Rock and Roll themed gastro pub and live music venue that overlooks the 18th hole of its tournament speed, perfect 18 greens. In the two years since it opened its doors, Big Rock Pub has received several nominations and wins for Restaurant of the Year 2017, Best Live Music Venue, Best Sports Bar, and more. With over 100 autographed memorabilia art pieces adorning its walls, including an authentic Jimmy Hendrix display, Big Rock Golf and Pub is a place you have to experience to believe. 
PalmSprings.com: The Official Guide to Palm Springs, California!