Love helping others, majestic views, cocktails at sunset, galas under the stars, dancing, and…the music of ABBA? Have I got the event for you! "Evening Under the Stars," the AAP – Food Samaritans' 26th Annual Gala, is just around the corner, and we've got all the information:
WHAT: Evening Under the Stars, AAP – Food Samaritans' 26th Annual Gala
DATE: Saturday, May 4, 2019
TIME: 5:30 PM – Cocktails; 7:30 PM – Dinner
WHERE: O'Donnell Golf Club: 301 N. Belardo Road, Palm Springs, CA 92262
COST: $395 and $500 per person; VIP seats also available
To purchase tickets visit aapfoodsamaritans.org or call 760-325-8481
       
The 26th annual Evening Under the Stars gala will feature "The Music of ABBA" performed by ARRIVAL From Sweden. The event, widely regarded as one of the most festive cocktail receptions of the season, begins with a spectacular cocktail reception followed by a sumptuous dinner, a brief awards presentation to a few worthy honorees, and dancing.

ARRIVAL's exuberant show absolutely knocked everyone's socks off in 2010 when they first appeared at Evening Under the Stars, and AAP – Food Samaritans has brought them back to Palm Springs in response to popular demand.

Evening Under the Stars is the largest annual fundraiser for AAP – Food Samaritans, helping to provide nutritional support for low-income people living with HIV/AIDS and other chronic illnesses. AAP – Food Samaritans is a beacon of hope in our community, helping those among us who need it most.
Food Samaritans (AAP) announced that it will honor a few significant community members at the upcoming the 26th Annual Evening Under the Stars gala, to be held on Saturday, May 4, 2019 at the O'Donnell Golf Club in Palm Springs. The honorees include Ruta Lee for the Jeannette Rockefeller Humanitarian Award, Glenn Johnson 
and Michael Melancon for the Gloria Greene Inspiration Award, and Ron DeHarte of Greater Palm Springs Pride for the Herb Lazenby
 Community Service Award. The honorees will receive public recognition at the annual fundraising event.

"AAP – Food Samaritans could not fulfill our mission without the dedication and support of the incredible people and organizations that support us," said Mark Anton, CEO/Executive Director of AAP – Food Samaritans. "Without their caring and inspirational leadership, we would not be able to support the nutritional needs of those low-income individuals living with HIV/AIDS and other chronic illnesses in our community. We are so very grateful for their unyielding kindness that they exhibit on a daily basis not only for AAP, but for many other organizations across the entire Coachella Valley."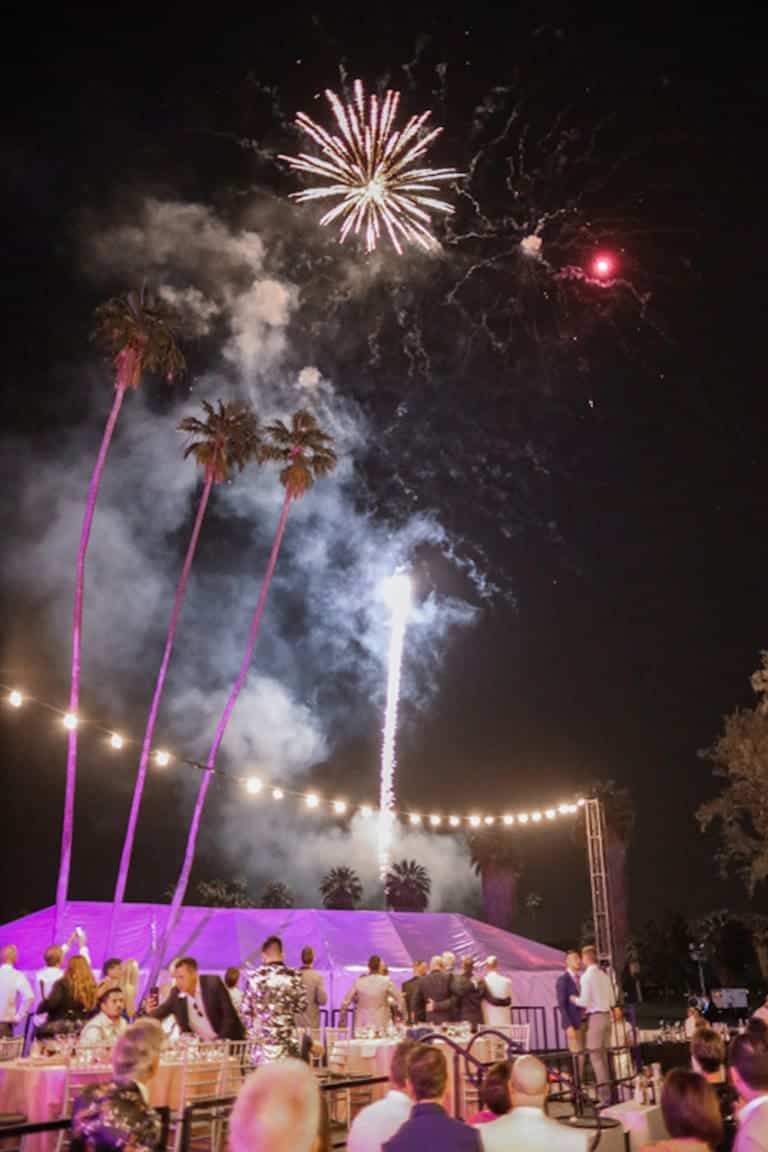 Evening Under the Stars is the largest annual fundraiser for AAP – Food Samaritans, a non-profit organization that provides nutritional support for low-income people living with HIV/AIDS and other chronic illnesses. Gala festivities will begin with a quintessentially Palm Springs' sunset cocktail hour at 5:30 PM on the grounds of the O'Donnell Golf Club against a backdrop of the majestic San Jacinto Mountains. A short awards program will recognize the inspirational honorees, followed by a delicious dinner, and dancing to the music of ABBA by ARRIVAL from Sweden. Tickets for the benefit, priced at $395 and $500 per person, are available for purchase and individual VIP seats and sponsorships are also available. 

Eisenhower Medical Center is the Presenting Sponsor of the event, and The Desert Sun is Presenting Media Sponsor. Additional major sponsors include Grace Helen Spearman Foundation, Harold Matzner/Spencer's, Contour Dermatology, The Auen Foundation, Donna MacMillan, TRIO Restaurant , Helene Galen & Jamie Kabler, Blackbook, Scott Histed Architectural Properties, Steven Anders, Savoury's Catering, Tom Gleeson/State Farm, Renaissance Palm Springs, Hyatt Palm Springs, Image 360, and Imagine It! Media.

The event will feature a performance by ARRIVAL From Sweden, an ABBA show band that includes some of ABBA's original musicians. ARRIVAL From Sweden looks and sounds so much like the original ABBA it's no surprise that they are the only ABBA tribute band officially sanctioned by the four original ABBA band members. ARRIVAL formed in 1995, and since then the band has toured in 60 countries, and has sold out arenas and venues all over the world. ABBA, one of the best-selling music artists of all time, is experiencing a renewed surge in popularity due in part to the 2008 film "Mama Mia" and its recent sequel "Mama Mia, Here We Go Again" which features a cameo by Cher. Just recently Cher has released an album of covers of some of ABBA's greatest hits.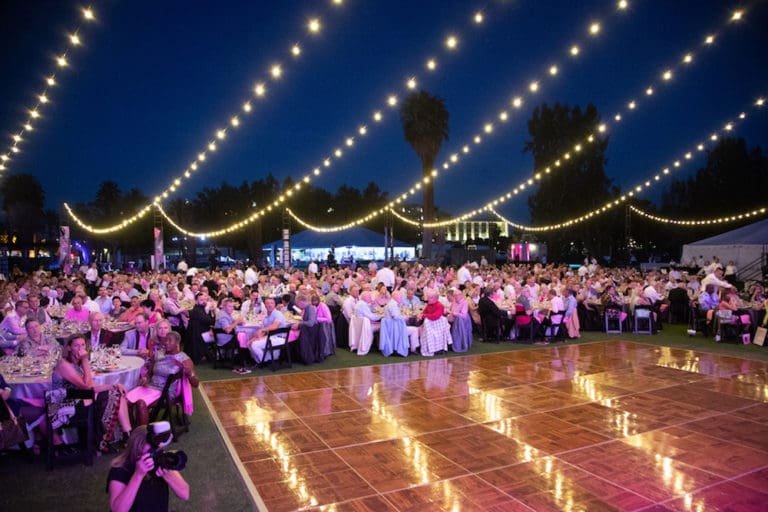 Evening Under the Stars has featured the talents of a wide variety of entertainers. In 2014, an electrifying performance by the First Ladies of Disco – Linda Clifford, France Joli, Evelyn "Champagne" King, Maxine Nightingale, Pamala Stanley, Anita Ward, Martha Wash, and the ladies formerly of Chic: Alfa Anderson, Luci Martin, and Norma Jean – had everyone on their feet with an amazing night of 70's dance music. Over the years, headliners Nell Carter, Tyne Daly, Melissa Manchester, Jane Oliver, Lorna Luft, Bea Arthur, Barry Manilow, Nancy Wilson, Lily Tomlin and the entire remaining cast of Laugh In, Mary Wilson of The Supremes, Pink Martini, The B-52s, The Go-Go's, Cyndi Lauper, Darlene Love, Village People, Martha Reeves & the Vandellas, and Gladys Knight have all taken the stage in support of this very worthy cause.

ABOUT THE AWARDS AND THIS YEAR'S HONOREES:
 
Ruta Lee
Jeannette Rockefeller Humanitarian Award

About the Award: Jeannette Rockefeller was the founding president of AAP – Food Samaritans. Established in 1997 to honor the humanitarian efforts of outstanding community members such as Jeannette, this award recognizes individuals who have contributed their energy, commitment, and influence to raise awareness and funding for important issues including HIV/AIDS.

Previous recipients include R. D. & Joan Dale Hubbard, Michael Leppen, Tim Hanlon, Helene Galen, James Houston, Harold Matzner, Betty Francis, Senator Barbara Boxer, Dr. Timothy Jochen & Lee Erwin, and the Auen Foundation.

About the Honoree: Certainly one of Hollywood's most glamorous ladies, Ruta Lee is also one of its most multifaceted and top-notch civic contributors. Ruta has been a very staunch supporter of AAP – Food Samaritans for decades.

A celebrated actress, Lee has appeared in many films, including "Seven Brides for Seven Brothers," "Funny Face," "Witness for the Prosecution," and as Frank Sinatra's leading lady in "Sergeant's Three." She has appeared on more than 2000 television shows, including "Perry Mason," "Twilight Zone," "Murder She Wrote," "Hogan's Heroes," "Love Boat," and "Roseanne." She has also headlined around the country in many musicals including "Dolly," "Annie," "Molly," "Peter Pan," "Mame," "Irene," "Nelly," "Irma," "Rose," "The Woman of the Year," "Best Little Whorehouse in Texas," "Unsinkable Molly Brown," and "Goodbye Charlie."

Lee is highly acclaimed for her leadership role in The Thalians, a charitable organization which is committed to good mental health from pediatric to geriatric. She has been either chairman or president for more than 45 years.

She has served as Commissioner on the Los Angeles Board of Environmental Quality and as a member of the Economic Development Board, acted as a national spokesperson for the American Cancer Society, was honored Woman of the Year by B'nai B'rith, received the Humanitarian Award from the Beverly Hills Business Women's Association as well as top honors from the City of Hope. She is also the proud recipient of a star on the Hollywood Walk of Fame, which added to her stars on the Palm Springs Walk of Stars and the Celebrity Walk at the Thalians Mental Health Center, Cedars-Sinai, makes it a Triple Crown for a super gal. More recently, Ruta was honored as a "Woman of Achievement" by Northwood University, joining a roster of some of the most prestigious women in America.

GLENN JOHNSON
 and MICHAEL MELANCON
Gloria Greene Inspiration Award

About the Award: Great movements often begin with one person's simple inspiration – such as when Gloria Greene began handing out food to those with HIV/AIDS from the back door of one of her restaurants right here in Palm Springs.  Since 1999, The Gloria Greene Inspiration Award has celebrated Gloria's insight, commitment and passion, illustrating the difference that can be made in a community.

Prior recipients include Greg Selleck, Barry Manilow, Ginger Carter, John Bowab, Barbara and Jerry Keller, Dr. John Stansell, Gloria Greer, Terri Ketover, and Desert Sun Media Group.

About the Honorees: Glenn Johnson
 and Michael Melancon have been long time supporters of AAP – Food Samaritans and Evening Under the Stars. Glenn has had a long and successful career with Alaska Air Group and has served most recently as President of Horizon Air. Mike has a 30-year background in human resources management and is the Effectiveness Practice Leader for The Washington Firm and is also an ordained Zen Buddhist chaplain. 

In addition to AAP – Food Samaritans, Glenn and Mike have been involved with numerous charities and philanthropic organizations including the Swedish Medical Center Foundation, where the couple supports the organization through annual gifts and has included it in their estate planning. Mike is also a member of the Foundation's board of governors and serves on its community health advisory committee. They also donate their time and financial support to several other community organizations, including the Bailey Boushay House, where Michael volunteers with seriously ill and hospice patients; the Swedish Ballard Teen Center; the Loving Work Foundation in Vietnam; and Central Washington University, where Glenn is a trustee. In addition, they support the Greater Seattle Business Association, where Mike serves on the organization's Scholarship Steering Committee and administers the Glenn Johnson/Michael Melancon Bright Horizon Scholarship, which encourage, foster, and support the development of LGBT youth attending the University of Washington.

RON deHARTE
Greater Palm Springs Pride
Herb Lazenby
Community Service Award

About the Award: The Herb Lazenby Community Service Award was created to recognize an individual's outstanding commitment to service within their community. The award carries the name of its inaugural recipient, Dr. Herb Lazenby, whose name became synonymous with Community Service here in the Coachella Valley. Previous recipients include Lily Tomlin, Michael Childers, Brian Wanzek (aka Bella da Ball), Rabbi Sally Olins, Joyce Shampeny, John Williams, Richard DeSantis, Cathy MacNaughton, and Desert Tennis Association (represented by Nabil Najjar).

About the Honoree: Ron deHarte has been the President of Greater Palm Springs Pride since 2012. Under his guidance, Pride has steadily grown, bringing in an estimated 100,000 visitors this year, who contributed $22 million to the local economy.

Ron is a recognized human rights and diversity champion and currently serves as chairman of the City of Palm Springs Human Rights Commission.  Ron's long history of involvement in the LGBT community includes a primary focus on supporting LGBT youth and youth related programs.  He serves as President of Greater Palm Springs Pride, President of Safe Schools of the Desert, Co-President of the United States Association of Pride and is a member of the board of the Consolidated Association of Pride and InterPride, the international association of Pride organizers. Prior to moving to the Coachella Valley, Ron was the Executive Director of San Diego Pride for five years.

In 2011 he teamed up with Safe Schools to secure the Palm Springs Art Museum as the venue for the annual LGBT Prom, which now hosts 500 students. As founding chairman of the Harvey Milk Diversity Breakfast, Ron led the way to adopt youth programs as its beneficiary.  Over the last seven years, $124,000 has been raised to directly support area GSA and LGBT youth driven activities.

Active in the community, he also serves on the City of Palm Springs Police Chief's LGBT advisory committee 2016-2018, Palm Springs Transgender Day of Remembrance committee and the Palm Springs Transgender Day of Visibility committee. Locally, Ron can also be seen helping to organize the City of Palm Springs Veterans Day Parade, Cathedral City LGBT Days, City of Palm Springs Cesar Chavez Day, and the new Palm Springs Community Leadership Council. Ron's philosophy includes honesty, equality, kindness, compassion, treating people the way you want to be treated, and helping others in need.