Smoke Tree Stables
2500 South Toledo Avenue
Palm Springs, CA 92264
Phone: 760.327.1372
Located in the heart of Palm Springs, Smoke Tree Stables offer picturesque horseback riding through the beautiful palm oases and year- round streams of the Indian Canyons. Custom-designed group packages are available and can include picnic lunches or a western cookout with entertainment.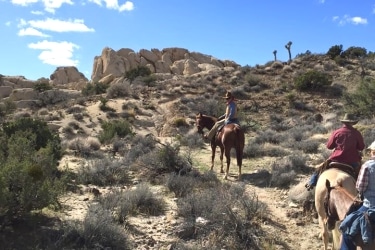 CottonWood Canyon Ranch
48949 Canyon House Road
Morongo Valley, CA 92256
Phone: 760.447.1014
Trot, canter or gallop on private trails through the canyons of Morongo Valley with CottonWood Canyon Ranch. Their guided horseback rides offer a chance to gaze upon the gorgeous San Gorgonio Mountains and Mount San Jacinto.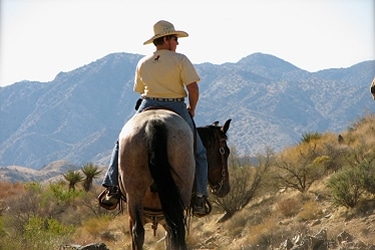 Coyote Ridge Stable
50639 Panorama Drive
Morongo Valley, CA 92256
Phone: 760.799.5182
Tucked in Morongo Valley, Coyote Ridge Stable offers several trail rides. Pick daytime adventures, full moon jaunts or an adventure trek, where you blaze your own trail up hills and through washes.
Crazy Horse Ranch
50440 Cheyenne Trail
Morongo Valley, CA 92256
Phone: 760.831.6450
Take a relaxed guided trail ride on an easy-going horse or roam out at a higher gait with a spunky horse in the valleys of the majestic San Bernardino Mountains. Crazy Horse Ranch also offers private moonlight rides, which can include a ranch-style barbecue dinner.
PalmSprings.com: The Official Guide to Palm Springs, California!