I'm happy to present a special guest post by Ron deHarte, President of Palm Springs Pride. PalmSprings.com celebrates and honors the diversity of Palm Springs, and is honored to share this very important message with our readers. In Love & Pride, Kate #LoveWins
Pride means something different to everyone.  For some, it's about being with friends and family in safe and affirming environments. For others it's about raising awareness on issues that impact their life. At the end of the day, Pride Week is about celebrating our diverse community, giving a voice to those most vulnerable among us, and to support, uplift, and bring attention to those in the community who have been actively silenced and neglected.
Our Pride Week in November and this weekend's Equality Rally & March are both opportunities to be involved and fight to affirm and protect our rights, our safety, and our full humanity.
Palm Springs Pride, who organizes Pride events in the Coachella Valley, in collaboration with nearly two dozen community organizations, is calling on LGBTQ+ people everywhere to attend and support the June 11 Equality March for Unity and Pride, rising up to tell the world that they will not be silent in the face of oppression. We invite you to register and make a contribution today!
June is traditionally the main month when LGBTQ+ people around the world take to the streets to celebrate pride and in myriad ways demonstrate the diversity of our community and our allies. But 2017 is very different. After years of progress on many fronts, we now have fervent opponents of LGBTQ equality in control of every branch of the US government. Pride has taken on a new urgency in 2017. With celebrations happening in hundreds of locations throughout the month and The Equality March for Unity & Pride centered in Washington, DC on June 11, there will be opportunities for everyone to show their Pride, protest anti-LGBTQ efforts and put a face on the larger community at this critical time.
Pride celebrations were born out of protest in the late 1960s, from the Compton Cafeteria and Stonewall riots, as well as pickets in the mid-1960s in Washington, D.C. and Philadelphia, PA. In 2017, protest can take many forms. Many are organizing Pride events to create venues to speak up for LGBTQ rights in their own cities and states; some are joining the National Equality March in DC to stand against the current administration's homophobic and transphobic policies; and of course, simply celebrating LGBTQ+ identity in the face of those who see the community as "less than" for can be an act of protest in itself.
At Pride, the LGBTQ community can and must come together to welcome all of its diverse members, embracing its role as larger intersectional communities that are inclusive of people of every age, race, religion, ethnicity, gender, profession, ability and income. No one has a monopoly on the definition of Pride; rather, each Pride aims to create a venue where all LGBTQ+ people can be themselves.
Even as the community comes together to face the immense political challenges posed by this administration, Pride organizers and attendees are reminded that their place in history will be built on the accomplishments, and the hard-won struggles, of all those who came before. Pride organizations have a vital role as the stewards of this history. In that spirit, we call on all LGBTQ+ people to plan now and take part in our local Pride on November 4 & 5, whether by volunteering, marching, or simply attending.
Pride can be among the most powerful acts of resistance, and this year, LGBTQ+ Americans across the country will raise their voices louder than ever against those who would rescind their hard-won rights.
I personally invite you to join us this Sunday, June 11 at Frances Stevens Park for the Equality Rally and March for Peace and Unity and save-the-date for the largest Pride celebration ever in Palm Springs November 4 & 5, 2017.
About the Equality March for Unity and Pride:
It's our time to march and fight to affirm and protect our rights, our safety, and our full humanity. Will you join us?
June 11, 2017
5:30 Gather / Music, Frances Stevens Park
6:30 Rally
7:30 March – step off at Alejo and Palm Canyon Dr and travel south to Arenas Rd.
Register and make a contribution today!
About Greater Palm Springs Pride: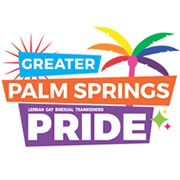 Greater Palm Springs Pride (www.pspride.org) is a nonprofit community enhancement organization founded to promote the public education and awareness of individual rights and civil liberties of the lesbian, gay, bisexual and transgender community and to promote the history, diversity and future prosperity of the Greater Palm Springs LGBT community.
Palm Springs Pride has been a tireless advocate for equality and diversity since the first Coachella Valley Pride event was held in 1986.
The 501(c)(3) nonprofit organization brings together the skills, talents and vision of our diverse community  through its programs which include the Harvey Milk Diversity Breakfast, Pride Honors Awards, OUT PSP a food and drink event, the Pride Parade, Pride Festival, the unique Pet Pride Parade, and the downtown Arenas Rd. Block Party.
Contributions to Palm Springs Pride are tax-deductible to the full extent allowed by law. (C) 2017