Joshua Tree National Park
74485 National Monument Dr.
Twenty Nine Palms, CA 92277
Hummer Tour of Joshua Tree!
TICKETS! Hummer Tour of Joshua Tree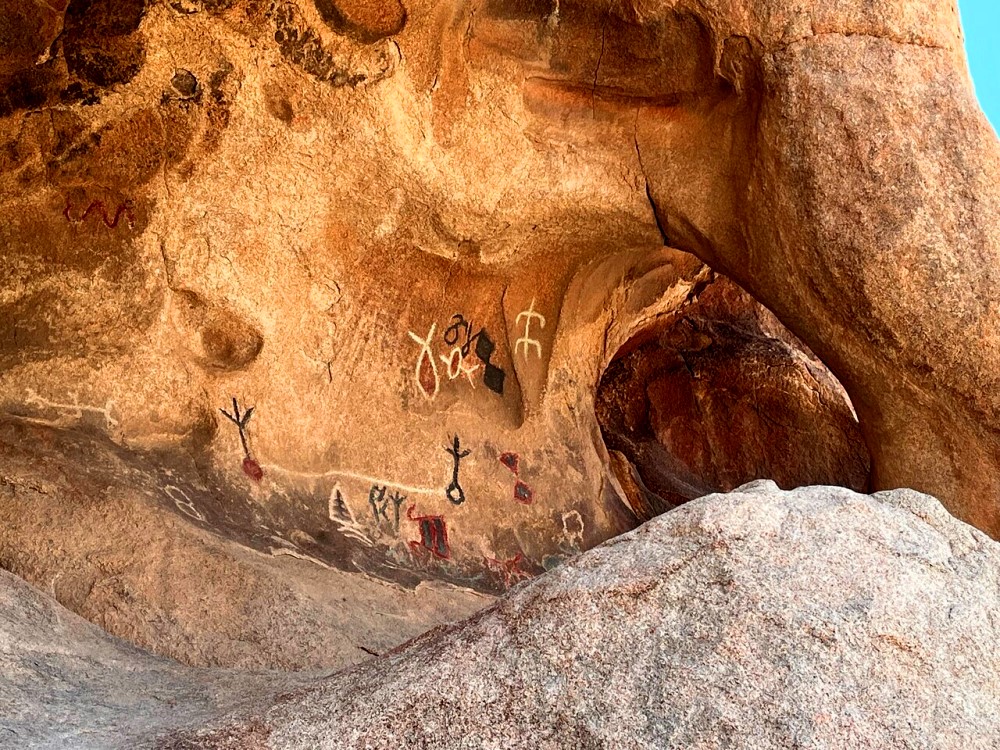 Joshua Tree – A Desert Park
Viewed from the road, Joshua Tree National Park only hints at its vitality. Closer examination reveals a fascinating variety of plants and animals that make their home in this land shaped by strong winds, unpredictable torrents of rain, and climatic extremes. Dark night skies, a rich cultural history, and surreal geologic features add to the attraction of this place.
Joshua Tree – Spring Birding
Spring is an excellent season for birding in Joshua Tree National Park. In addition to year-round residents, spring brings an influx of transients and summer nesting species. A birding check-list is available at visitor centers. Joshua Tree National Park's resident bird species, such as greater roadrunner, phainopepla, mockingbird, verdin, cactus wren, rock wren, mourning dove, Le Conte's thrasher, and Gambel's quail can be sighted in the park throughout the year. The park's winter migrants: white-crowned sparrow, dark-eyed junco, sage sparrow, cedar waxwing, American robin, and hermit thrush will remain in the park into March. Along about the time the winter migratory species are departing, other species will begin to migrate into the area for spring and summer. This group includes summer nesting species such as Bendire's thrasher, ash-throated flycatcher, western kingbird, Scott's oriole, northern oriole, and western bluebird.
Joshua Tree – Wildflower Viewing
Wildflower season usually begins with the large, cream-colored blooms of the Joshua trees in late February, followed by colorful annuals at the lower elevations around the south boundary of the park. Sometime in March, the bloom will follow rising temperatures into the higher elevations of the park. Cacti usually wait until April or May to produce their bright, waxy flowers. The extent and timing of spring wildflower blooms in Joshua Tree National Park may vary from one year to the next. Fall and winter precipitation and spring temperatures are key environmental factors affecting the spring blooming period. Normally desert annuals germinate between September and December. Many need a good soaking rain to get started. In addition to rains at the right time, plants also require warm-enough temperatures before flower stalks will be produced. Green-leaf rosettes may cover the ground in January; however, flower stalks wait until temperatures rise. Wildflowers may begin blooming in the lower elevations of the Pinto Basin and along the park's south boundary in February and at higher elevations in March and April. Desert regions above 5,000 feet may have plants blooming as late as June.
Joshua Tree- Climate
Days are typically clear with less than 25 precent humidity. Temperatures are most comfortable in the spring and fall, with an average high/low of 85 and 50°F (29 and 10°C) respectively. Winter brings cooler days, around 60°F (15°C), and freezing nights. It occasionally snows at higher elevations. Summers are hot, over 100°F (38°C) during the day and not cooling much below 85°F (29°C) until the early hours of the morning.
Did You Know?
North America is moving westward over the Pacific Plate at one or two inches per year. When tension builds in rocks from this collision, the strain is released along faults in the form of earthquakes, as the rocks finally break.
Joshua Tree National Park is crisscrossed with hundreds of faults, and is a great place to see raw rocks and the effects of earthquakes. The famous San Andreas Fault bounds the south side of the park, and can be observed from Keys View. Blue Cut Fault in the center of the park can be seen from the hilltop behind Lost Horse Mine. The fault forms the straight, abrupt base of the Hexie Mountains east of Queen Valley.
Fault zones are important factors in localizing natural springs. Movement by faults causes impervious zones of shattered rock fragments to form an underground dam forcing ground water to rise. The Oasis of Mara at the visitor center in Twentynine Palms marks the Pinto Mountain fault. The park has four other fault-caused oases that support the native palm tree, Washingtonia filifera. These oases supply food and water to a wide variety of wildlife and point to the connection between the park's geology and its wildlife habitat.
Will Joshua Tree National Park experience a large earthquake anytime soon? Despite a great amount of recent seismic research, no one can yet predict earthquakes with any accuracy. The earth will continue to shake in Southern California, and most earthquakes will be small – "felt" by seismographs, rarely by people. Occasionally, a larger one will occur, but when or where remains unknown.
Directions to Joshua Tree National Park
Joshua Tree National Park lies 140 miles east of Los Angeles, 175 miles northeast of San Diego, and 215 miles southwest of Las Vegas. You can approach it from Interstate 10 and Hwy 62 (Twentynine Palms Highway). The closest airport is in Palm Springs. Public transportation to the park is not available.
There are three park entrance stations:
• The west entrance is located five miles south of the junction of Highway 62 and Park Boulevard at Joshua Tree Village.
• The north entrance is in Twentynine Palms, three miles south of the junction of Highway 62 and Utah Trail.
• The south entrance at Cottonwood Spring, which lies 25 miles east of Indio, can be approached from the east or west, also via Interstate 10.
Joshua Tree – Operating Hours
The park is always open and may be visited anytime of year. Visitation increases as temperatures moderate in the fall, peaks during spring wildflower season, and diminishes during the heat of summer.
TICKETS! Hummer Tour of Joshua Tree
PalmSprings.com: The Official Guide to Palm Springs, California!