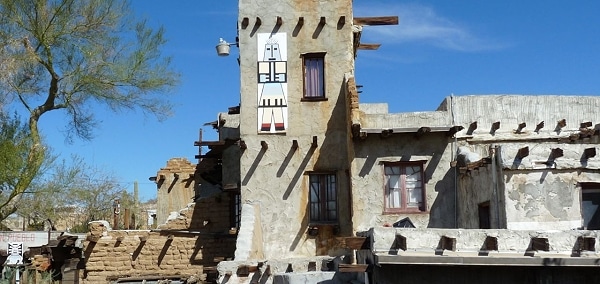 Cabot's Pueblo Museum
67-616 East Desert View Avenue
Desert Hot Springs, CA 92240
760.329.7610
A top attraction in the Palm Springs area, Cabot's Pueblo Museum is a Hopi inspired Pueblo that is a unique treasure to the Coachella Valley, located in the heart of Desert Hot Springs.
Cabot's Pueblo Museum is nearby Joshua Tree, Rancho Mirage, Palm Desert and Palm Springs. This Southern California landmark is within 10 minutes of the Palm Drive exit from the 10 Freeway.
Built by Cabot Yerxa (b. 1883) on property he homesteaded in 1913, he worked on the property until his death in 1965. Cabot journeyed through the desert; gathering reclaimed materials from as far east as the Salton Sea, north to Morongo Valley, south to Palm Springs and west to White Water.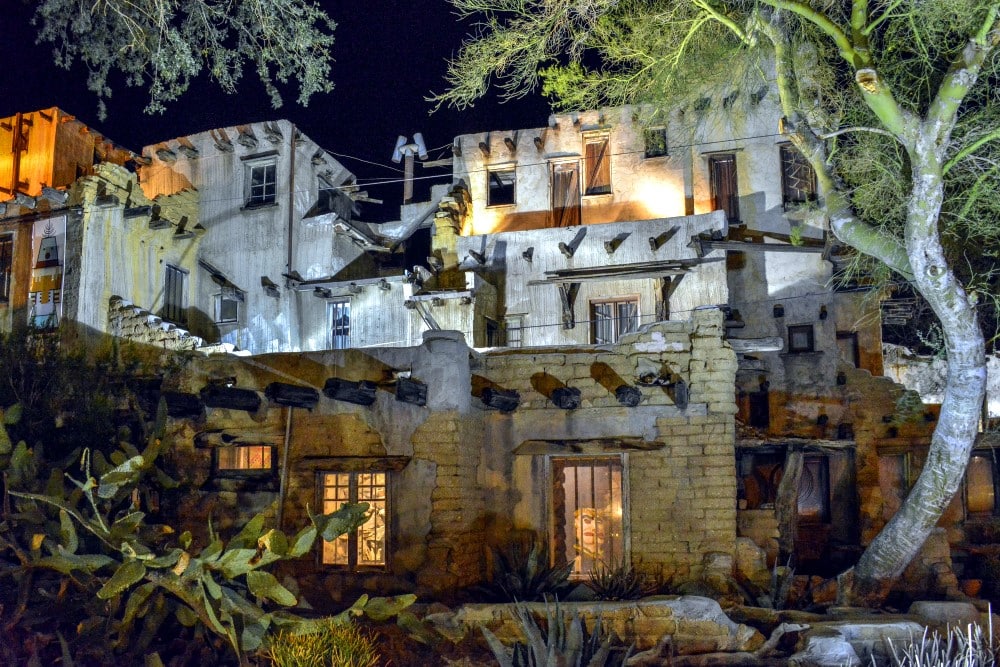 Cabot's Pueblo Musuem is hand-made, created from reclaimed and found objects. The Pueblo is four-stories, 5,000 square feet and includes 35 rooms, 150 windows and 65 doors. Visitors will notice many unique features: including windows and doors collected and reassembled from abandoned homesteads, old telephone poles, buck board wagon parts and many other materials used creatively.
On our guided tour, visitors journey through the life of Cabot Yerxa and his family including artifacts collected from their adventures dating back over 100 years. Hear his story from the Dakota Territory to Mexico, Cuba, Alaska, France, throughout California and the Southwest, including the founding of Desert Hot Springs, California.
Guided Tours
Our friendly and knowledgeable staff will lead your guided tour. During your adventure you will visit the Pueblo and experience the story of Cabot Yerxa and discover how he built his incredible home. Each tour is approximately 55 minutes long.
Each tour is limited to 12 people and tickets are purchased on a first-come, first-served basis.
June thru September
Museum hours:
Wednesday-Saturday (closed Sunday-Tuesday), 9:00 a.m.-1:00 p.m.
Tour times:
9:30 a.m., 10:30 a.m., 11:30 a.m.
During our warmer months, we advise guests to be prepared with water and sunscreen.
October thru May
Museum hours:
Tuesday-Sunday (closed Monday), 9:00 a.m.-4:00 p.m.
Tour times:
9:30 a.m., 10:30 a.m., 11:30 a.m., 1:30 p.m., 2:30 p.m.
Price 
$13.00 per person
$11.00 per person for Seniors, Active Military, and children ages 6-12
For general information, please call 760.329.8100
Make your ticket purchase up to 1 hour prior to your tour time for up to 6 spaces.
*Tickets are sold on first come first serve basis.
PalmSprings.com: The Official Guide to Palm Springs, California!