Desert Holocaust Memorial
Maintained by the Jewish Federation of Palm Springs
43-700 San Pascual Avenue
Palm Desert, CA 92260
760.324.4737
As you approach the Desert Holocaust Memorial, you see a circular row of trees. These trees represent life outside of the enclosed fence of the concentration camps.At the entry to the memorial you will see a bronze plaque which gives a chronology of the systematic deprivation by law of the civil rights, jobs, property and life of "non-Aryans" by the Nazi party. Inside the history pedestal is buried an urn containing the verified names of 12,000 Righteous Gentiles who hid or assisted those condemned by Nazi regime during the years of the Holocaust.
At the heart of the memorial are seven larger than life bronze figures representing the people and different aspects of the Holocaust. The standing man is intended to be defiant and accusing. He in part represents the resistance of the Jews and others that fought the Nazi tyranny. (Note the left forearm on this man bears the number tattooed on a local Holocaust survivor.)
The other figures are of a mother with two children begging for mercy, a boy from the ghetto, a rabbi praying, and finally the figure behind the group, a man alone, silent, dying. His death represents bigotry, ignorance, and hatred taken to its inevitable end.
The faces and representations at the memorial were taken from actual photographics and news footage researched by the artist at the United States Holocaust Museum in Washington D.C.
The seven figures are mounted on a double-tiered Star of David 20 feet across. The Desert Holocaust Memorial. The block granite is etched with a map of Europe indicating the location of the many concentration camps as well as the number of persons who perished.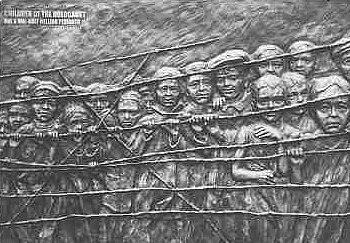 The cobblestone and light standards are replicas of those at Auschwitz. Placed between the light posts are eleven bas reliefs telling the story of the Holocaust. A plaque located adjacent to each details the specific scene represented.
This memorial includes extensive provisions for educating people of all ages, races, and religions about the period of the Holocaust. It is a lesson about denial of basic civil rights. The monument memorializes lost parents, children, loved ones, and millions of innocent people. It is a place of respect, of respite, of mourning and of remembrance. It is also a monument of hope — hope that we can overcome bigotry and live amongst diversity in peace.
Project created by the Desert Holocaust Committee.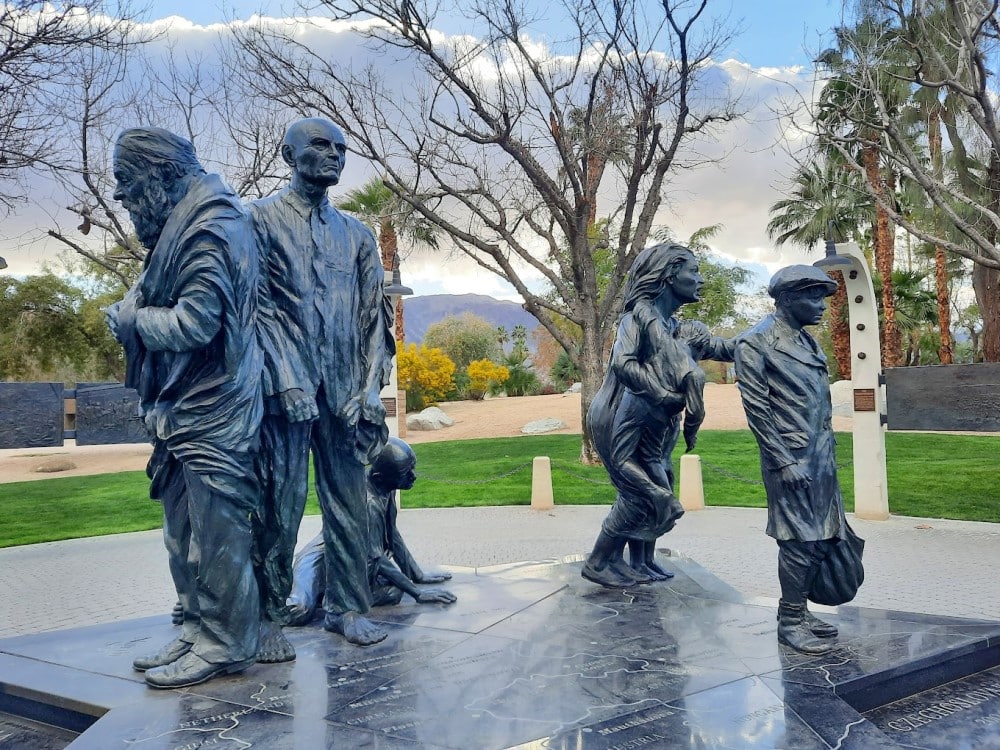 PalmSprings.com: The Official Guide to Palm Springs, California!