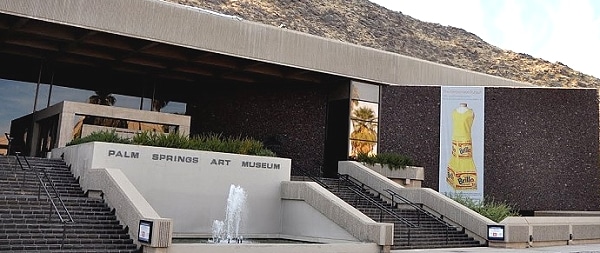 Palm Springs Art Museum
101 Museum Drive
Palm Springs, CA 92262
760.322.4800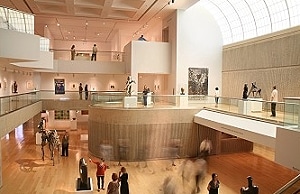 Founded in 1938, the Palm Springs Art Museum (formerly the Palm Springs Desert Museum) is the largest cultural institution in the Coachella Valley, featuring compelling art exhibitions, a vast permanent collection, and the 433-seat Annenberg Theater, all in a 150,000 square foot, architecturally-significant building. It is the only major art museum located between Los Angeles and Phoenix.
The museum's permanent art collection features 19th, 20th, and 21st century works focusing on contemporary California art, classic western and Native American art; Mesoamerican art, Mexican art, and European modern art; glass studio art, American mid-twentieth century architecture, and American photography.
In addition, the Annenberg Theater (located on the Lower Level) keeps an eclectic calendar that includes Broadway, cabaret, jazz, classical, opera, dance and speakers in the entertainment industry. The Museum offers art classes, special events, lectures, films, two sculpture gardens, cafe and museum store filled with unique items you won't find anywhere else. Visit us today!
Note: The Palm Springs Art Museum has been accredited since 1982 by the American Association of Museums.
Hours: Mon, Tues, Fri, Sat & Sun 10am-5pm, Thurs 12pm-8pm
Closed: Wed & Holidays
General Admission: $5
Free admission every Thurs 4-8pm during downtown Villagefest.
Free admission for youths under 12
Free admission for active military and their families
Free admission the second Sunday of every month
Free admission to AAM, NARM and WMA members w/ ID

Lino Tagliapietra, Bilbao, 2001,
Blown glass with multiple incalmi, multicolor canes, turned axis; battuto and inciso cutting. Museum purchase with funds provided by the Helene E. Berman Charitable Remainder Trust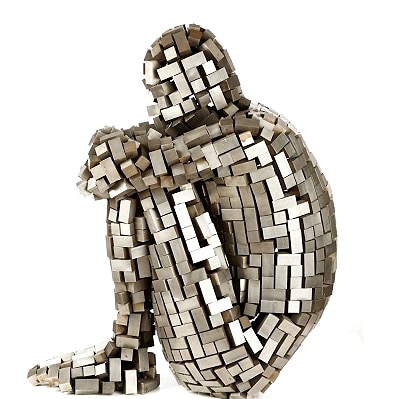 Antony Gormley, Apart IX, 2002
Bright mild steel blocks. Collection of Palm Springs Art Museum, gift of Donna and Cargill MacMillan, Jr.
More information, please visit: psmuseum.org
PalmSprings.com: The Official Guide to Palm Springs, California!